Concordia welcomes Quebec's young leaders
This week, 93 delegates will converge on the university to discuss Canada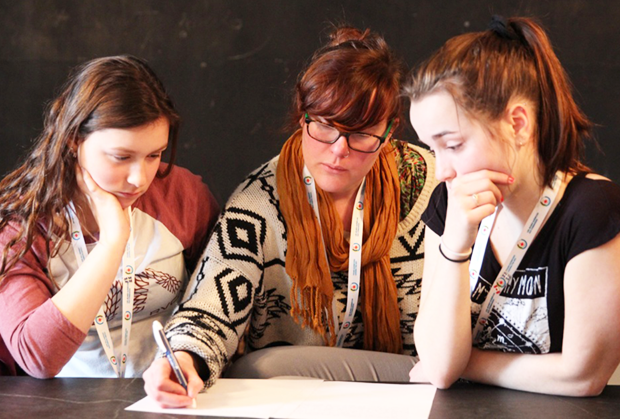 Last year's youth forum focused on Canada's past. This year, delegates will discuss current issues including the economy and the environment. | Photo courtesy Young Quebecers Leading the Way

Next year is the 150th anniversary of Confederation. What does being Canadian mean to Quebec's young people? How do they see their country's role in the world? In their view, what are the most important social and environmental issues facing Canada?
To encourage young people in the province to get engaged and have their say, the Quebec Community Groups Network (QCGN) — in partnership with the Association for Canadian Studies and the Institut du Nouveau Monde — came up with an ambitious three-year project, leading up to next year's sesquicentennial celebration of the birth of Canada.
Sponsored by Canadian Heritage, Young Quebecers Leading the Way comprises three annual, bilingual youth forums, where Quebecers aged 15 to 25 can bring their views to the fore.
The first, which looked at Canada's past, was held last year in Quebec City. The second, which will focus on present-day Canadian society, begins this Friday, March 4, at Concordia, which is sponsoring the event. The other major sponsors are Via Rail Canada and the CBC.

Regional perspectives
Ninety-three participants are registered for the event, including three Concordia students. Regional coordinators undertook recruitment campaigns across Quebec, Alison Maynard, QCGN's youth project coordinator, explains.
"It's a very inclusive project," she says. "We have participants coming with physical disabilities, so we made sure to accommodate them. We also reached out to the indigenous communities."
The young people who registered attended regional workshops run by the coordinators. This weekend, they will travel to the annual youth forum by train, courtesy of Via Rail. The three-day forum includes a full day of workshops animated by community leaders.
Among this year's presenters is Concordia alumna Ilona Dougherty, BA 03, a youth engagement expert and co-founder of Apathy is Boring. She is co-leading a workshop on politics and democracy with Elsie Lefebvre, Montreal city councillor for the borough of Villeray.
It's worth noting that just recently, Dougherty wrote a piece for ipolitics.ca about the importance of encouraging innovation among youth. "If we truly want Canada to be known for its resourcefulness, we need to ensure that young Canadians everywhere are being supported and encouraged to come up with new ideas now, while they're young," she writes.
Other workshop themes include: Canadian identity, Canada in the world, the economy, indigenous peoples, and social issues and the environment.

A culminating statement
The delegates will spend Sunday morning drafting the project's second youth declaration, which they'll present during the closing ceremonies. Afterward, invited community leaders and politicians will provide feedback.
The response to last year's event was very positive, Maynard says. A survey by the organizers found that 96 per cent of participants planned on getting involved in supporting youth issues and/or youth-led organizations, while 58 per cent saw themselves and their province within Canada differently after the event.
"They were excited to be able to have an opportunity to contribute to a project as youth," Maynard says. "Often you have to wait to be an adult to become a leader, but this project enables and encourages our young Quebecers to be leaders when they're as young as 15."

The youth forum at Concordia runs from Friday, March 4 until Sunday March 6 at Concordia. Registration is now closed.
Find out more about Young Quebecers Leading the Way.
---