What's it really like to be CEO for a day? Student Jason Azzoparde tells us
On February 5, Concordia's national finalist shadowed the president of PSP Investments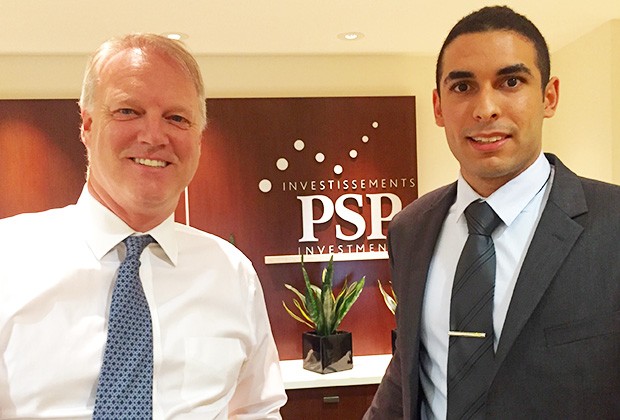 Undergraduate Jason Azzoparde, a student in Concordia's Department of Mathematics and Statistics and a member of the Institute for Co-operative Education, was recently selected as one of 18 finalists in the annual CEO for a Day competition, run by executive search firm Odgers Berndtson.
The fourth-year student in actuarial mathematics and finance spent yesterday, February 5, shadowing André Bourbonnais, president and CEO of PSP Investments.
It was an opportunity to network with top level executives and learn about their roles in the company. Here's Azzoparde's story about his day at the top of the corporate ladder.

Morning meeting at PSP
The day began with a breakfast in André Bourbonnais's office. Daniel Garant, executive vice-president and chief investment officer (CIO), was also in attendance. This was an opportunity to introduce ourselves and speak about our interests in the financial markets. André and Daniel advised me on their current market outlook and where they see opportunities to tailor their global portfolio.
Human resources and talent management takeaways
The next stop was Guy Archambault's office, senior vice-president of Human Resources and Talent Management. Guy explained how he built the human resources structure from when the company was at about 10 per cent of its current size. He also informed me about current headwinds he is facing in the fast-growing company.
Sonia Goyette, senior director of Talent Management also gave me a glimpse of her recruiting strategies for both experienced professionals and new graduates. The CEO even challenged me on a real human capital management case regarding relocation compensation. A CEO must constantly weigh the opportunities of reducing compensation costs while still minimizing the talent turnover rate.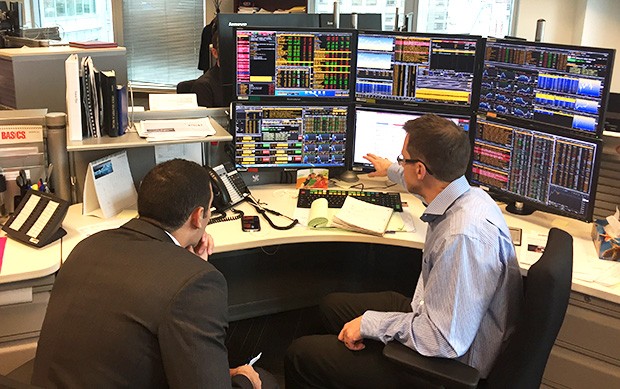 Tense moments on the trading floor
This was by far the most exciting part of the day! I was given a quick summary of the public market trading activities, both on the equity and derivatives side. The trading operations of the institution are fast-paced and these analysts must perform market transactions in a very limited time frame. I even had the privilege of witnessing a real-life arbitrage strategy as the trader walked me through the transaction. I must admit that my heart rate was racing as we were approaching the execution of the deal!

More insights over lunch
Lunch was scheduled at Decca 77 with Anik Lanthier, senior vice-president of Public Equities and Absolute Return, Stephane Jalbert, managing director in Real Estate Investments, and Guthrie Stewart, senior vice-president and global head of Private Investments. I had the opportunity to learn more about their successful careers and certain challenges they faced along the way.

$100-million deals and a leader with impressive poise
The afternoon began with an investment pitch from Hong Kong investors. I was able to meet the chairman and CEO of the fund and attentively analyze the deal proposal. These meetings are key to the success of PSP in developing a well-diversified portfolio. Not to mention, many deals are executed for way over $100 million!
Mr. Bourbonnais has a long-lasting relationship with many of his overseas business partners and observing him in action was impressive, to say the least. Finally, a presentation was conducted at the PSP office by a top Canadian bank. The CEO and other senior executive members were present to exchange business ideas. It was an intimidating, yet humbling feeling to be sitting alongside two distinguished Canadian CEOs.
Looking back on my day, I can truly say that a CEO's life has multiple dimensions to it. The culture a leader brings to a corporation is key to growth and sustainability. André is a well-rounded individual, one that cares for his people while demanding nothing short of excellence. A true leader by heart, André has demonstrated that the right mix of passion, vision and intelligence can go a long way toward building a successful career.

Read about how Jason Azzoparde earned the Bourse Gilles Joncas in 2014, given to the top co-op student in Quebec by the provincial branch of the Association canadienne de l'enseignement cooperative (ACDEC).
---