A hearty welcome for future Concordians
On February 13, Admissions Information Day offers prospective students a glimpse of what they can look forward to at the university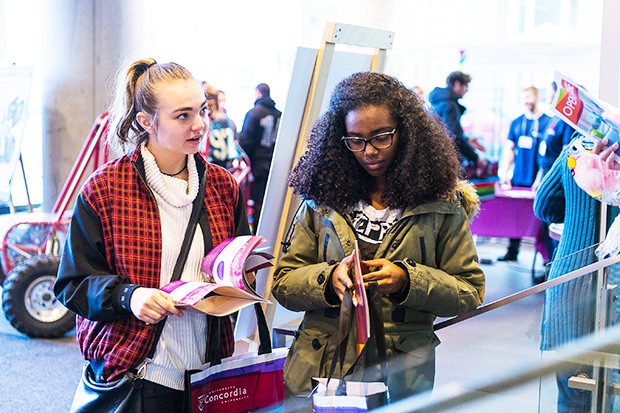 "We've been very deliberate about creating the space for our visitors to have a conversation with us, and get that individualized attention," Matthew Stiegemeyer, director of student recruitment. | Photos by Justin Desforges

After a busy fall and winter travelling across Canada and around the world, Concordia recruiters will welcome prospective students to Montreal for Admissions Information Day on Saturday, February 13.
Emily Fjeldsted, who recruits in Western Canada, says it's a key time of year for future students who are busy finalizing their applications for the March 1 deadline. "You're finishing one step — high school — and trying to take another one: applying to university," she says. "I know students find it nerve-racking and exciting all at once, and they can't wait to see what's next."
Admissions Information Day serves as a "reassuring bridge" for future students, says Fjeldsted. The chance to talk about the admissions process is very helpful. Students can even apply on the spot, guided by admissions advisors.
Those who are still trying to figure out their academic path will find support too, says Matthew Stiegemeyer, director of student recruitment. "We have all these options — independent student; mature student; first, second or third choice program — but it's not always obvious which path to choose."
"We've been very deliberate about creating the space for our visitors to have a conversation with us, and get that individualized attention," says Stiegemeyer. New this year is a "Where do I start?" information table.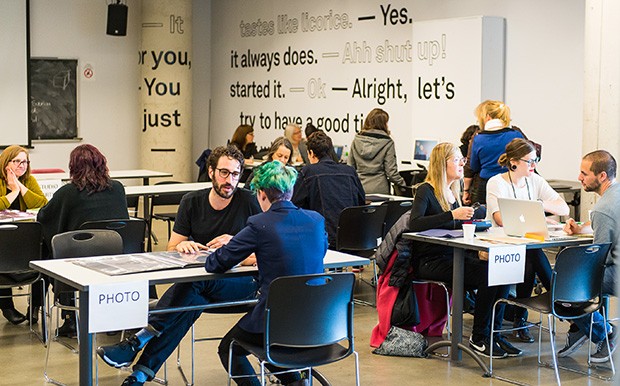 Portfolio Day is a chance for prospective Fine Arts students to sit down with faculty and get feedback.
For Niem Huynh, manager of graduate student recruitment, "the really exciting stuff" is sharing the experience of what it's like to join the Concordia community.
"When you're going to be here for two to five years, you're asking yourself, what is your life going to look like?" says Huynh. A supportive and healthy environment where students can thrive is a major draw. "There's an emphasis on achieving success with your research, but also on supporting you personally."
The vibe on campus is key, agrees Fjeldsted, and Admissions Information Day gives students a strong sense of what to expect. "You want to go scout it out so you can figure out if it's the right fit."
Visitors can speak with current Concordians like Claire Roussel, a Child Studies major who has volunteered at Admissions Information Day three years running. Why does she keep coming back? "It's a great atmosphere," says Roussel. "You are helping people realize their dreams in a way. I've helped people choose different majors in my department when they weren't really sure."
Another highlight: chatting with fellow members of the Concordia community. "I always ask people their favourite little-known fact about the university," Roussel says. "That's how I learned about the film bank [also known as the Moving Image Resource Centre], Le Frigo Vert and our greenhouse."
February 13 is also Portfolio Day, a chance for prospective Fine Arts students to sit down with faculty members and get one-on-one feedback on their work.
The creations of current Fine Arts students in photography, studio art, design, computation arts, and more will be on display.

Find out more about Admissions Information Day.
---