Virtual reality is going mainstream. Are you ready?
As Google creates a new VR division, two Concordia experts test out technology's next 'big leap'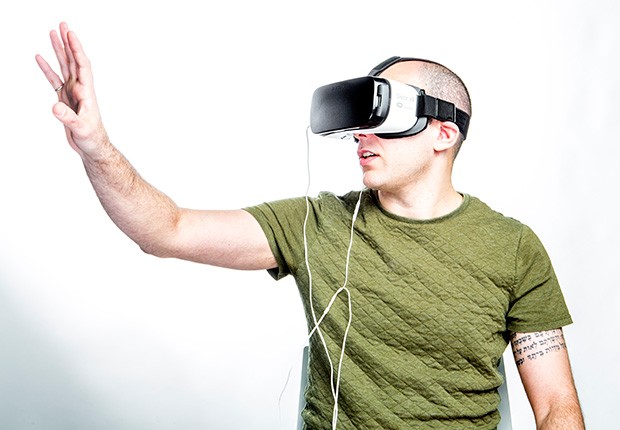 2016 is shaping up to be the year that virtual reality becomes ... reality.
Yesterday, Google's parent company Alphabet confirmed it is appointing a new virtual reality (VR) chief to run a dedicated division. Meanwhile the Oculus Rift headset, with its immersive multimedia experience, is now commercially available for the first time.
Concordia graduate Warren Wilansky, BA (comm. studies) 96, is the founder and president of Plank, a Montreal-based digital agency. He brought his Samsung Gear VR unit, powered by an embedded smartphone, into our office for a demo.
Tech enthusiast Noah Saber-Freedman — a Concordia graduate student in industrial engineering and lead scrum coordinator at the District 3 Innovation Center — agreed to try out Wilansky's headset and tell us if the future has indeed arrived...

Warren Wilansky: This is the first consumer technology that came out based on Oculus — the Gear VR. It uses a Samsung Android phone; you open it up and put the phone inside.
One of the demos is a video of Patrick Watson, the musician [by Montreal's Felix and Paul Studios]. He's playing piano, and you can just sit and watch.
Noah Saber-Freedman: Should I sit down for this?
WW: Yeah, probably.
Saber-Freedman sits on a stool and Wilansky places the VR Gear unit on his head.
NSF: Feels like I'm in a William Gibson novel. Hey! I can see out of the front of this thing. Something's happening.
WW: I'll show you where the touch pad is. On the side here, there are two buttons. That's the touchpad, and if you go a little bit above it there's a back button. Put these headphones on.
NSF: This is very hard to do when you can't see your hands. Okay ... Tap to play. There we go. Okay. I'm in his apartment! That's pretty neat. Can you turn it up a bit? That's good.
It's raining outside. Oh yeah, that's about right.
Saber-Freedman's head moves around, as he takes in the virtual space.
Who's he talking to? That's funny. There's a dog. This guy needs to clean up. He's got good taste in posters, though.
It's interesting. The resolution is not 100 per cent, but it's great. I like the graininess, because it gives it a sort of dreamlike quality.
WW: I agree. The Oculus will have a higher resolution than this, because this is basically depending on an Android phone, and splitting the phone video in half. So you're getting half the resolution.
NSF: He's smoking a cigarette, but I can't smell it. This is thoroughly impressive!
The motion tracking is very good. I look around and I see that I'm in his apartment. There's a wood floor, a dog over there, a palm tree over there. He's sitting in front of me, to my right on a piano.
It really goes all the way around. It's really impressive. I'm going to put the other earbud in and really trip out on this for a second.
Yeah, this is about right! You really feel like you're sitting there. It's definitely better than what I've tried before. The quality of the imagery is much better.
WW: Basically, as the library grows, there'll be more to download and try out. Every six months or so, the resolution is going to get better. And some of the sensor things are going to start happening. Once it starts to recognize when you stand up, that's when things are going to get even more exciting.
A lot of video games now have that technology. If you're using it and if you move your game controller in one direction you're able to peek around walls and things.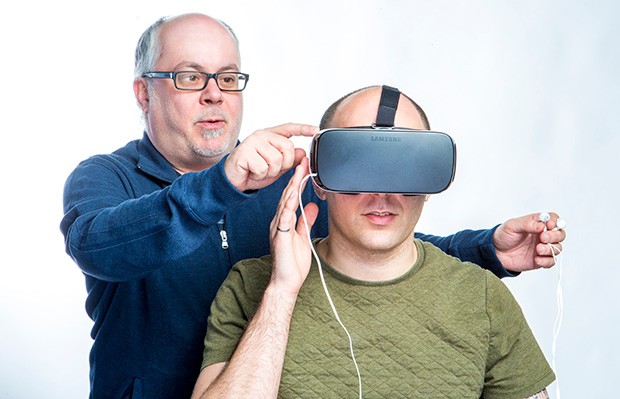 Industrial engineering graduate student Noah Saber-Freedman tries out a Samsung Gear VR headset, owned by Concordia alum Warren Wilansky (standing): "It's the real deal."
Marc Bourcier (photographer): With the VR Gear, right now it's only working with certain Android phones: the Samsung Galaxy S6 and the Note 5.
WW: Right. So I had to buy this phone to get it to work. The actual headset was only $150, but then you've gotta get the phone.
MB: I can just imagine watching movies with it. It's the next big thing. You had 3D movies, but now you're immersing yourself in the movie!
WW: It's pretty compelling.
NSF: That one moment where Patrick Watson looks at you…
WW: Yeah, that's spooky! You have this human reaction. You want to react as a human being to him.
WW: And you can see where it's gonna go. Imagine doubling that resolution or tripling it?
Is Virtual Reality the future of storytelling?
NSF: I work with a lot of startups these days, so I hear terms like innovative and revolutionary used all the time. A lot of these things are just incremental improvements marketed as revolutionary.
But I really think that this is a new way to deliver media and tell stories. I think it could be just as profound as the desktop PC or the television or the radio.
And this is such a simple experience — it's someone playing piano. But imagine being in a war movie. A noise over there, someone shouting next to you ... It could be pretty jarring.
I think it's a pretty big leap. I think it's the real deal.
WW: I think so, too. I'm trying to figure it out and do research on it. I know virtual reality is going to affect the work that I do, and it's also going to affect entertainment. I'm actually enjoying thinking about where this is going to go and how it's going to develop.

On January 28, as part of the university's Thinking Out Loud public conversation series, Concordia professor Mia Consalvo joins author Clive Thompson for a discussion on how games help us connect socially, the ethics of communications technologies and the impact of online activities on our off-line lives.
---