The future is urban. The challenge? Climate
On November 30, the Montreal Summit on Innovation will seek to find ways to build more resilient cities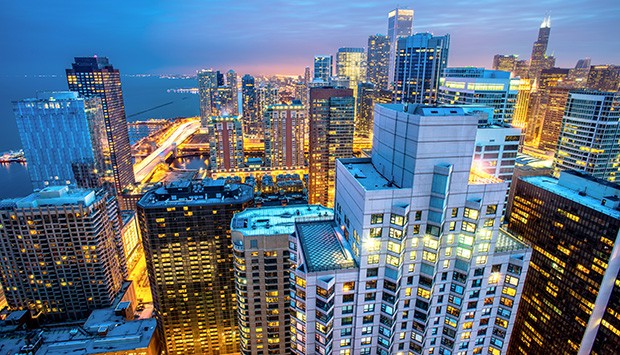 "Adding 2.5 billion to urban populations by 2050, which is the projection, means building 2,500 cities of one million people each, within 35 years." | Photo by Christopher F (Flickr Creative Commons)

How should we reinvent the city in the face of climate change?
That's the question driving the fifth edition of the Montréal Summit on Innovation (SMI 2015) taking place on Monday, November 30, at the Palais des congrès de Montréal.
The conference was organized by the Board of Trade of Metropolitan Montreal, while Concordia set this year's theme, Climate (of) Change: Cities, People and Prosperity, and staff and faculty from the Office of Research developed the programming.
Academics, decision makers and scientists will address the anticipated repercussions of climate change, as well as review exemplary practices in the areas of risk management strategy, investment and urban planning and social innovation.
Alan Shepard, Concordia's president, will provide opening remarks, and 16 experts in their respective fields will lead sessions. David Suzuki is speaking in the early evening, as part of the Bell International Leaders series.
Climate change: 'also a huge business opportunity'
The relationship between population growth and climate is a hot conference topic.
"Adding 2.5 billion to urban populations by 2050, which is the projection, means building 2,500 cities of one million people each, within 35 years," says conference speaker Paul Shrivastava, executive director of Concordia's Future Earth and the David O'Brien Distinguished Professor of Sustainable Enterprise at Concordia's John Molson School of Business.
"Climate change will impact this rapid urbanization, and urbanization will impact climate. This is both a huge threat and also a huge business opportunity."
Shrivastava stresses that building the necessary urban infrastructure to house future generations will require good trans-disciplinary scientific understanding of the challenges, and visionary business and political leadership.
A fully decarbonized economy
The conference will include a scientific overview of the history of climate change by Damon Matthews, associate professor in the Department of Geography, Planning and Environment and Concordia University Research Chair in Climate Science and Sustainability.
"Climate action has been an international priority for more than 25 years and we've delayed far too long," says Matthews. "It is critical that we set a course now toward a fully decarbonized economy."
"The magnitude of the climate challenge is staggering. We need to be off fossil fuels within half a century, and this will require action and innovation in every sector of our society. Here in Canada, our energy-policy decisions have been at direct odds with the priorities of climate action. The time has come to align our national energy policies with this new reality."
In response to the serious nature of environmental warnings, the conference will conclude with a presentation of examples of innovative commercial, social and technological initiatives to deal with climate change.
A challenge for humanity
"The battle for climate change is, and will be, a challenge for humanity," says Damien Silès, executive director of Quartier de l'innovation. "There's no plan B. The SMI is the Canadian forum on this subject in 2015, offering a foundation for the 21st Conference of the Parties to the United Nations Framework Convention on Climate Change (COP21) this year."
Silès is impressed with the conference lineup. "We've attracted world-renowned speakers, and we hope to sensitize politicians and the business community to the major impact of the actual climate upheaval."
"Now we're moving into action"
Michel Leblanc, president and chief executive officer of the Board of Trade of Metropolitan Montreal, says he's pleased to be taking part in organizing the Montreal Summit on Innovation for the second year.
"In the past, efforts went into raising awareness about climate change. Now we are moving into action," he says. "Greenhouse gas emissions targets and the investments announced in Québec's Green Fund will create business opportunities. The Montreal Summit on Innovation will spotlight these opportunities, along with the economic impact of climate change on Montreal and all of Quebec."

Register online or by phone at 514-871-4001 for the fifth edition of the Montréal Summit on Innovation, taking place on Monday, November 30, at the Palais des congrès de Montréal.
Students must register by phone, and their tickets are $85. Adult tickets are between $275 and $350. Admission to David Suzuki's talk starts at $35.
---