A Wikipedia edit-a-thon tackles gender and race imbalances
Linguists at Concordia band together to raise the profile of experts in their domain on the popular website
October 16, 2015
Source: University Communications Services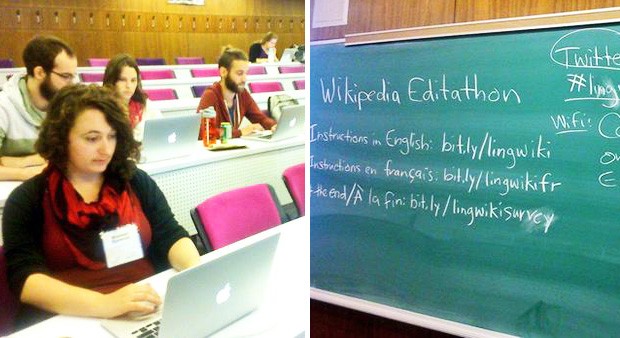 Did you know there are more than 6,000 languages in the world? And it's estimated that 50 per cent of those languages will be dead by the end of this century?
This is the kind of thing that gets linguists out of bed in the morning, as they strive to document and study how we use the brain to communicate.
"It's uniquely human — this vast and complex piece of the brain that we use to speak," says Alan Bale, associate professor in Concordia's Department of Classics, Modern Languages and Linguistics. "Linguistics and language is something we use every day. It's fascinating."
Bale and his department colleague, associate professor Madelyn Kissock, are on the organizing committee of the 46th meeting of the North East Linguistics Society (NELS). It's the first time Concordia hosts the event, which has 250 registrants and features more than 55 sessions and two workshops between today and Sunday, October 18.
Wiki fix
One of the highlights is tonight's Wiki edit-a-thon in the Henry F. Hall Building (H-527) at 6:45 p.m., led by linguist Gretchen McCulloch, a blogger who writes about the subject for a general audience. The workshop has an ambitious mandate: to try to correct gender and race imbalances in linguistic-related entries on Wikipedia. This is the first time one has been held during a NELS meeting.
"There are key figures in linguistics missing from Wikipedia," McCulloch says. "For example, Keren Rice is a linguist who is an officer in the Order of Canada, but she wasn't on Wikipedia until she was added in January. This weekend, we have a wish list of 42 linguists to add and six others whose entries need work."
The stakes are high. If a linguist isn't listed on Wikipedia, McCulloch adds, they won't be remembered in the future. Even worse, it gives a warped perspective of who works in the field.
However, gender and race imbalances in biographic entries aren't the workshop's only concern. The idea is to also improve poor Wikipedia entries for specific languages, such as the sub-par descriptions of Welsh, Arabic and Estonian.
LingSync workshop
The second workshop tonight is a tutorial on LingSync, a suite of open-source software tools designed to facilitate linguistic fieldwork, research and language documentation by enabling collaborative data creation and curation. The workshop is also in the Hall Building (Room H-661.2), and starts at 6:45 p.m.
"Essentially, LingSync is a very useful language revitalization and research tool. It was developed in Montreal, at Concordia, by a postdoctoral fellow Joel Dunham, and McGill," says Bale.
The NELS 46 organizing committee gratefully acknowledges the financial support provided by Concordia's Department of Classics, Modern Languages and Linguistics, the Office of the Vice-President, Research and Graduate Studies, the Concordia Linguistics Student Association, and the Social Sciences and Humanities Research Council of Canada Connection Program.

If you're interested in attending the 46th annual meeting of the North East Linguistics Society, or participating in the Wikipedia Edit-a-thon, go to Room H-765 of the Henry F. Hall Building with your credit card to register today (Friday, October 16).
Debit and cheques are not accepted.
The meeting costs $60 for students (undergraduate, master's and PhD) and $120 for faculty and others.
---