How can universities build learning environments that are both digital and connected?
On April 2, Stanford's Amy Collier is coming to Concordia to discuss how technology can be used to create meaningful and shared learning experiences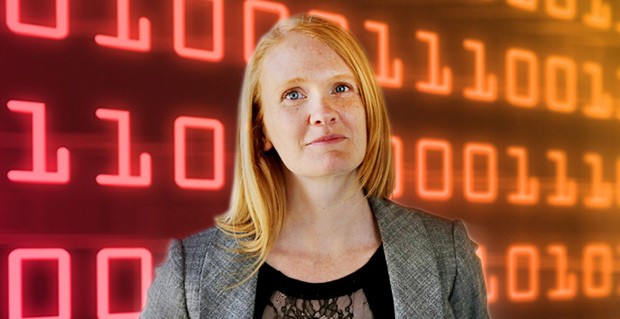 The new director of inspiration and outreach at Stanford, Amy Collier: "We should be making space for technologies that allow for creativity, awe and surprise."
Amy Collier is passionate about learning – and passionate about how technology can enhance the learning experience.
"We should be making space for technologies that allow for creativity, awe and surprise and that support open-ended learning opportunities for students," says Collier, who has assumed the new role of senior director, Inspiration and Outreach in Stanford's Office of the Vice-Provost for Teaching and Learning.
Her new position builds on her former role as director of digital initiatives, where she managed a team of instructional designers, developed a process for prioritizing projects, and supported and catalyzed faculty interest in digital learning.
"Too many technologies we use in higher education are about command and control," she says, referring to the process where students reach a predetermined end point in their learning. But says Collier, if you provide technological space for students and faculty to explore and experiment, there are many benefits.
"For example, we have more and more faculty interested in experimenting with personal cyber infrastructure — a term coined by Gardner Campbell at Virginia Commonwealth University. This is a method where you give students their own individual space on the web and they use whatever tools they want or need to create digital work. This is a very different method from using a learning management system, which more tightly manages what students do in their courses," she says.
This new approach, says Collier, is meaningful to the learner and to the professor. Faculty members are surprised and invigorated by solutions developed by students and by the ways in which they've taken the opportunity to creatively explore an open digital learning space based on their goals.
Collier is coming to Concordia on Thursday April 2 as part of the Future of the University and the Future of Learning speaker series. Her talk takes place at noon in Room MB 10.121 of the John Molson School of Business Building (MB).
We spoke with her in advance of her presentation, "How can universities build learning environments that are both digital and connected?"
Can you give us one or two intriguing examples of new digital initiatives or experiments being undertaken by Stanford faculty?
Ann Collier: Since 2012, we have issued calls for faculty to submit proposals and have been able to seed and support a lot of projects through this proactive approach. We have also responded to ideas that faculty have brought to us. This two-pronged approach has yielded a lot of new and interesting projects.
One example is the Lacuna Stories, a project led by Amir Eshel, a professor of comparative literature in the Department of Comparative Literature. He and a team of postdoctoral students and technologists created the annotation platform, Lacuna Stories, which supports close reading, analytical thinking and research through annotation. This platform builds on current tools and allows for annotation and critique of primary texts.
When learners engage with the texts, they get immediate input. They can sift the text for discrete aspects, so if they are studying one particular literary device or theme, they can stitch multiple texts together, threaded by the device or theme. Within the Lacuna administrative interface, faculty have a dashboard so they can see which texts students have annotated most frequently and in depth. The end result is that guided classroom discussions are livelier because students have engaged in critical thinking about the texts in advance.
Another project is led by George Hilley, an associate professor of geological sciences, who studies the landscape's response to active faulting and folding of the Earth's crust. Hilley has created a mobile tool that allows for immediate, experiential learning in the field.
Much of the requisite knowledge in this discipline requires students to learn on site, so Hilley set out to provide students with useful field data to reinforce fundamental concepts.
He started with the San Andreas Fault. As students encounter different spots on the fault line, they receive information delivered directly through a mobile device that is contextual and responsive to student placement in the field.
There are people who are skeptical of Massive Open Online Courses (MOOCs). What have been your most important takeaways from the MOOC phenomenon? What's next in open online learning at Stanford?
AC: My first big takeaway is that people appreciate having access to educational resources through these open online courses, for a variety of reasons. We get feedback from learners with anecdotal information, but we don't know the full extent of their goals or how they apply what they learn.
For faculty, MOOCs have enabled them to extend the impact of their research, and to share their expertise with a larger, global audience. There is a lovely symbiotic relationship between faculty who appreciate the opportunity to generate vastly different productions of their work and a growing, engaged community of people who are excited to access and share these resources and knowledge.
Although a common perception about online learning is that individuals are sitting in front of a screen and learning in isolation in a limited, almost antisocial kind of way, I have collaborated on a research study with a colleague at Royal Roads University (British Columbia) that produced sharply contrasting sample data. We interviewed 14 people about their lived experiences of taking a MOOC.
We asked different questions about how the subjects engaged with the MOOC. We found that one participant watched course videos while she was breastfeeding her child, and like others, felt she was in a holding pattern professionally. She, and others who felt similarly, wanted to keep current on certain topics.
Another participant formed a local study group for people enrolled in his MOOC. Several participants said they connected with other participants in their MOOC via social media. I have also heard stories from other sources about grandparents logging in with their grandchildren to participate in a MOOC.
So while MOOCs can be geared to the individual, we saw in our small sample that people found ways to share, be more social and more connected.
I think we, as educators, need to expand our notions of learning, and the university has an important role to play in this regard. We need to work with learners to make these connections meaningful and design our online learning environments with meaningful connection in mind.
What's next in open online learning at Stanford? I believe we will continue to see an expansion of digital learning models. Yes, we will continue to see faculty and researchers share their expertise and findings through avenues like open courses. We will also see variations of the open course model, with distributed communities of learning who are interacting in smaller groups, with meaningful exchanges, organized around topics, issues, and research areas. Distributed, connected learning.
What really inspires you and keeps you deeply invested in your work?
AC: I am inspired by a network of professionals who include faculty, educational technology evangelists, and learners themselves, who are engaged in this work because they genuinely care about learning. They challenge me to continually push the envelope on our own efforts, so that everything we do can benefit learning broadly, beyond our own classrooms.
You recently gave a conference keynote titled "Embracing not-yetness of emerging technologies." What was the essence of your message?
AC: The essence is that we should be making space for technologies that allow for creativity, awe and surprise, and for open-ended outcomes for students. We should celebrate learners' differences and diversities.
Too many technologies we use in higher education are designed to move students to a predetermined end or goal. In my presentation, I spoke about creating space for students and faculty to explore — a space that is not prescriptive. When we do that, we see that faculty surpass our expectations for experimentation and things open up. Our practices around technology shouldn't predetermine where faculty and students will end up, rather they should facilitate space for people to explore and be open to learning. This is what I call "not-yetness."

Register online for Amy Collier's presentation, "How can universities build learning environments that are both digital and connected?" on April 2 in Room MB 10.121 from noon to 1:30 p.m.
The day before Collier's event, we will hear from James Neal, University Librarian Emeritus at Columbia University. He comes to Concordia on April 1 and will reflect on the question, "What fundamental shifts do next-generation libraries (universities) need to make?"
---