7 things you need to know about Idea Groups
These small teams are examining key issues as part of the university's strategic directions initiative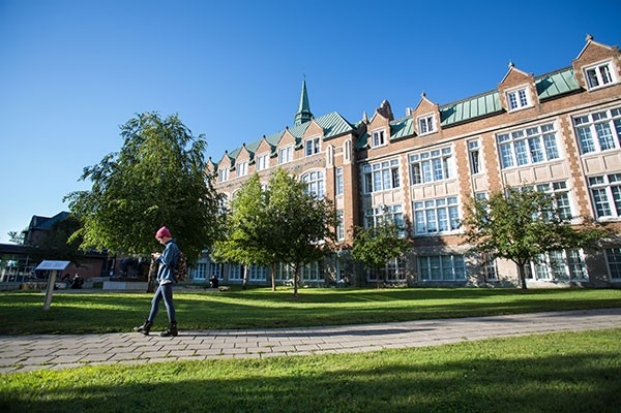 Seven Idea Groups have been created to initiate conversations and consult with the university community on topics ranging from the future of learning to innovation and entrepreneurship. | Photo by Concordia
You've heard about Idea Cafés — small group conversations in which staff, faculty and students can share ideas about what's next for Concordia. There's been one session so far, and four more are on the way.
But now you may be asking: What's an Idea Group?
Idea Groups are small teams that have been created to glean some of the most promising ideas on specific topics that are of strategic importance to the university.
The members of these Idea Groups are from the Strategic Directions Advisory Committee, convened last December by Concordia's president Alan Shepard. They are doing their work by digging into key readings, reviewing input generated at the Idea Cafés and consulting with key members of the university community.
Here is an overview of the seven Idea Groups.
The future of learning and experiential learning
Philippe Caignon and Jason Camlot are co-leading a group that is examining the key characteristics of next-generation learning, which includes experiential learning.
Their mandate includes articulating an approach to teaching and learning that inspires and challenges while providing a sense of focused priorities. They will also identify two to three novel approaches or methods for expanding experiential opportunities that could be offered on a pilot-project basis.
The team's members are Annie Chevalier, Scott Chlopan, Patricia Hachey, Mahesh Sharma and Veronica Tamburro.
Innovation and entrepreneurship
Led by Ferhat Khendek, this group's challenge is to identify distinct next steps for Concordia's innovation and entrepreneurship activities.
Richard Courtemanche and Ben Prunty are part of the team working to identify two to three forward-looking ideas for experimentation, in particular around connecting faculty researchers with opportunities for industry partnerships and commercialization.
International strategy
The challenge for this group, led by William Cheaib, is to devise ways to bolster the university's international reputation and presence on the world stage through further global academic and development engagement.
The team's members are Jill Didur, Brian Lewis and Emma Saboureau.
Next-generation academic structures
Paula Wood-Adams is convening this group, whose members include Chris Jackson, David Douglas and Javier Lee. Their mandate is to facilitate deeper and more frequent collaboration across departments.
They will identify inspiring models and put forward two to three alternative approaches for enabling greater cross-faculty and cross-disciplinary collaboration and innovation.
Next-generation student skills and expectations
Andrew Woodall is leading this group that is rethinking how we equip a diverse range of students to thrive after graduation.
Its members include Oreoluwa Ajayi, Guylaine Beaudry, Stephen Brown and Alexandra Buonanno; their work includes reviewing various articulations of "future work skills" to help identify possible "next-gen skill" offerings through the Student Success Centre.
They will be coming up with three to five forward-looking ideas for experimentation.
Public/community engagement
The challenge for this group, led by Isabelle Dostaler, is to explore how Concordia can move from individual achievements to institutional impact when it comes to public and community engagement.
Working alongside Dostaler are Ali Akgunduz, Leisha LeCouvie and Terry Wilkings. Together they will identify three to four forward-looking strategies or initiative for consideration.
Research
Lynn Hughes is leading this group, which will identify strategies to help Concordia intensify its research activities and increase its agility in seizing emerging opportunities. Members are Mustafa Mehmet Ali, Trevor Smith and Malcolm Whiteway.

About the strategic directions initiative
The strategic directions initiative is taking a three-pronged approach to engaging Concordians in thinking about the future: bringing in thought leaders for the speaker series The Future of the University and the Future of Learning; Idea Cafés, small group conversations; and Idea Groups.
Find out more about Concordia's Idea Groups. Feel free to get in touch with Idea Group conveners, or to send comments and questions to directions@concordia.ca.
---