What will future students want and need from universities?
Join us on March 4 for a discussion on how universities need to rethink their roles, structures and activities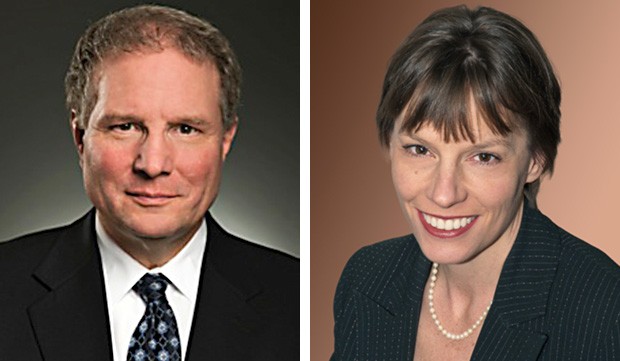 From left to right: Carl Amrhein and Diana MacKay.
Around the world, postsecondary institutions are dramatically reforming how they prepare students for work, leverage digital learning technologies and integrate with their communities.
In their work at The Conference Board of Canada's Centre for Skills and Post-Secondary Education (SPSE), Carl Amrhein and Diana MacKay are helping academic leaders to "rethink universities" with a particular focus on student interests and pathways.
Amrhein and MacKay are coming to Concordia on Wednesday, March 4 as part of the speaker series, The Future of the University and the Future of Learning. Their joint presentation, "What will future students want and need from universities?" is one of many events being organized as part of Concordia's strategic directions initiative.
The series features a diverse group of thought-leaders from across Canada and the U.S. to share their insights and know-how on emerging issues and trends in higher education and learning as Concordia explores its future strategic directions.
MacKay is the executive director of the SPSE, a five-year research initiative examining Canada's advanced skills and education challenges. The centre is addressing Canada's advanced skills needs by helping to renew the roles, structure, activities and impact of the postsecondary system while ensuring its operational sustainability.
As a visiting executive with The Conference Board of Canada, Amrhein has played an instrumental role in the centre's launch. As the former provost and vice-president (Academic) at the University of Alberta, he has extensive expertise in addressing challenges in areas such as responsiveness of postsecondary education to labour market skills needs and connections between research and the economy.
We asked Amrhein and MacKay to share some of their insights ahead of their March 4 presentation at Concordia.
What are the goals of the Centre for Skills and Post-Secondary Education and its summits?

Amrhein: Canada has no ministry of higher education. We are one of the few advanced economies without such a ministry, so there is no obvious platform to have a national debate on skills and postsecondary education.
Historically, provinces and territories have handled education and this worked well when education was focused within the country. But today, higher education is a major foreign policy tool of advanced economies with the circulation of bright young people, movement of new ideas and research ideas – all of these have become highly global and internationalized.
The goal of the centre is to start a conversation on the state of postsecondary education and to ask the hard question about whether we might imagine doing things differently.
We've had strong engagement by provincial and federal governments who see this as a critical important conversation. A large number of institutions have also signed on to help. We've had industry get involved, large and small, and a lot of enthusiastic support from student leaders.
MacKay: The summits, held once a year in November, bring different stakeholders together to share the findings of research work we have done to date. We have a couple of days to examine issues together, share a dialogue, gain some shared vision, and discuss actions we want to take together.
As an example, we have agreed we need more student mobility in Canada. But how do you achieve a more comprehensive system of mobility? It will require actions to be taken by governments, regulatory bodies and registrars, among others.
Mid-way through our five-year initiative, we plan to deliver a draft of a pan-Canadian strategy along with specific goals and actions to achieve the required changes in the medium-to-long-term.
You note that Canadian employers expect that graduates will be "job ready." Is this a fair expectation of universities (as opposed to colleges)?

Amrhein: I do not think it is reasonable to have a system, which is experiencing the withdrawal of public funding, to be assigned a complicated and expensive role of providing employer-specific content.
Historically, postsecondary education institutions like universities would have taught generic skills like computer programming. Then at a company like Microsoft, you would learn their specifics of doing business.
Now we are being asked as institutions to produce job-ready graduates. The other countries I have studied don't have this expectation. One of the questions for this project is to explore why this is a good public policy direction for Canada.
MacKay: We need to define what we mean by "job ready" … It is also a question of whether employers and students mean the same thing when they say "I am job ready."
If you think about universities, in many institutions, more than half of the students will graduate with certification in some area. All medical, law students, accounting, engineering and pharmacy programs have some kind of clear pathway for licensing. These are students you would expect to be job ready when they are stepping out of the doors of the university to the next step.
What do you say to faculty in non-professional areas who see their aims for students in broader terms? How do we move beyond dichotomized understandings of the goals and outcomes of university education—existential vs. vocational, as our recent speaker David Ward put it?

Amrhein: If we take a hard look at the history of public institutions, especially in Canada, it has always been a combination of very high-quality disciplinary training and access to other courses that gave you a more well-rounded education. The fact that young people are worried about their careers more than they might have been 10 years ago has a lot to do with demographics and expectations of young people more than it has to do with institutions.
I have talked to dozens of students and they have all asked for access to a body of knowledge to get them ready for a career. Not one of them has asked to have the discipline watered down. I don't see students abandoning the arts but I see students in the arts crowding into entrepreneur courses; students in the performing arts are also studying to set up a business. I see a wide array of students taking advanced computing to develop apps.
MacKay: During the past two years Carl and I have been travelling across Canada and meeting with institutions and seeing different models. Liberal arts education is clearly an important part of any postsecondary system in the world.
We have a number of high-quality institutions offering liberal arts and humanities programs where the skills acquired are harder to pinpoint compared to other vocational programs.
It is important to have a number of people in the system gaining knowledge of history, for example, of how people work together in teams, language acquisition, collaboration skills, innovation skills – all of these are important to the economy.
We have to show there is value in producing all types of learners and graduates; we have to get away from seeing it as existential. We need to have a system that is nimble and responsive to society as well as producing lots of different people with different skills and attributes.
You place a heavy emphasis on thinking about colleges and universities from the perspective of students and their needs and interests. What would universities need to strongly consider doing differently (even radically so) to meet the needs and interests of students?

Amrhein: I think there is a lot under way. Universities have responded in a variety of ways, not just with entrepreneurial hubs … We've seen students travel to competitions where they compete against the best and brightest of other institutions … There is a lot of innovation going on.
For universities, if they are encouraged to listen carefully to students and professors, there will be a natural evolutionary process. The notion that universities refuse to evolve is not based in facts. If you look at broad expanse of postsecondary education today compared to 10 years ago, with the penetration of technology and entrepreneurial activities, it is a very remarkable transformation.
I don't worry about institutions evolving unless there is a very heavy external hand that tries to dictate where universities should go. The value of the Canadian postsecondary education is that it has been free to evolve; it is not a very heavy state bureaucracy that makes all of the decisions for it.
MacKay: We don't want to suggest that there is need for radical change in all areas but there are some areas to rethink. It may be the case for us to start thinking about enrolling students in postsecondary education who are not in the 18-22 cohort.
Everything we have largely across the system is catering to this demographic but there is a tremendous opportunity to create touch points for providing education earlier, such as reaching out to students in secondary school.
Entrepreneurship is a good example. Technology has made it possible for high school students to start their own businesses, but we don't tend to give them any instruction or training on this until much later. It would be very interesting to see the k-to-12 system collaborate with the postsecondary system, offering some kind of co-op programming for younger students to gain access to entrepreneurship programs in the postsecondary system.

Watch the video interview with David Ward on why universities should innovate:
Join Carl Amrhein and Diana MacKay on March 4 when they address the question, "What will future students want and need from universities? The event takes place from noon to 1 p.m. in Room MB 10.121 of the John Molson School of Business Building (1450 Guy St.), Sir George Williams Campus. Advance registration is required.
Our next speaker is Elizabeth Cannon, president of the University of Calgary, who comes to Concordia on March 10. She will reflect on the question "How can universities go from good to great?"

---