5 tasks to master in the new Student Information System
Get ready for registration opening March 11
February 24, 2015
Source: University Communications Services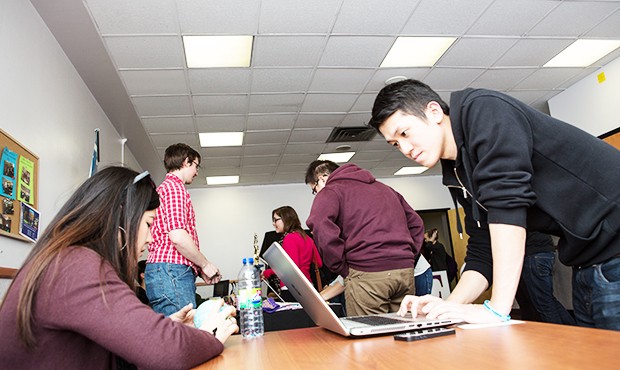 With registration for the summer 2015 term opening on March 11, now is a good time for staff to become familiar with registration-related tasks in the new Student Information System (SIS).
"While the look and feel of the SIS is different from WebReg — the previous application we used inside SIMS — the registration tasks we need to perform are exactly the same," says Linda Hull, manager of course registration, examinations and academic scheduling.
Hull worked alongside the SIS team to develop the self-learning modules related to registration on Moodle.
New features
"The SIS provides new features and flexibility for the registration process," says Bradley Tucker, associate vice-president of Registrarial Services and the University Registrar. "The new waitlisting function is an obvious 'win' for students, faculty and staff, while the new advising module aims to enhance the academic advising process via degree audit reports and a 'what if' tool for students to access the impact of making changes to their program, area of study or concentration. Overall, registration will become a more automated, streamlined process."
Added flexibility
Within the students' self-service dashboard, they now have the flexibility to select a course's lecture, tutorial and lab as three separate decisions, instead of one solid block.
"Furthermore, students can now swap one course for another — an English class for a geography course, for example," says Hull. "In the old system, students could only move to a different section of a course by themselves. This takes stress off department administrators when students want to swap courses, not just sections."
How to get ready for registration
The training team is putting together a special online training module that covers all of the functions needed for academic advisors. There will also be a number of one-hour training sessions available to any of the advisors who would like to attend. Based on feedback from the one-hour sessions, there may also be hands-on sessions for those who feel that this would further aid their learning process.
In the meantime, here is Hull's list of the top five most relevant tasks to master in the SIS for registration.
1. Remove service indicators.
"Many students, especially new Arts and Science students, are blocked from registering until they've seen an advisor," Hull says. "Faculty and staff should take the time to familiarize themselves with how to remove a service indicator, formerly called an 'advising flag.' There are specific self-study modules in Moodle for this task, including 'Manually remove a service indicator whose impact is a registration hold.'"
2. Manage overload requests.
Once a request for an overload is approved, the advisor needs to know how to manage overload requests," Hull says. The relevant self-study module in Moodle has a straightforward title: "Manage Overload Requests."
3. Assign permissions.
Another key registration-related task to master in the new SIS is the ability to assign permissions. "It's important to know how to assign a permission for one student, for one section of a course," Hull says. She recommends revisiting the self-study module "Assign a permission with an expiry date."
4. Assign overrides.
"Students will be approaching departmental offices for permission to take courses without the correct prerequisite or asking to enroll in courses that require departmental consent," Hull says. "If the course has many sections, it is possible to grant the permission for all sections of a course rather than doing one at a time, so I suggest boning up on how to assign student-specific overrides to all sections of a class, which is the actual name of the self-study module."
5. Waitlist-related tasks.
All the self-study modules related to waitlisting — such as "Auto enroll a student from a Wait List," "Change Wait List position" and "View students in Wait List and enroll a Wait Listed student" — will help prepare faculty and staff for registration.

To learn specifics about the SIS support structure and more, consult the SIS Project Renewal Hub.

---