A living Green Map of downtown Montreal
Concordia students are using an innovative interactive platform to pinpoint sustainable community services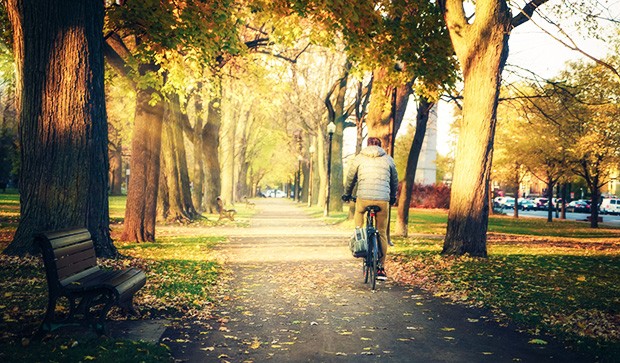 Wondering where the nearest Bixi stand is? How about a locally owned, fair-trade café? Or perhaps something more specific, like a collective composting site?
You can find these spots and more on a new Green Map of the Peter McGill district of Montreal, where Concordia is located. It's collaborative map that allows users to identify environmental, cultural and social resources in downtown Montreal in order to build a stronger neighbourhood identity.
"The Green Map is a tool that will inform both students and neighbourhood residents about the different resources on and off campus," says Zoe Pearce, a student in the Department of Urban Studies and Urban Planning at Concordia.
Pearce has created the guide along with Sarah Babin-Scrimgeour, a fellow urban-planning student, using the Green Map System. This online platform allows communities around the world to chart sustainability resources — resources that are often undiscovered or overlooked — in an interactive way.
The maps themselves are dotted with icons that identify a location, activity or cultural resource, and each icon is clickable for more information. The Peter-McGill district map has 33 icons so far, acovering the likes of Le Frigo Vert and the Centre for Oral History and Digital Storytelling.
"With the Green Map, there is an exchange of information that is being done on sustainability," Babin-Scrimgeour says. "Hopefully that exchange of information can lead to a sense of belonging and a better education of what is sustainable."
The map is supported by Concordia's Office of Community Engagement; Pearce and Babin-Scrimgeour partnered with the Peter-McGill Community Council to compile information for it. Last fall, they attended a district planning forum as a way to bridge the gap between the Sir George Williams campus and the wider neighbourhood.
Eryn Fitzgerald, the university's community relations coordinator, agrees that the Green Map is an important tool for connecting students with the downtown community. "The map will help bring all these resources to the surface," she says.
The Green Map project is ongoing, and over the next few months, the team invites people to comment on the map and submit entries.
"Anyone with access to a computer and internet can upload as much information as they want," Babin-Scrimgeour says.
"It really is a living map," Fitzgerald adds. "It will continue to grow."

Do you know of a resource that should be on the map? Come chat with the Green Map team at the 2015 Housing Fair on February 17, from 11 a.m. to 4 p.m., in the atrium of the J.W. McConnell Building (1400 De Maisonneuve Blvd W.) on the Sir George Williams Campus.

Find out more about the Peter-McGill District Green Map.
---