From Black Panther encounters to manifestos: art that powers social change
At the 2014 Encuentro, the Leonard and Bina Ellen Art Gallery is exhibiting three participatory projects with a powerful message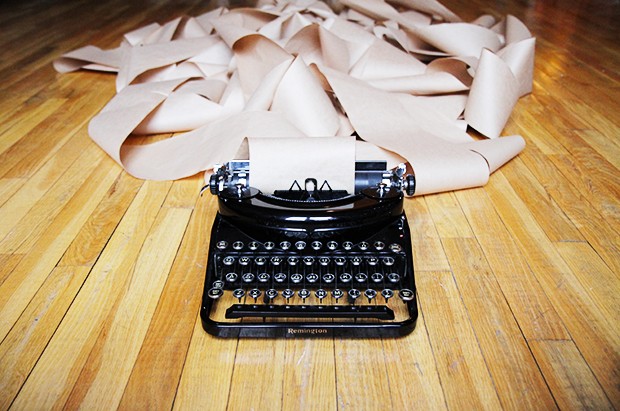 From the manifestroom project by Zavé Martohardjono and Lilian Mengesha. | Photo courtesy of the artists

Michèle Thériault, director of Concordia's Leonard and Bina Ellen Art Gallery, believes that her visitors' reactions to individual artworks cannot be predetermined.
"The experience always takes place on site," she says.
This June, Thériault expects the response to three participatory projects to be "intense and dynamic."
At the upcoming Encuentro — an academic conference and performance festival hosted by Concordia from June 21 to 28 — the Leonard and Bina Ellen Art Gallery is exhibiting a series of works to inspire conversation, experimentation and collaboration around the theme of Manifest! Choreographing Social Movements in the Americas.
The projects address this subject matter in three different ways. First, there is the Library of Performing Rights: an ever-expanding travelling archive of documents that explore the intersection of performance and human rights. Then there is manifestroom, a participatory installation that serves as a meeting place for contemporary political needs; it will provide what Thériault describes as a "space for interaction" with historical documents from international radical and artistic movements. And then there's Zapantera Negra, a project that chronicles the encounter between Emory Douglas of America's Black Panther Party and Mexico's Zapatista movement.

Thériault explains.

What is the exhibition's connection to the 2014 Encuentro?
Michèle Thériault: The Leonard and Bina Ellen Art Gallery is participating in Encuentro by hosting three projects — Lois Weaver's Library of Performing Rights and Zavé Martohardjono and Lillian Mengesha's manifestroom, along with Zapantera Negra, which brings together works produced in workshops led by Emory Douglas, former minister of culture for the Black Panthers; artist Caleb Duarte; and the Zapatistas.
The projects were selected from an open call made by Encuentro last year. A jury made up of Encuentro members chose them, and then a few were proposed to us, and we made a selection from that grouping.
We felt that the social dimensions of these projects would respond well to one another in our space.

When visitors enter the Leonard and Bina Ellen Art Gallery, what can they expect to see?
MT: I think it will be a very active space with different kinds of displays and structures, including dolls, embroideries, wall paintings, one installation in the form of a library of performing rights, and another that will interact with the effect of radical texts.
Performances, discussion and actions will take place throughout. No doubt it will be a very dynamic and engaging environment.

What do you expect visitors to take away from the projects?
MT: Encuentro is a participative experience, and this edition focuses on social movements.
What we are presenting addresses human rights, manifestos and the empowerment of a people through art and design. The communicative and sharing aspects inherent to all the projects presented will, I think, provoke participants and visitors to reflect on these issues more intensely.

The Encuentro projects will be displayed from 5:30 p.m. on Saturday, June 21 to 6 p.m. on Saturday, June 28 at the Leonard and Bina Ellen Art Gallery in the J.W. McConnell (LB) Building (1455 De Maisonneuve Blvd. W.).
The gallery is open every day from 11 to 6 p.m., except on Tuesday, June 24, when it will be closed for a university holiday. Encuentro-related activities will take place in the morning.
Find out more about Lois Weaver's Library of Performing Rights.
---