Shaping curriculum for a more sustainable world
Teaching and Learning Festival will explore ways to create engaged citizenship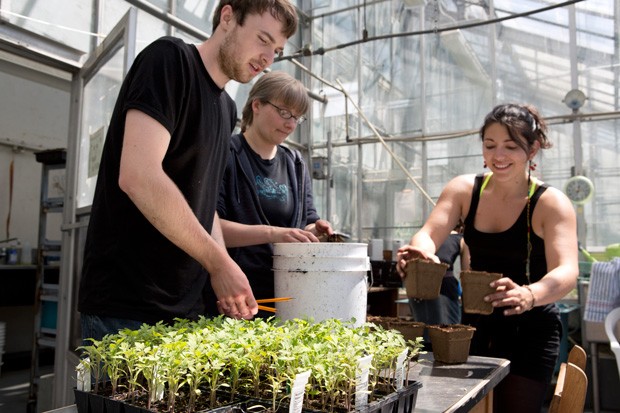 Knowing about sustainability will give students a leg up in the job market, Peter Stoett says. | Photo by Concordia University

Peter Stoett has always tried to keep sustainability front and centre in his teaching. It's a natural fit, given that the Concordia political science professor's own research focuses on global environmental politics and human rights. But that doesn't mean it's easy.
"These are difficult things to teach because you deal with issues that often demand societal change," says Stoett, director of the Loyola Sustainability Research Centre. "On the other hand, they are issues that students often relate directly to their own lives and futures."
At The Power of Curriculum: Sustainability — Learning — Innovation, the second annual edition of Concordia's Teaching and Learning Festival, Stoett and more than a dozen other Concordia professors are exploring pedagogical practices that incorporate sustainability into the classroom.
The festival runs from Wednesday, February 5, to Friday, February 7. On February 6, Stoett is participating in a session called "Interdisciplinary Perspectives on Water in Curriculum" with Monica Mulrennan, an associate professor in the Department of Geography, Planning and Environment; biology professor James Grant; and Ketra Schmitt, an associate professor at the Centre for Engineering in Society.
The panelists will use their own research on water to illustrate different approaches to issues that affect its quality and supply. According to Stoett, this highlights both the value of interdisciplinary work and the importance of teaching about sustainability.
"Many of us research different aspects of water, so we'll be looking at how we can integrate our own research into the classroom," he explains.
The discussion is one of eight taking place during the three-day festival, hosted by the Centre for Teaching and Learning Services in partnership with the student-run Sustainability Action Fund and the Loyola College for Diversity and Sustainability.
Teaching students about issues like climate change, resource scarcity and threats to biodiversity is an important part of helping them become more engaged citizens, Stoett says. And now, more than ever, a knowledge of sustainable practices will give them a leg up in the job market, too.
"When I first started teaching here in 1998, students who were really interested in these issues would ask me about what they could do professionally when they graduated," Stoett says. "There were avenues, but they were pretty far and few between. Now, it's viewed as a much more viable career path — both in the public and private sector."
The second annual Teaching and Learning Winter Festival 2014 takes place from Wednesday, February 5 through Friday, February 7. "Interdisciplinary Perspectives on Water in Curriculum" will be held on Thursday, February 6 from 11 a.m. to 12:30 p.m. in room 14.250 of the John Molson School of Business (MB) Building (1450 Guy St.) on the Sir George Williams Campus.
See the full Teaching and Learning Winter Festival 2014 schedule.
---