Back to the future of fabrics
Concordia fine arts professor weaves interactive magic with powerful new tool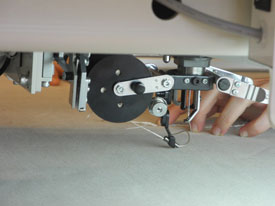 Imagine drawing a picture in light on your curtains at night. Or waving your jacket cuff by the car door to unlock it. Or even influencing a dance performance by texting a message that lights up on the dancers' costumes.

It's a future Barbara Layne can not only see but is actively working toward. A researcher and professor of fibres and material practices with the Faculty of Fine Arts, Layne — who was one of three recipients of a 2013 University Research Award — created a fabric that serves as a digital messaging system as well as comfortable clothing. In other words, smart textiles.

"We're getting away from screen-based digital technology," Layne explains. "Our work is about translating traditional weave structures into digital form — or vice versa."

It was when Layne realized that the basic X-Y axis structure of woven material is similar to that of electronic circuitry that the new vision was born. "I wanted to weave a fabric of lights," she recalls of the moment of discovery.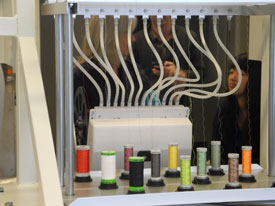 Layne has been developing smart textiles ever since, as head of Studio subTela at the Hexagram-Concordia Centre for Research-Creation in Media Arts and Technologies. She brought in electrical engineers and computer programmers from Concordia's Faculty of Engineering and Computer Science to collaborate with her team of fine arts graduate research assistants.

The subTela team strives to push the creative boundaries of cloth structures, electronic circuits and software programming. Specifically, the research revolves around embedding — or "laying" — technical fibres onto a piece of cloth and connecting them to micro-controllers. These instantaneously relay messages to the fibres to light up to create symbols, words or sentences that then scroll across the fabric. It's interactive clothing.

A major obstacle to experimenting further and producing more garments has been the extraordinary amount of time it takes to produce an item. "Each garment takes about 150 hours to create," Layne says. Along with hand-sewing comes the greater likelihood for differences between garments intended to be identical, and the possibility that electronic fibres that shouldn't touch do so.

The result is that Studio subTela has had to turn away suitors who have asked for any real quantity of the avant-garde clothing, including the Hudson's Bay group responsible for designing Canada's Olympic wear, a New York City dance company and a fashion designer who has worked with pop stars like Michael Jackson and Lady Gaga.

This should no longer a major problem.

The machine arrives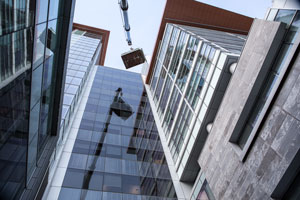 On a crisp, breezy morning in early February, a 1.5-tonne Tajima laying machine was hoisted by crane up to the 10th floor of the Engineering, Computer Science and Visual Arts Integrated Complex and slid into a Hexagram lab. Its arrival was five years in the making, ever since Layne spotted it at a textiles conference and became convinced of its potential for her research.

She believed the machine would not only save time, by mechanizing many repetitive tasks, and produce consistent quality, but also very possibly be able to seamlessly interconnect the digital with the textile — to "breach the space between electronic manufacturing methods and textile fabrication methods and allow a true hybrid way of developing electronic textile structures," she says.

Manufactured in Germany for industrial use, the new Concordia Tajima is the only one of its kind dedicated to research creation, though several machines worldwide are used for technical textile development in general.

The machine, which executes the programs designed via its specialized software, also has a distinct commercial advantage over work done by hand: it can make a great number of identical items. "In the past we've been asked to make more than 400 items for one event," says Layne. "There was just no way. But now…"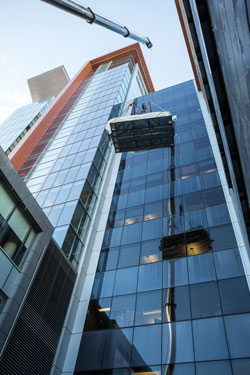 On behalf of the university, Layne successfully applied to the Canada Foundation for Innovation which, along with Quebec's Ministère de l'Enseignement supérieur, de la Recherche, de la Science et de la Technologie, awarded Concordia more than $320,000 for the purchase of a Tajima machine. Financial and in-kind support from partners and suppliers also contributed to project purchase and installation.
The potential results of Layne's research are far-reaching. Possible commercial applications may eventually include uses around the house — for example, smart curtain fabrics; for safety (like messaging between firemen in a noisy situation); and health and wellness (like electronics that sense and relay a wearer's biomedical status), among other possibilities.

It is this type of groundbreaking work that is advancing Concordia's research profile both domestically and internationally. "Multidisciplinary collaborations at research units such as Hexagram-Concordia bring together faculty and students from across faculties," says Graham Carr, vice-president of Research and Graduate Studies.

"Combining expertise to exploit new technologies that push the boundaries of the imagination and inspire productive links between the arts and industry typify the contributions that universities like Concordia make to fostering innovation for the 21st century."

Layne ultimately hopes to integrate the material world with the digitally charged one to provide another level of social interaction that reflects cultures past, present and future.

Related links:
• Barbara Layne's profile
• "CFI funding for Studio Arts professor" — Faculty of Fine Arts
• "Rewarding research excellence" — NOW, June 3, 2013 (Layne granted University Research Award)
• Hexagram-Concordia Centre for Research-Creation in Media Arts and Technologies
• Concordia's Faculty of Fine Arts
• Canada Foundation for Innovation

---