Rewarding research excellence
University Research Awards recognize established and emerging faculty
The University Research Awards were created to acknowledge excellence in research and creative activity at Concordia University. Nominees are selected because of their exceptional achievements and their contributions to advancing knowledge, building a productive training environment for students and increasing Concordia's visibility. Each recipient receives $5,000 and holds the title of Concordia University Research Fellow for one year.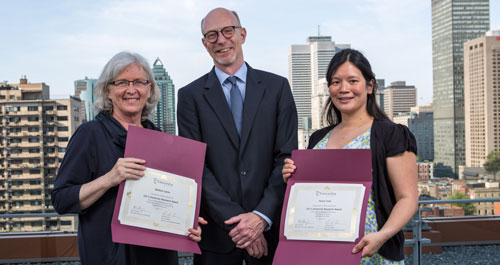 Barbara Layne
Department of Studio Arts, Faculty of Fine Arts
Technology, Industry and the Environment Strategic Research Cluster, Established Researcher

Layne is an internationally recognized artist in the area of fibre art, though her work is more commonly understood as smart textiles or wearable art. With her work, Layne sets out to transform understandings of common materials, such as cloth, by turning them into technologically sophisticated interfaces.

Her work, which has been displayed in national and international exhibitions, and numerous books and articles on fashion, has contributed to Concordia's reputation for innovative, interdisciplinary research-creation.

Jim Pfaus
Department of Psychology, Faculty of Arts and Science
The Person and Society Strategic Research Cluster, Established Reseacher

A professor in the Department of Psychology and member of the Center for Studies in Behavioral Neurobiology, Pfaus has focused his recent research on understanding the underlying brain mechanisms behind mate choice, sexual arousal, desire, reward and inhibition.

His most recent co-authored article, which appeared in the Journal of Sexual Medicine, was the first to draw an exact map of the places in the brain linked to love and desire. Recently, Pfaus's research was featured in a book by Naomi Wolf entitled Vagina: A New Biography, which examines female sexuality.

A discussion between Pfaus and Wolf about their research relationship took place at Concordia as part of the recent Concordia-Globe and Mail discussion series on aging well.

Felice Yuen
Department of Applied Human Sciences, Faculty of Arts and Science
The Person and Society Strategic Research Cluster, Emerging Reseacher

Yuen's research focuses on leisure and its impact on the quality of life of individuals and the communities in which they live. More specifically, she is interested in leisure as a context for community development and civic engagement for marginalized populations.

Her recent research projects include a study of the experiences of youth in a gang-prevention program using hip-hop as a medium of data collection, examining the healing process of Aboriginal women through body mapping (a form of visual arts), and exploring Aboriginal youth health leadership through creative play workshops.

During her PhD at the University of Waterloo, Yuen was heavily involved in a study that examined the reintegration needs of incarcerated women. She was a recipient of a Canada Graduate Scholarship Award from the Social Sciences and Humanities Research Council of Canada.
Read about other award winners from the May 30 Celebration of Excellence (NOW, June 3, 2013).

Related links:
• Barbara Layne
• Jim Pfaus
• Felice Yuen
• Office of Research
• Vice-President, Research and Graduate Studies
---