Leadership changes strengthen academic sector
Leadership changes strengthen Concordia's academic sector and streamline administration
To strengthen the university's academic sector and streamline its administrative operations, Concordia President Alan Shepard is making changes in the senior leadership team portfolios.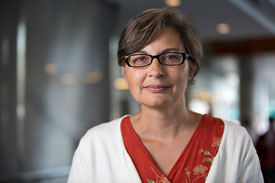 "Over the past year, I have had the chance to get to know our community, and I am convinced that our university has a bright and exciting future," says Shepard. "To realize that tremendous potential, it's important to have the best match between our leadership team and our key portfolios. The changes I am announcing today will strengthen Concordia's academic sector, streamline our administrative structure and use our financial resources more efficiently."

To support Concordia's academic mission:
Lisa Ostiguy has been appointed to the newly-created position of deputy provost, reporting to incoming Provost Benoit-Antoine Bacon, effective July 1, 2013.
The Student and Enrolment Services sector moves from the portfolio of the vice-president, services, to the portfolio of the provost, under the responsibility of the deputy provost, effective July 1, 2013. This will ensure that Concordia's academic sector has oversight of the complete student experience.
The departure of Ollivier Dyens, vice-provost, teaching and learning, allows the university to revisit the configuration of responsibilities within the Office of the Provost. The position of vice-provost, teaching and learning, will be filled shortly with a renewed mandate.
Robert Roy is leaving his position as vice-provost, academic facilities, to assume the role of associate dean, academic facilities in the Faculty of Arts and Science.
To provide academic oversight of faculty concerns, a vice-provost, faculty affairs, will also be appointed shortly.
"Lisa has worked seamlessly with faculty and staff on budget and other critical matters over these past several months," says Shepard. "I am thrilled that she has agreed to take on the duties of deputy provost."

A full-time faculty member since 1992, Ostiguy has been interim provost and vice-president, academic affairs, since September 1, 2012. She was previously interim vice-provost, teaching and learning.

In her new role, Ostiguy will provide high-level support and advice to the provost on operational and strategic issues, and oversee the full range of student services and student recruitment activities. This includes the work of the dean of students, along with recreation and athletics. Ostiguy will also work in conjunction with the vice-provost, teaching and learning, to advance Concordia's community engagement and experiential learning agenda.

"I am so impressed by what Lisa has accomplished as interim provost over the past year, and I very much look forward to working with her to ensure that we continue to deliver on our academic priorities and initiatives," says incoming Provost Benoit-Antoine Bacon. "The implementation of several key aspects of Concordia's Academic Plan is already well underway, and both Lisa and I are fully committed to optimizing the Concordia student experience at all levels."

To streamline administrative operations:
Marie Claire Morin is completing her term as vice-president, advancement and alumni relations.
Responsibility for the Advancement and Alumni Relations portfolio will move to Bram Freedman as vice-president, development and external relations and secretary-general, effective July 1, 2013. Responsibility for the Human Resources portfolio will move from Freedman to Roger Côté, vice-president, services, beginning July 1, 2013.
"I am very grateful to Marie Claire for her contributions to our community. She has been a tireless supporter of Concordia during her time at the university" says Shepard. "I wish her all the best in her future endeavours."

Freedman is a long-serving senior administrator at Concordia and has been president of the Concordia University Foundation for the past three years. He has significant fundraising experience through his many community activities, and served as chief operating officer and director of external relations of the Federation Combined Jewish Appeal for five years.

Leadership responsibilities for Côté, who has been vice-president, services, since June 2011, will include Human Resources, Facilities Management, Instructional and Information Technology Services, Security Department, and Environmental Health and Safety.

"Bram and Roger have been invaluable in advancing our priorities and in managing movement in key portfolios," says Shepard.

In other key appointments:
Brian Lewis, dean of the Faculty of Arts and Science, is named dean of the School of Extended Learning, for a period of two years, effective July 1, 2013.
Joanne Locke, associate dean of the Faculty of Arts and Science, is appointed interim dean of the Faculty, effective July 1, 2013. A search committee for dean of Arts and Science will be established shortly for dean of the Faculty.
Guylaine Beaudry has been appointed interim university librarian, effective July 1, 2013. A search committee will be established shortly for university librarian.
William Cheaib has been confirmed as chief of staff to the president. He will continue to oversee the international relations portfolio.
Shepard says a key goal at Concordia is to do things better and more efficiently in meeting the academic needs of our students.

"We have great people at Concordia," adds Shepard. "Together, we can ensure that our teaching and research mission is everything it needs to be to serve our community and wider society."
---