Experiential learning pays off
Institute for Co-operative Education distributes $9,450 in prizes
More than 200 people celebrated the success of Concordia's co-operative education students and employers at the 2013 Co-op Awards of Recognition Event (CARE) and Student Showcase. Fifteen co-op students received $9,450 in awards and scholarships, while six employers received trophies in recognition of their contribution to co-op and its students.
Guests streamed into the atrium of the J.W. McConnell Library Building to view 28 student showcase posters and share the work-term experiences of the bright young adults assembled there. After recognizing the quality of the posters and the efforts of the students, Gerry Hughes, director of the Institute for Co-operative Education, welcomed guests and outlined the many benefits of our co-op program.

"We believe we make an important difference for students by providing real-life experiences and ideal opportunities to expand their knowledge, gain confidence and grow. We believe our program offers employers a way to support youth, give back to society and contribute to their 'employer of choice' objectives. We believe co-op helps faculties recruit motivated students who are driven to perform, and connects faculty members to organizations for innovative research opportunities. We believe our co-op program provides a strategic advantage for Concordia University."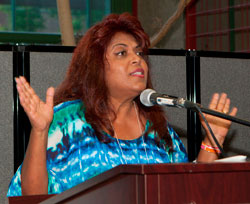 Hughes then introduced the evening's speakers: Tara Ramsaran, co-op academic program director for accountancy; Business Finance Partner and Relationships Manager at Pfizer Canada Felix Thiel; and Christine Harries, award-winning co-op graduate in building engineering.

Ramsaran, a senior lecturer in accountancy, laughingly claimed she has been at Concordia "forever," starting 30 years ago as a student. "I have experienced co-op as a professor, employer and academic director. I am very proud to be part of these students' academic and career journey." In fact, she has even been part of some of the co-op employers' academic journey. While chatting with representatives from an accounting firm, she was recognized as one of their professors.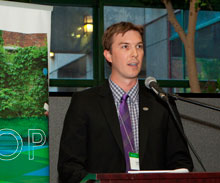 Employers were represented by Felix Thiel, who spoke of the history between Pfizer Canada's finance division and Concordia University. "I am pleased to say that we have been in partnership with Concordia and the co-op program since the fall of 2009 and to date have employed 24 interns. Three of the alumni have become Pfizer employees, holding the positions of Demand Associate and Financial Accountant.

We have chosen to partner with Concordia not only for the high quality of the academics and the quality of the students but also for the flexibility the co-op program was able to offer us." Pfizer, a very popular work-term employer, is co-op's newest sponsorship partner and has provided two scholarships for John Molson School of Business co-op students in accountancy and finance. Read more about the new partnership.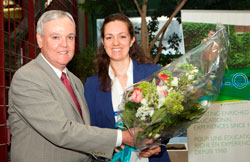 Christine Harries, winner of the 2013 Alexandre Quintal Co-op Student of the Year award, was the final speaker and represented all co-op students with her heartfelt address. "I would like to personally thank all the employers for the opportunities they provide in partnership with the co-op institute for us students. By taking in students, mentoring and challenging us throughout the work term, we gain an invaluable skill set and graduate with so much more than an academic degree." She added, "Co-op has not only proven its value to me, but is recognized by everyone I have talked to as the best way to learn at the university level."

Read more about Harries, Co-op Student of the Year.

Related link:
• Concordia's Institute for Co-operative Education
---