Concordia takes gold and silver for eco-buildings
New university facilities awarded LEED certification
Two of Concordia University's newest buildings have been granted LEED certification status by the Canada Green Building Council (CaGBC). The PERFORM Centre and the Molson Building were awarded gold and silver status, respectively.

This important recognition from the CaGBC officially recognizes Concordia's longstanding commitment to sustainable practices. From the use of low VOC- (volatile organic compounds) emitting materials to innovative solar technology, these buildings provide tangible evidence of Concordia's drive to reduce the greenhouse gas emissions and energy consumption that can plague buildings.

The news is especially welcome for Roger Côté, Concordia's vice-president of services. "LEED certification is something we deliberately sought when we first conceived these buildings because we recognize that these building standards mean a healthier environment for our students, faculty and staff. These structures show that caring for our future through sustainable practices is of utmost importance for the Concordia community," he says.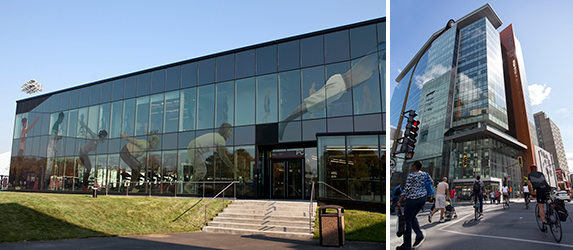 Concordia's PERFORM Centre and Molson Building achieved excellent results in the certification process. The PERFORM Centre took home the gold, scoring well for low energy consumption, environmental air quality, water use reduction, use of local materials, and cleaning using environmentally accepted products.

Furthermore, the Molson Building features exemplary use of building control systems to regulate comfort levels for users of the spaces, water use reduction and the incorporation of both local and sustainable materials, all of which contribute to the silver rating.

Although this LEED certification is new, both buildings have already become important facets of Concordia's physical presence in Montreal.

Located on Concordia's Loyola Campus, the PERFORM Centre first opened its doors to students and the public in September 2011. The centre's raison d'être is research on better health through prevention. The building makes a striking impression, with large windows that overlook the centre's landscaped entrance and serve to let natural light illuminate the many environmentally friendly features found inside.

Built in 2009 and located at Concordia's downtown campus, the Molson Building is home to the university's John Molson School of Business. It boasts an immense solar wall (a world first in a non-residential building) that generates energy consumed in the building. Low-flow plumbing fixtures throughout the building also protect the environment by reducing water consumption by more than 30 per cent.

Peter Bolla, Concordia's associate vice-president, facilities management, says the LEED certification is reward for years of hard work from a diverse team of individuals. "These two buildings represent the future of Concordia's physical environment," he says. "They're both well designed, aesthetically pleasing and ecologically sound. That's something we strive for as we work to keep Concordia's buildings ahead of the curve." The University is still waiting for the results of a third LEED certification for the Genomics building at Loyola, which was designed based on the same principles of the other two buildings.

About LEED: Leadership in Energy and Environmental Design (LEED) is a third-party certification program and an internationally accepted benchmark for the design, construction and operation of high performance green buildings. By certifying hundreds of projects over the past decade, LEED Canada has transformed the way built environments are designed, constructed, and operated.

Related links:
• Concordia University's Molson Building
• Concordia University's PERFORM Centre
• Canada Green Building Council
---