Open book
Concordia librarian Guylaine Beaudry discusses her profession in her recently released book
The librarian undertakes to promote and advance education, to reduce illiteracy, to diminish the barriers that stand in the way of knowledge, to disseminate the world's cultures, and to contribute to redressing inequalities.
— Guylaine Beaudry, Bibliothécaire

October is National Library Month in Canada. To mark the occasion, NOW sat down with the director of Concordia's Webster Library, Guylaine Beaudry, who recently wrote a book about her profession, to discuss the important role played by Concordia's librarians, and what the future holds for the university's libraries.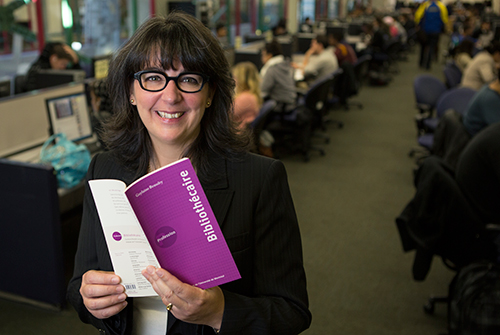 NOW: Your new book Profession bibliothécaire, is the 17th in a series detailing different professions held by intellectuals. How did you find the experience of writing this book?

Guylaine Beaudry: It was a good challenge. I'm used to writing scholarly articles and scholarly books. This is my third book, and the ones I wrote before had many more pages than this one. But I'm so proud of it, you cannot imagine!

It was very difficult to find the right tone. I had to keep in mind the general public. And once I found the tone, then every sentence I wrote, I was thinking of my colleagues. What would my colleagues think of what I'm writing?

All the time, I kept thinking, how do I describe this profession? Being a librarian is so different from one milieu to the other. Whether you're in a private enterprise library, a documentation centre, a public library, or a university library. Our days are so different.

NOW: Can you describe a day in the life of an academic librarian here at Concordia?

GB: One librarian may be teaching a class on how to use the library's resources, so students know where to go to find the right information for a given assignment. Teaching is a large part of the job.

Another librarian may be selecting material to continue building up the digital library and the printed collection. Another may be evaluating a very old book in special collections, because someone wants to donate it to the library.

Perhaps another librarian is in discussion with architects over plans for a major renovation of the library, which was what I was doing very recently.

In Vanier Library, as we speak, the director is working with facilities management to reorganize the journal collection that we moved over there and placed in compact electronic shelving.

Last week, we were putting some tape on the floor to identify where to put some tables and chairs. You do all kinds of things.

NOW: What attracted you to the profession?

GB: My first academic training was in music. I'm a musician, but I wasn't sure what to do after my undergraduate studies. I was registered to do a master's in music when I had a sort of teenage crisis, even though I was in my 20s!

So instead, I began a graduate degree in information sciences, and that's when I discovered the web, digital culture, and the future of libraries. It was in 1994 just one year after the web was invented by Tim Berners-Lee in Europe at CERN (the European Organization for Nuclear Research). I realized along with my colleagues that the dream of the universal library could become a reality through the web and other digital tools. So that's really what took me there.

NOW: Can we talk about Concordia's libraries? In your opinion, are they responding to the needs of today's students?

GB: We're doing very, very well with the quality of the services that we offer. Our staff and our librarians are really excellent. They have super communication skills and they really care about our students.

The collection is much better than what it was, mainly because of the digital collection that we developed. Concordia is part of consortia in Quebec and Canada that negotiate subscriptions to digital resources. This allows us to develop a better negotiation power and offer digital resources comparable to other Canadian universities. Even if there is space for improvement, we can say that we have a good digital collection.

Unfortunately, our space is not adequate. In Webster, we have a library that is heavily used. During exam period you will see students sitting on the floor, and in the stairways. We're not doing what we should be doing. We need to double the number of seats for sure, and enhance the quality of the space. We have the lowest number of square metres per student (FTE) of Quebec and Canadian universities for which I have data.

NOW: So, going forward, increasing and optimizing the available space is a priority for the university's libraries.

GB: We put a lot of energy, time and resources into expanding our digital libraries since the beginning of the 90s, but our spaces haven't followed the same pace of transformation. At some point when we are facing a digital revolution, we have to make difficult decisions. We take one document type after the other and we determine which ones we need to keep. It's a very, very long process, and it's not the time to take risks.

What we did with our journals is that we worked at the level of the Quebec network. We got together and figured out the strength of each university, and in each collection, and then we split the titles that we have committed to preserving among us.

We want to bring the space of the academic library into the 21st century, by bringing in more technology. One example would be installing large screens for data visualization, but also to showcase digital art.

For group study rooms, we'd like to install digital, tactile tables, which would allow students working on group presentations to have three pairs of hands working together on a document to create something.

We want to create a space that will make a difference in the lives of our students, which will allow them to work in better conditions and be intellectually stimulated. It would likely improve their grades, and make it a better experience for them to be a part of the Concordia community. This is what I'm thinking about all the time.

Note: Beaudry's book, Profession bibliothécaire, is available to download for free as a PDF from Les Presses de l'Université de Montréal.

Related link:
• Concordia's Libraries




---