Personal training at Le Centre
David blogs about his first personal training session at Concordia's new research and rehabilitation centre
When I had left my athletic conditioning assessment a few weeks ago at Le Centre, the conditioning and rehabilitation facility located in Concordia's new PERFORM Centre, I was feeling drained and aching all over.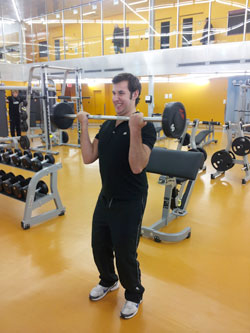 Now I wonder whether I will even survive my first actual training session. Would I need a team of paramedics to resuscitate me? One thing is obvious from the get-go, the certified fitness professional who assessed me, Alicia Wright, is determined to whip me into shape.

Before I begin my first personal training session, Wright hands me a TechnoGym SmartKey and brings me to one of Le Centre's touch-screen kiosks. She shows me how to insert the key into the kiosk to sign in and access my workout program. Et voila! I can't help smiling giddily when the kiosk flashes, "Welcome David Adelman."

I select "today's workout" and a long-list of exercises with their descriptions materializes before my eyes. Wow! I'm already regretting the several pizza slices I ate just before coming to Le Centre.

My cardio training begins with the Synchro Excite 700, better known as a cross-trainer, but I like to think of it as playtime. Equipped with games and the Internet, this is the perfect machine for getting a couch potato on his feet.

I begin the workout slowly, and Wright tells me to walk with my butt cheeks clenched and my back straight. I pick up the pace, aiming to get my heart rate going at a constant 140 beats per minute. Soon I'm sweating away while trying to learn the rules of Mahjong. I get so carried away with the game, I hardly realize how hard I'm working!

Next up is the chest press machine. "You're breathing the wrong way," says Wright after my first repetition. Apparently, instead of pushing while breathing outwards and then pulling while breathing inwards, I'm doing the reverse. This probably explains why I'm always out of breath at the beginning of workouts. I feel kind of silly that something so natural as breathing is an obstacle for me.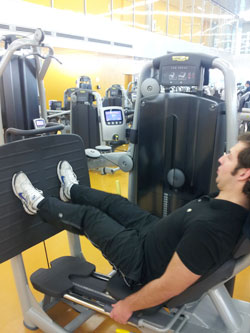 I finish my repetitions on the vertical traction machine with ease, and with a smug expression on my face. This is easy! I look up at Wright, hoping for some acknowledgement of my strength. Instead, she hits me with some reality. "You're cheating," she says. "It's important to have good posture over ego."

Wright explains that, subconsciously, people try to outdo themselves by lifting heavier weights instead of working on the right positioning, and I fell right into this trap. My legs weren't properly locked and my arms weren't extending to the proper angles. So, to my surprise when I try again the right way, the weight is too heavy. I sheepishly hope no one notices as Wright reduces the weight load.

Up next is the leg press machine. It's perfect practice for that dreaded day when you'll need your back and legs to push against two walls that are closing in on you, because who knows if that only happens in action movies! After my first set pushing 300 pounds, I'm exhausted but surprised that I am able to push so much weight without cheating. I try to finish the last set, but I'm too spent, and parched. This opens the door to Wright's final piece of advice: drink lots of water.

Back in the day, she tells me, water breaks were considered by athletes as something "wimpy" to do, but today athletes constantly hydrate themselves. After I finish guzzling down a few gallons of water from the fountain, Wright asks me how often I drink water on a regular basis. It takes me a while to respond and then I realize I hardly ever drink water. Instead, I usually drink a lot of coffee, or sodas.

After signing out with my SmartKey at the kiosk, I leave the PERFORM Center feeling drained and energized at the same time. I'm sore all over, and muscles I didn't even know existed are complaining about being woken from their long slumber. But mentally, I feel incredible. I feel proud that I took time out of my daily routine to push my body and mind to a new level. Now I've just got to keep it up.

What do you do to jumpstart your body and mind?

Related link:
• Le Centre at PERFORM
---