2012 Community Campaign all about choices
Your University/Your Choice campaign emphasizes positive impact of giving to support the university
An important poster campaign in support of the university and its students is headed to buildings across the Loyola and the Sir George Williams campuses.
Organized by Concordia's Advancement and Alumni Relations (AAR) and supported by numerous volunteers, new posters to promote the Community Campaign were created to foster awareness of the importance of giving back to the university.
This year's slogan — Your University/Your Choice — reinforces how faculty, staff and retirees can designate support to a multitude of areas: student awards, athletics as well as the university's 300 academic programs.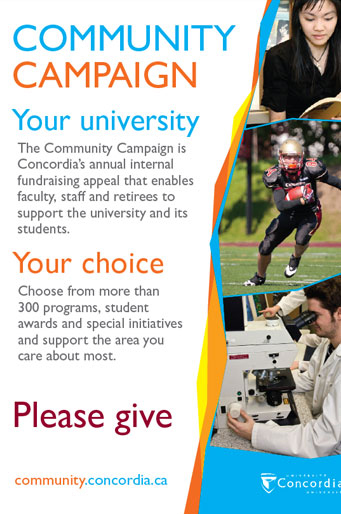 Coming to a wall near you: 2012 Community Campaign posters will be featured across the university's two campuses. "It feels good to do a little extra for Concordia's students," explains Marlene Gross, chair of the campaign's advisory committee and manager of Services for New Students at Concordia's Counselling and Development offices. "This is a way for us to do something beyond what we do in our jobs every day."
Campaign supporters can pick from numerous feel-good options. "Any gift — modest, exceptional and everything in between — can be directed to any program, student award and meaningful initiative," says Derek Linetsky, an AAR development officer.
Last year, 38 per cent of Concordia faculty, staff and retirees donated more than $300,000 to the campaign.
"We hope this year's poster campaign helps increase participation rates," Linetsky says. "Having the choice to make a big difference in the life of a student is a powerful incentive."
Volunteers are particularly enthusiastic to help the university and its students advance through the Community Campaign. "There's a high level of engagement and the community wants to make a big impact," says Tyrone Smith, an AAR technical support analyst and volunteer.
Where people choose to give is a personal decision, says Smith: "There are so many incredible areas to support in the campaign, most of which will make a big difference in the lives of our students."
Related links:
•
Counselling and Development
---