AIESEC Concordia receives award
International student organization promotes leadership as a means to drive change
Many student organizations would envy the momentum with which AIESEC Concordia began 2012. In late December, 17 of its members attended a five-day national leadership conference hosted by AIESEC Canada in Montreal.

The Concordia delegates joined 300 other university students from across the country and abroad for training on networking, team management and strategic planning. Attendees left the conference able to rely on an international network united in the desire to achieve the organization's vision of peace and fulfillment of human potential.

AIESEC, the largest student-run organization in the world, has chapters in 110 countries and more than 60,000 members worldwide. It provides young people with opportunities to work abroad and to develop their leadership skills. Over 2,500 members take part in the activities of the 28 Canadian chapters. The Concordia chapter is one of the founding AIESEC chapters in Canada, established in 1958. Concordia boasts 60 active members and hundreds of alumni.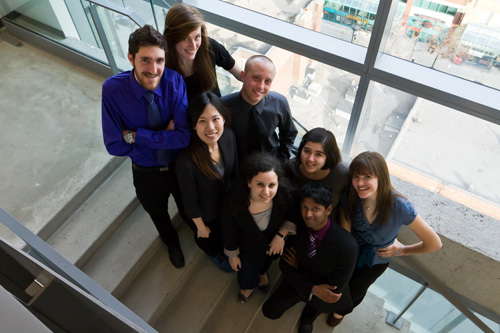 The AGF Management Growth Award is given annually during AIESEC Canada's national conference and rewards the chapter which displayed the greatest improvement in alumni relations, talent management, communications, corporate relations, the number of exchanges and the quality of the participants' experiences. AGF is partners with AIESEC Canada by providing internship and networking opportunities as well as financial support.

Peter Caron, president of AIESEC Concordia, believes that the chapter's recent success can be attributed to its members' willingness to learn and give back. "In a world where some perceive youth to be apathetic and self-centered, AIESECers are proactive, creative, and supportive. They look for ways to get out of their comfort zones and push their limits to become change agents in today's global community."

It is hard to pinpoint what AIESEC Concordia should be most proud of: its recent partnership with Babel Media, which committed to hiring 30 AIESEC interns in 2012, or the 15 students it sent abroad to 12 countries in 2011. Students who took part in an AIESEC exchange had a chance to learn about different cultures, all the while perfecting their professional skills in fields as varied as teaching, management and engineering.

AIESEC Concordia is built on a traditional business model. It is run by a student executive composed of a president and several vice-presidents who invest on average 20 to 25 hours in AIESEC every week on a volunteer basis. By giving students the chance to manage the internship program from start to finish, the organization provides countless opportunities to students wishing to take on a leadership role.

According to Lea Nsouli, AIESEC Concordia's vice-president talent management, "One of the wonderful things about AIESEC is that it gives students an opportunity to apply classroom knowledge in a concrete way. For example, a software engineering student could decide to join AIESEC's information management team and a business student its corporate relations portfolio. It also helps them build their co-curricular record, which is very attractive to future employers."

AIESEC Concordia is holding information sessions until mid-February for Concordians who are looking to get involved or go work abroad. Students wishing to attend a session are invited to visit the AIESEC Concordia website to register.

"Your university experience should not be defined entirely by what you learn in the classroom or in the library. AIESEC will help you go beyond, it will make you a student of the world" added Caron.

Related links:
• AIESEC Concordia
• AIESEC Canada
• Co-curricular record





---