Co-curricular record recognizes volunteer work
Concordia students to be credited for learning done outside the university.
The university experience is more than just textbooks, essay writing and exams. According to Dean of Students Andrew Woodall, it's also about creating well-rounded students who possess degrees with added value.
Concordia is the first university in Quebec to introduce a co-curricular record — a transcript that formally recognizes on-campus and Concordia-organized volunteer and leadership activities — to complement existing academic transcripts.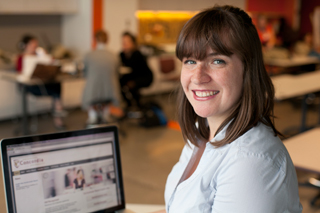 These activities are not "extra-curricular", but "co-curricular". They are activities that foster the practical application and development of skills that coincide with the learning that takes place in classrooms and labs.

Each activity in the co-curricular record is assigned an authentication number and an on-campus validator. By logging on through the MyConcordia portal, students can select the activity, position, or group that they participated in, and a message will be sent to the validating representative, who will sign off to confirm his/her involvement. Students can then download the validation certificates in PDF form, free of charge, and attach it to a résumé or portfolio.

A database has been created, which lists more than 500 volunteer and leadership positions currently available across the university; however, according to Jasmine Stuart, assistant to the Dean of Students, it is estimated that there are thousands of eligible opportunities. In the coming months, academic departments will be asked to provide information on positions that quality for co-curricular recognition.

Currently, off-campus opportunities that are organized through Concordia can count towards the co-curricular record. The Community Mentor Program, which mentors elementary school students at risk of dropping out of school, is one example.

Other opportunities are organized through the Leadership, Initiative, and Volunteer Engagement (LIVE) Centre — the one-stop shop for volunteering on campus, in Montreal, and abroad.

Although the co-curricular record is a long-term project, it's something the Dean of Students hopes will become ingrained into the Concordia experience.

"I can imagine in the future, employers will say, why don't you have a co-curricular record? You have a bachelor's [degree], but what else did you learn?" says Woodall. "As the fight for employees becomes more focused, employers are looking for all sorts of things. And students are looking for the same thing. They are looking for universities that can give them more than just a diploma or degree."

Related links:
• Co-Curricular Record
• Volunteer Awareness Month at Concordia
• "Volunteers at the ready" - NOW, August 30, 2010
• "Year of the volunteer" - NOW, December 6, 2010



---