Canadian artist Geneviève Cadieux talks photography, gold leaf, and the Ghost Ranch
Conversation with the Concordia professor whose latest solo exhibition is now at gallery 1700 La Poste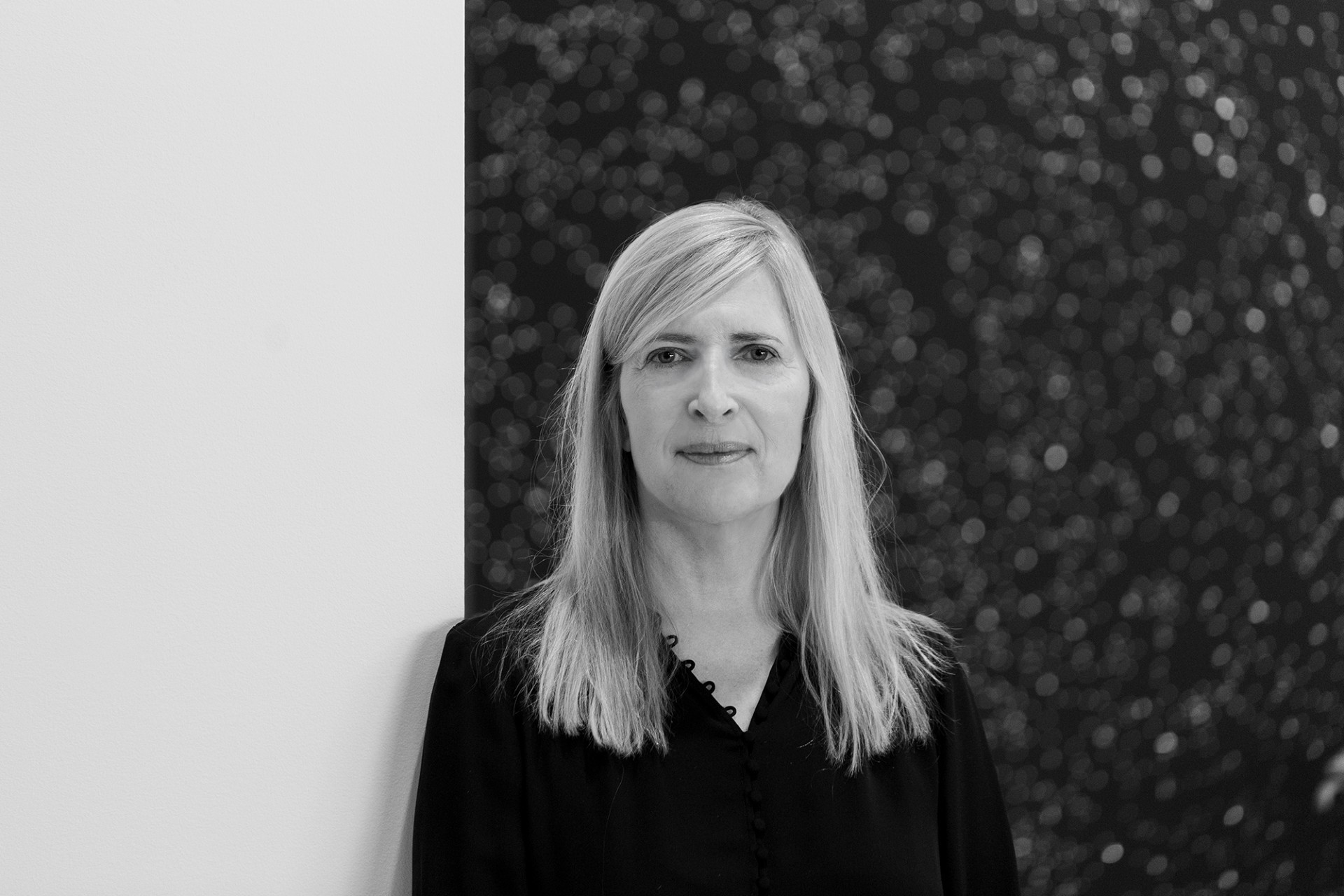 Artist and Concordia professor Geneviève Cadieux. Photo by Beatrice Flynn.
Geneviève Cadieux is a celebrated Canadian artist whose photography and installation work portrays the intimate and poetic on a monumental scale.
Alongside her artistic practice, Cadieux has been an Associate Professor in Concordia's Department of Studio Arts since 2002. At Concordia, she has been an influential teacher and mentor, central to developing the department's highly regarded Photography Program.
She was named a Fellow of the Royal Society of Canada in 2014, and has been the recipient of multiple prestigious awards, such as the Governor General's Award in Visual and Media Arts in 2011 and the Prix Paul-Émile Borduas in 2018.
Her work has been in several individual exhibitions nationally and internationally, including at the Centre d'Art Contemporain in Geneva, the Institute of Contemporary Arts (ICA) in London, the ICA Amsterdam, the Musée d'art contemporain de la Haute-Vienne - Château de Rochechouart, France, the Musée d'art contemporain de Montréal, the Bonner Kunstverein in Bonn, Germany, the Museum of Contemporary Art in Antwerp, Belgium, the Institut d'art contemporain in Villeurbanne, France, the Tate Modern in the United Kingdom, Gammel Strand in Copenhagen, Denmark, the Morris and Helen Belkin Art Gallery in Vancouver, the Montreal Museum of Fine Arts, the Beaverbrook Art Gallery in Fredericton and the Art Gallery of Hamilton.
Cadieux has a solo exhibition currently hosted at 1700 La Poste – although the gallery has suspended viewing until November 23, following the government's latest COVID-19 measures. In a conversation on Zoom, she reflects on the exhibition and her approach to photographing bodies and landscapes.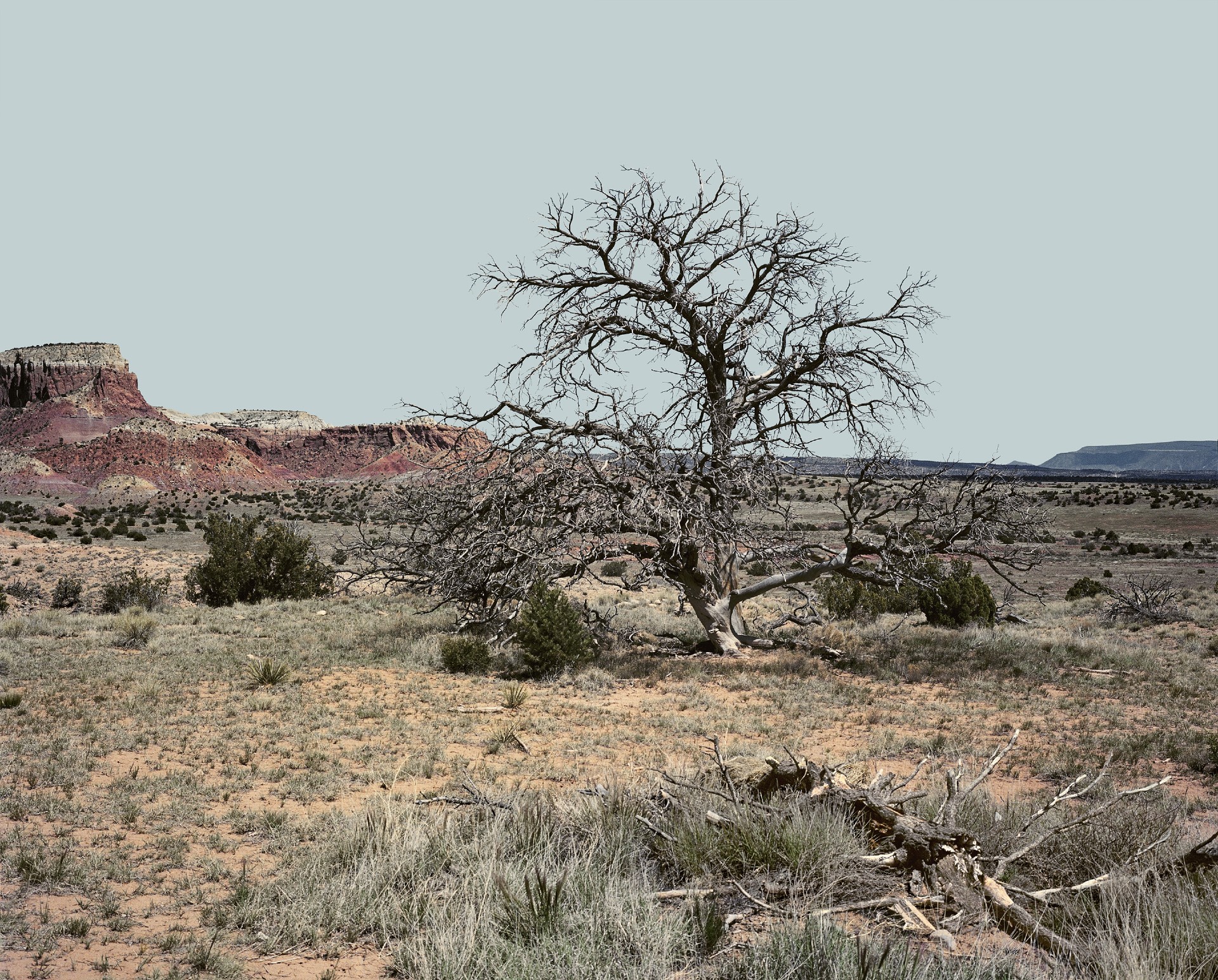 Arbre seul (le jour), 2018. Impression au jet d'encre sur papier chiffon rehaussé à la main à la feuille d'or, 96 po x 120 po.
What compels you to intervene in your photographs with gold and palladium leaf?
I'm returning, in a sense, to very early work produced in the seventies, when I was printing on plexiglass or metal and then reworking it. I would apply the photographic emulsion with a spraygun and then enhance the surfaces with pigment that were sometimes gold or silver. In 2014, I got a Concordia Seed grant (Individual Seed Funding Program) to develop the application of palladium leaf on the photographic surface, and in 2018 another grant to test the resistance of light on coloured Japanese silver leaves. The latter is still ongoing, and it is being tested at the moment. But during the same period, I also used gold leaf, testing it differently than a more classical way.
If you think of photography, its sensitive surface is also due to the silver in the emulsion, so that's also a reference to the composition of the negative. For example, Arbre Seul (la nuit) (2017) is a black and white negative of a large tree, which is something intrinsic to the medium. The Ghost Ranch series consists of one image of a tree that I worked in three different manners. The colour image of the tree during the day, titled Arbre seul (le jour) (2018) reproduces the moment where the light was perfect. It functions as the reference or the original document within the exhibition. There's also the use of digital tools that helped me produce the version titled Arbre seul (à l'aube) (2018) which is purple. Even though digital tools make it possible to transform the image, I want the viewer to feel as if they are in front of a true image, though I know it's manipulated. That's the goal in a way. I feel fortunate for those Seed grants that allowed me to verify ideas and experiments with this new material, which proved seminal in my recent practice.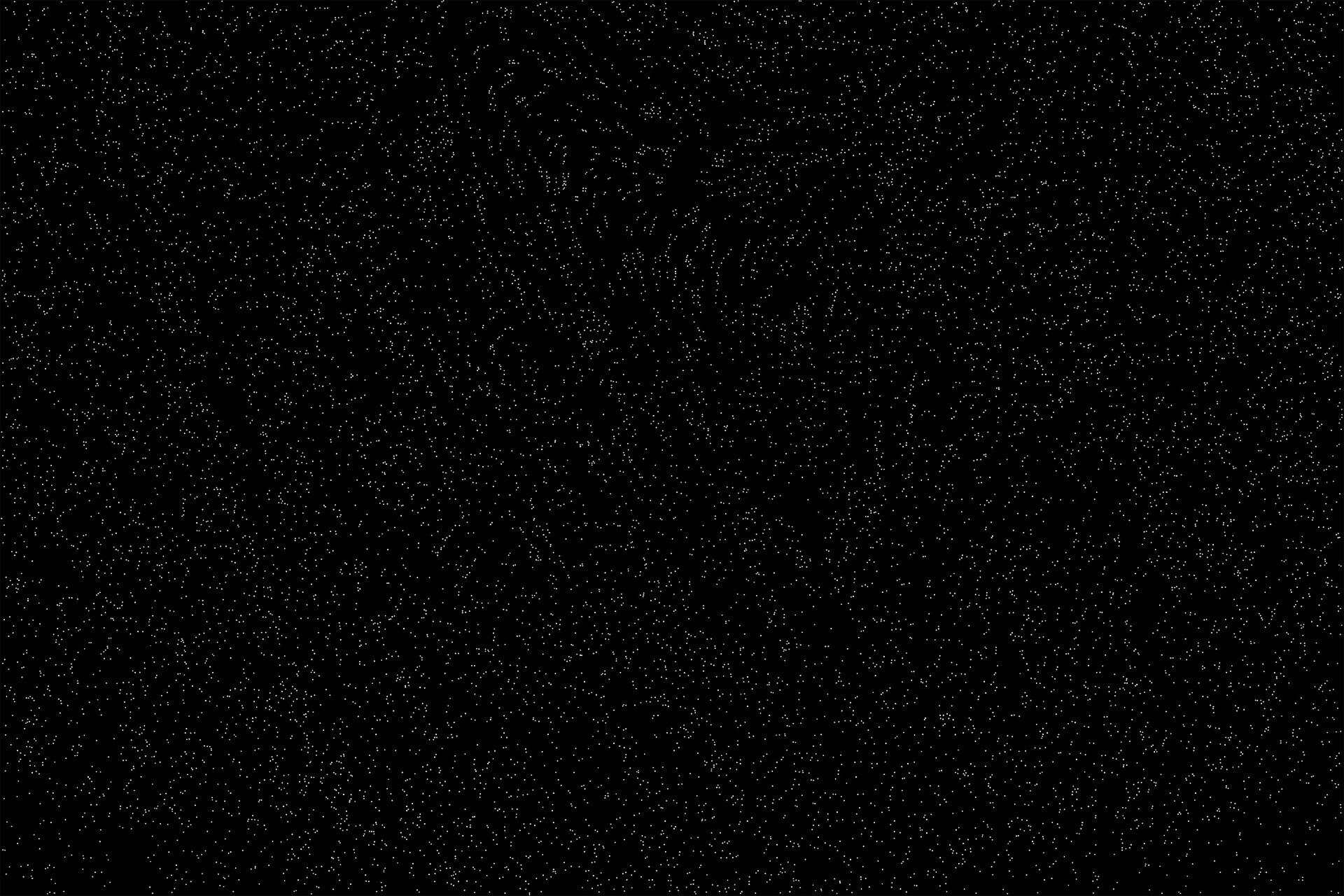 Firmament, 2020. Impression au jet d'encre sur papier chiffon rehaussé à la main à la feuille d'or, 120 po x 180 po.
Could you tell us about your latest work Firmament (2020) and the process behind it?
The technique of working with gold or palladium leaf is a long process. You apply glue, then the leaf, and then you brush. At 1700 La Poste, I was able to have access to the space while we were mounting the exhibition. I asked for a week to test this idea of applying the gold leaf and not brushing it. The surface becomes alive in a sense, it catches the light differently. It's something you can only do in the space while the work is up because when I eventually re-crate it, it's gone. I will have to brush everything and start again. I think it worked with that specific image, that is, an image that is camera-less. The motif are moiré patterns that I produce and then I construct an image from that, but it's like looking at the sky at night.
It all relates to light in a way. Gold and silver are light, and if you are in front of a large black and white tree like Arbre seul (la nuit) drawn in palladium, you can easily imagine a full moon casting it's light on it. The reflection of light on the water in the diptyque Dark River (2016) is very familiar to all of us. I was working on Dark River in my studio and the sun hit the work and it was beautiful and yellow, and I said "Oh! I could also use gold to further enhance the surface of the work."
Do you feel that there is a dematerializing effect in Firmament where you yourself become connected to the eternal?
Yes, I think so. It also stems from the studio work where, for example in Arbre seul (à l'aube) I created a motif in the sky and it became an abstraction put onto a photographic image. Firmament, 2020 is, again, a very real experience. I think it's open enough to address the question of finality. There's a portrait of an older woman in the exhibition, so a viewer might perhaps make a connection between her and Firmament, or her looking at Arbre seul (à l'aube). I think the viewer activates the exhibition and creates a narrative.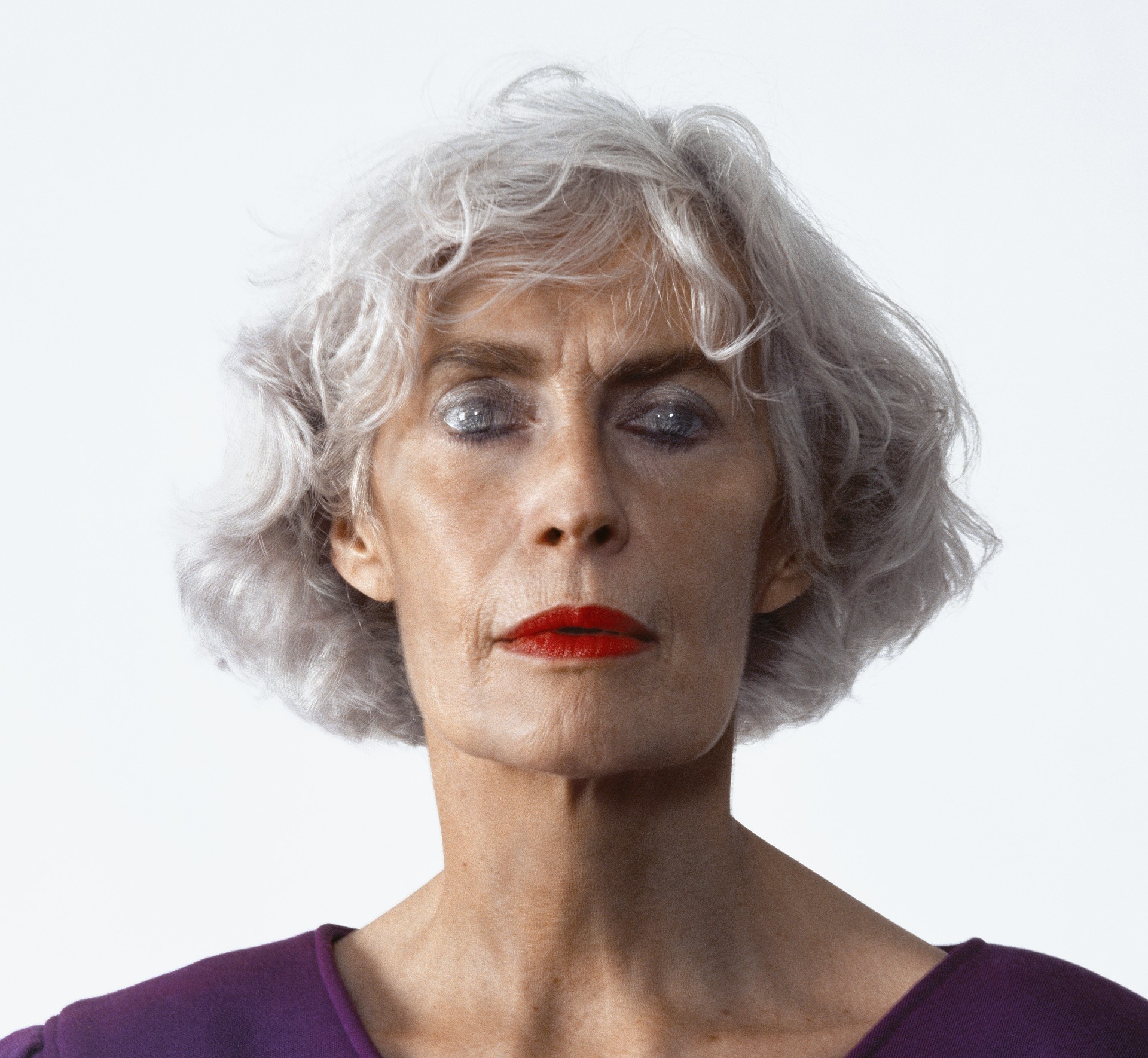 Ma mère, 1992-2020. Impression au jet d'encre sur papier chiffon 60 po x 64 po.
Speaking of Ma mère (1991-2020), how does the exhibition relate nature to your mother or to the figure of the mother?
It was important for me to have a portrait in this exhibition. I was thinking of doing a portrait of my mother, but she was too old fragile to sit for hours in front of a camera, which is often required in portraiture. So, I looked at previous images I had taken for Family Portrait (1991) and I thought, this is the perfect portrait for this exhibition. In Rubis (1993), you might know learn that it is the back of my mother from reading about it, but you wouldn't otherwise know. It's interesting that she becomes this central figure in the exhibition. Although she didn't see the exhibition, my mother saw the beautiful book produced by La Poste and was so happy looking at it, commenting it and praising it with eloquence. I'm getting older too, so you start thinking about questions of life and death in a more profound manner. Even if these themes were present in my work before, they have a different significance now. The whole time I was doing Firmament, I was thinking about my mother and unfortunately, she recently passed away.
For me the tree in the Ghost Ranch series is a masculine presence. It's a noble skeleton, survivor. It represents eternity in itself because it's fossilized or petrified… I don't know for certain but it's not a young tree. In the desert, things are sort of conserved this way, fixed in time. We often see skeletons of animals. Georgia O'Keefe, who lived at Ghost Ranch in 1940, has used that as a recurrent motif in her work.
In your landscape works do you still feel the presence of humanity or of the body?
I think you have another type of relationship with landscape as you get older. As a younger artist I was more interested in the body. La voie lactée (1992), installed on the top of the Museum of contemporary art in Montreal, is a celestial piece and at that time, landscape became visible in my work. I photograph fragments of bodies and their enlargements. Those also function as landscapes, so it was there, but in a different manner at the beginning. It's interesting, when I first met Isabelle de Mévius, the executive and artistic director of 1700 La Poste, she was interested in my work on the body, and then when I showed her these works, the exhibition changed. She understands the relationship to the body, and the decision to have a historical work was I think seminal in the exhibition.
Are you working on any new projects at the moment?
I have a public in-situ project that I've been working on, but at the moment I can't say more. And I'm teaching two courses and starting a half sabbatical in December. In spite of the pandemic, it is a productive moment artistically.
When you have a show, you usually open it. But the book became ready during lockdown, and when I got it, I felt that it really embodied the work that had been done that was not yet visible to the public. The whole thing became tangible again. I'm so fortunate to have a catalogue like that, I was thrilled honestly. The whole project made me very happy, and still I hope we're going to have another month where people visit the exhibition.
Visit Geneviève Cadieux's exhibition at galerie 1700 La Poste.

Learn more about Concordia's Photography program in the Department of Studio Arts.
---