Mark Prent and H.R. Giger in Gagosian exhibition curated by director Harmony Korine
Birth Machine Baby runs from November 5 – December 21 in New York City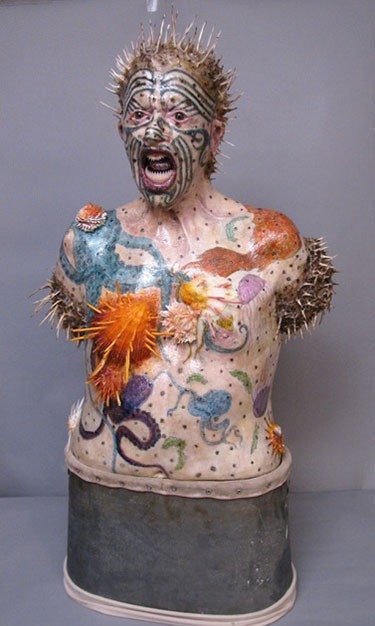 Ichthymorph Redux, 2017. Photos by Mark Prent.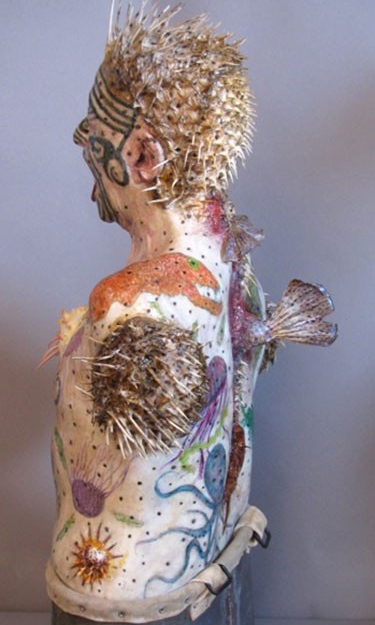 Human and non-human figures merge in and out, twisting and forming hybrid creatures – these are some of the subjects that Mark Prent, artist and sculpture staff member in the Department of Studio Arts at Concordia, crafts in his masterful hyperreal sculptures.
This is also what viewers can expect to see at a new exhibition entitled Birth Machine Baby, that features the work of H.R. Giger alongside Mark Prent, curated by American film director Harmony Korine.
"H. R. Giger and Mark Prent are both masters of navigating beauty, horror, science fiction, and fantasy. I've admired their works for a while; they both defy genre in a way that is difficult to articulate," Korine writes on the exhibition website.
"The time seems right to see these two great artists together in one room."
'My figures are always morphing, mutating, or transitioning'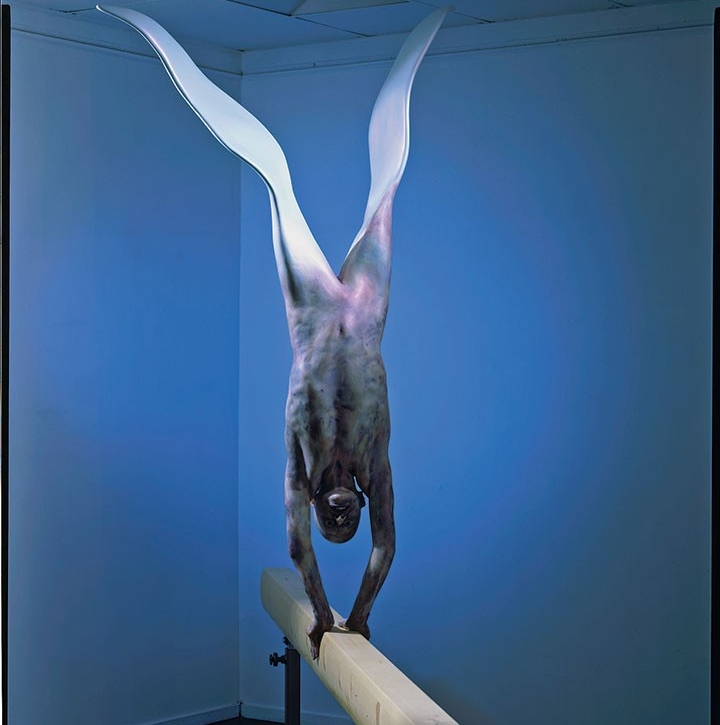 Drosophila, 1984 by Mark Prent. A winged figure doing a handstand on a 16-foot long balance beam.
H.R. Giger is well-known his work on the Hollywood film franchise Alien. His sculptural practice holds a distinct "biomechanical" style, and draws from the fantasy and realism of artists like Salvador Dali and Ernst Fuchs.
A highly skilled and widely exhibited sculptor, Prent holds a BFA from Sir George Williams University 1970 and has been working as a technician in Concordia's sculpture department for over forty years. He has won multiple Canada Council Arts Awards and Projects Grants, as well as the Guggenheim Memorial Foundation Fellowship.
Prent says he was approached by the Gagosian gallery with the idea of an exhibition that would pair his and Giger's work.
"I thought it a very good combination, because I relate to Giger's images, and have known about his work since the early 1970's."
Prent sees his work as falling in line with Bruegel, Bosch, and Goya alongside other artists and filmmakers that deal with themes of the macabre and grotesque.
"My figures are always morphing, mutating, or transitioning into, or from, something else," says Prent.
"I often draw elements from marine life; or characters from mythology, like humans imagining flight. The sculptures develop in an open-ended, loose development process, continuously changing as the work progresses; to such a degree, that an entire concept may change by the time a particular piece has been finished."
'Because much of my work is so "over the top" it has a lot of humor in it.'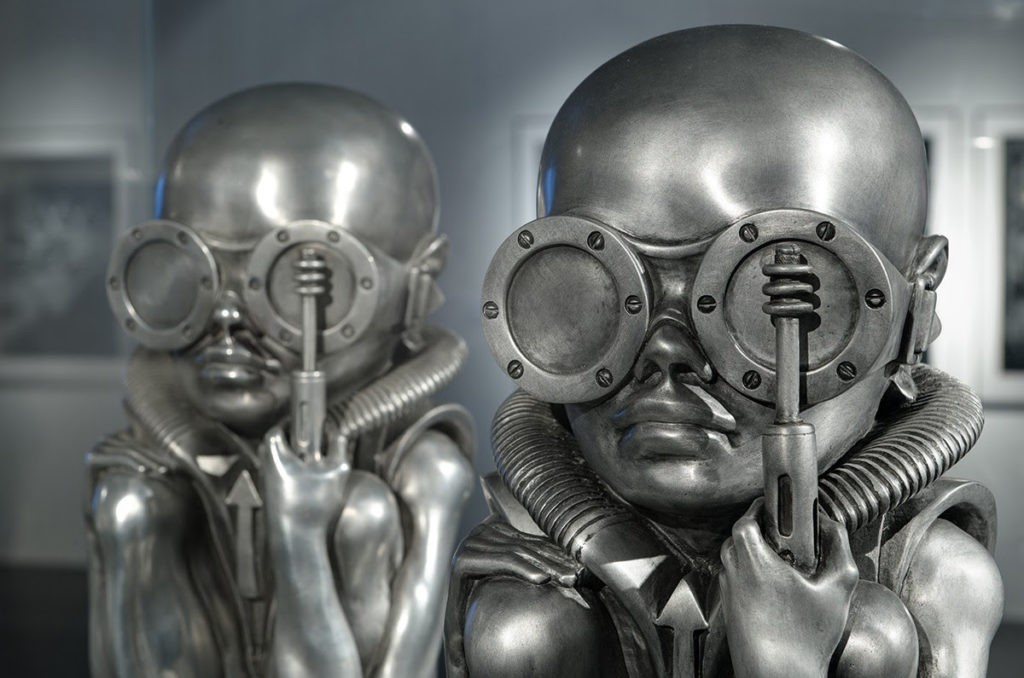 H. R. Giger, Birth Machine Baby, 1998 (detail of two from an edition of 23)
From Gummo (1997) to the more recent film The Beach Bum (2019), the curator of Birth Machine Baby has an infamously dark sense of humour. Prent sees a complementary sense of humour in his own work.
"I use real objects, but I put them into a situation that often would be impossible. Because much of my work is so "over the top" it has a lot of humor in it."
Prent hopes that people will react positively to this aspect of his work in the show.
"When people come to my exhibitions it's not a grim affair, quite the opposite. People laugh and have a good time. I expect the same reaction at the Giger/Prent exhibition and look forward to it."
Birth Machine Baby, an exhibition featuring H. R. Giger and Mark Prent, curated by Harmony Korine, runs from November 5–December 21, 2019 at 
Park & 75, New York City.

---