Conferences & lectures
MTL Connect: Montreal's Digital Week
---
DATE & TIME
Saturday, October 15, 2022 –
Sunday, October 23, 2022
9 a.m. – 12 a.m.
Registration is closed
COST
Free + paid programming
---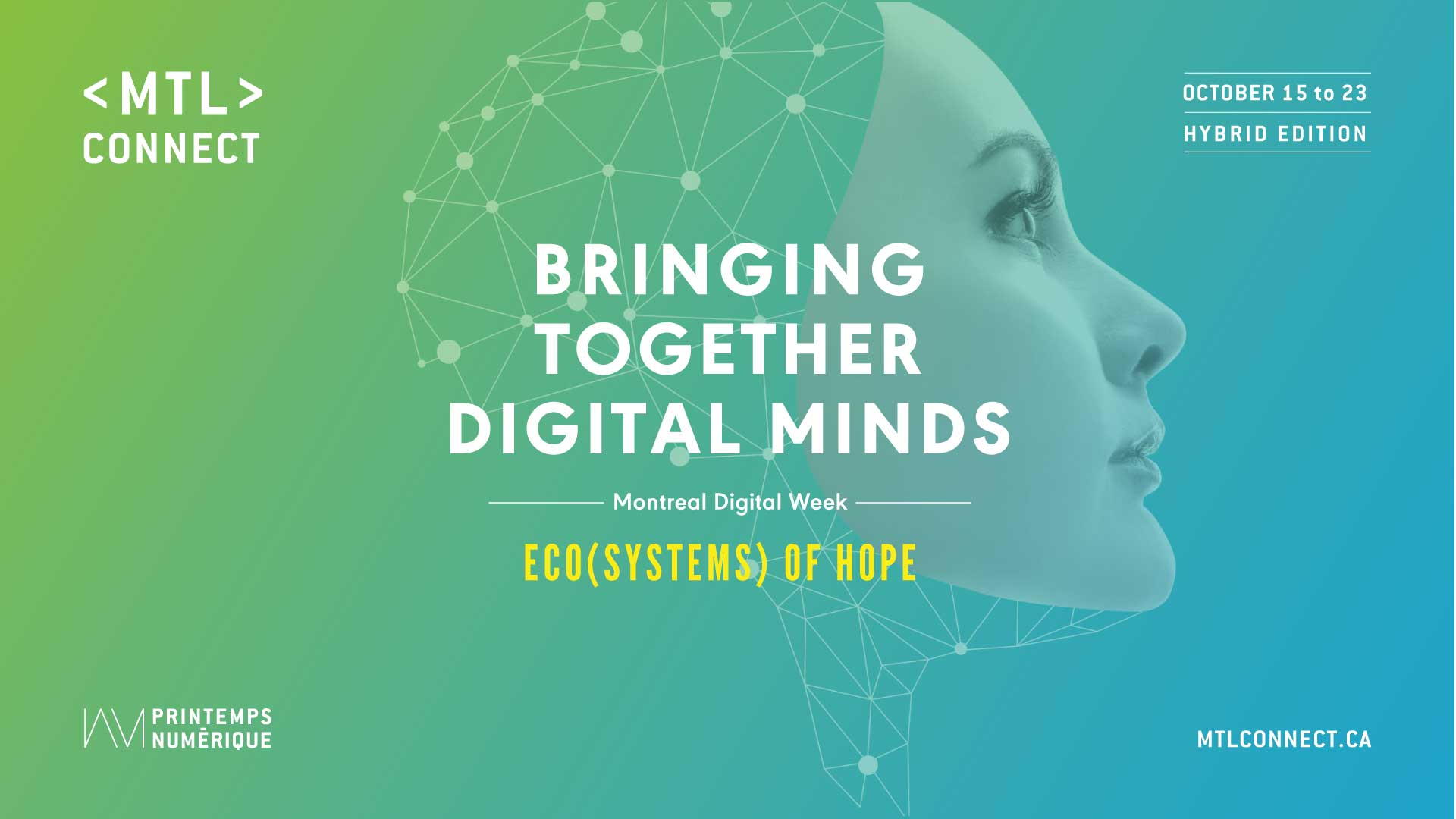 The fourth edition of MTL connect: Montreal Digital Week will take place in a hybrid format from October 15 to 23, 2022. This international event is produced in collaboration with Concordia University, focused on the uses and impact of digital technology in a variety of sectors. The 2022 edition features several Concordians in panels and other programming.
MTL connect: Montreal Digital Week offers a re-imagined and connected conference experience with inspirational speakers of international renown, a showcase of the latest technological innovations, tools and tips on digital transformation, and networking between thousands of participants.
Concordia students and alumni are offered a 25% discount on the online full pass or a 20% discount on the hybrid full pass.
At a glance
9 days of programming
6 topics
+200 local and international speakers
+80 countries represented
Conferences, panels, workshops, networking, technological showcase
Content in English and French
MTL Tech Awards: an international innovation competition
Concordia University is a major partner and presenter of the Education and Future of Work thematic.

Coût
Programmation gratuite et payante. En ligne et en personne.
Organisation
À propos
La quatrième édition de MTL Connecte : La Semaine numérique de Montréal se tiendra en mode hybride du 15 au 23 octobre 2022. Organisé en collaboration avec l'Université Concordia, cet événement international porte sur l'utilisation et l'impact de la technologie numérique dans une variété de secteurs. La présentation de 2022 mettra en vedette plusieurs membres de la communauté de Concordia dans le cadre de tables rondes et d'autres activités.
MTL Connecte : La Semaine numérique de Montréal propose une expérience de conférence réinventée et branchée, comprenant des invitées et invités inspirants de renommée internationale, une présentation des plus récentes innovations, pratiques et astuces technologiques en matière de transformation numérique, et une occasion de réseautage pour les milliers de participantes et participants.
Les étudiants et diplômés de Concordia bénéficient d'une réduction de 25 % sur le laissez-passer complet en ligne ou de 20 % sur le laissez-passer complet hybride.
Aperçu
Neuf jours de programmation
Six sujets
Plus de 200 conférencières et conférenciers locaux et internationaux
Plus de 80 pays représentés
Des conférences, des tables rondes, des ateliers, des séances de réseautage et des présentations technologiques
Un contenu en anglais et en français
Les MTL Tech Awards : un concours international d'innovation
Partenaire majeur de l'événement, l'Université Concordia présentera la thématique de l'éducation et de l'avenir du travail.
---