Workshops & seminars, Films
Sensing the Unseen w/ Jakob Kudsk Steensen
Part of the GEM Lab 2022-2023 Seminar in Media and Political Theory, Video/Art/TV: Digital Aesthetics and Politics
---
DATE & TIME
Thursday, January 26, 2023
5 p.m. – 7 p.m.
ORGANIZATION
Global Emerging Media Lab (GEM Lab)
WHEEL CHAIR ACCESSIBLE
Yes
---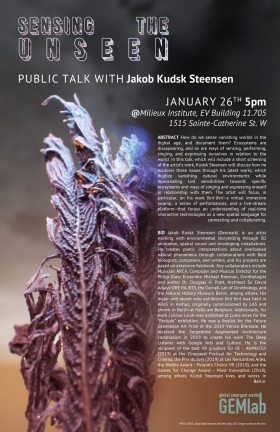 How do we sense vanishing worlds in the digital age, and document them? Ecosystems are disappearing, and so are ways of sensing, performing, singing, and expressing ourselves in relation to the world. In this talk, which will include a short screening of the artist's work, Kudsk Steensen will discuss how he explores these issues through his latest works, which digitize vanishing natural environments while rejuvenating lost sensibilities towards specific ecosystems and ways of singing and expressing oneself in relationship with them. The artist will focus, in particular, on his work Berl-Berl–a virtual immersive swamp, a series of performances, and a live-stream platform–that forays an understanding of real-time interactive technologies as a new spatial language for connecting and collaborating.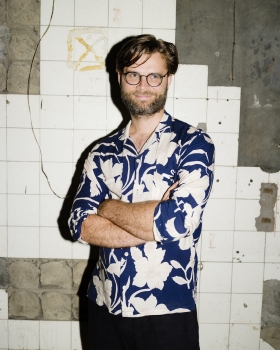 Jakob Kudsk Steensen (Denmark) is an artist working with environmental storytelling through 3D animation, spatial sound and enveloping installations. He creates poetic interpretations about overlooked natural phenomena through collaborations with field biologists, composers, and writers, and his projects are based on extensive fieldwork. Key collaborators include Musician ARCA, Composer and Musical Director for the Philip Glass Ensemble Michael Riesman, Ornithologist and author Dr. Douglas H. Pratt, Architect Sir David Adjaye OBE RA, BTS, the Cornell Lab of Ornithology, and the Natural History Museum Berlin, among others. His major and recent solo exhibition Berl-Berl was held in ARoS in Aarhus, originally commissioned by LAS and shown in Berlin at Halle am Berghain. Additionally, his work Liminal Lands was exhibited at Luma Arles for the "Prelude" exhibition. He was a finalist for the Future Generation Art Prize at the 2019 Venice Biennale. He received the Serpentine Augmented Architecture commission in 2019 to create his work The Deep Listener with Google Arts and Culture. He is the recipient of the best VR graphics for RE - ANIMATED (2019) at the Cinequest Festival for Technology and Cinema, the Prix du Jury (2019) at Les Rencontres Arles, the Webby Award - People's Choice VR (2018), and the Games for Change Award - Most Innovative (2018), among others. Kudsk Steensen lives and works in Berlin.
---