Workshops & seminars
Tree mapping as a transformative approach to climate change education
---
DATE & TIME
Friday, October 6, 2023
2 p.m. – 4 p.m.
Registration is closed
SPEAKER(S)
Rebecca Tittler
ORGANIZATION
Loyola College for Diversity and Sustainability and Loyola Sustainability Research Centre
WHEEL CHAIR ACCESSIBLE
Yes
---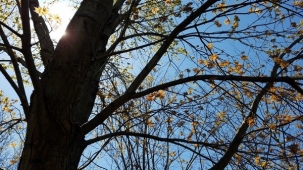 Silver maple. Photo credit: Katya Tavitian.
The Concordia Tree Project initiative aims to build public understanding of native tree species and the ecosystem services they provide. Over several years, students have been working and will continue to work on documenting each tree on Concordia's two campuses. The ultimate goal is to be able to label each tree on campus in Kanien'kéha, English, and French and also with a QR code that will lead to specific information about each tree. During this learning journey, we will discuss how the mapping project contributes to formal teaching and public understanding about nature-based solutions for climate action, the relationship between climate action and decolonization, and the importance of protecting urban biodiversity.
The majority of this event will be held outside and will involve walking around the Loyola campus. Please come dressed appropriately and contact the organizer if you have any accessibility issues of which we should be aware.
This event is part of Campus Sustainability Month at Concordia, a month-long series of sustainability events and activities.
---
---