Conferences & lectures
Walking with our senses
Grounded pedagogical encounters at Loyola Campus
---
DATE & TIME
Thursday, May 4, 2023
11:30 a.m. – 1 p.m.
SPEAKER(S)
Érik Chévrier, Satoshi Ikeda, Jackie Martin, Liz Miller, Alan Nash, and Rebecca Tittler
---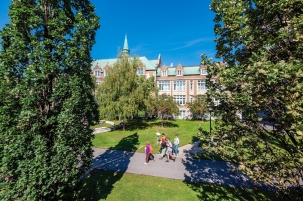 The Loyola campus of Concordia University
This collaborative walking tour brings together Concordia scholars, staff, and educators who offer critical pedagogical encounters on the Loyola campus as part of their pedagogical commitment to activate senses and a sense of purpose. On this sensorial walking tour each scholar will select a sight that helps to illuminate how they use sensory experiences to encourage students to "tune in" (Natasha Myers) to senses, perception, our local environment, and the potential for activism. Food activist and scholar Erik Chévrier advocates for community food sovereignty and encourages students to engage in local initiatives like Coop CultivAction's urban farm(s) based at Loyola. Political sociologist and activist Satoshi Ikeda will speak to the layers of gardens, activism, and history on the Loyola campus. Urban Agricultural Educator and Biodiversity Coordinator Jackie Martin uses a tasting prompt in Loyola's herb garden to awaken participants to biodiversity. Documentary maker and scholar Liz Miller uses site, sound, and smell to prompt participants to connect to past and present wastescapes. Food scholar and geographer Alan Nash encourages participants to experience place through taste as a way of understanding the diverse intersections of culture. Scholar and Zero Waste Coordinator Faisal Shennib manages food waste on campus and uses touch to bring home the waste implications of our food pathways. Rebecca Tittler, Lecturer and Coordinator of the Loyola College for Diversity and Sustainability, invites participants to listen to the birds that co-reside at Loyola.

This event is being held as part of the Uncommon Senses IV conference but is also open to those not particiating in the rest of the conference. Those not participating in the larger conference can meet us a the Shuttle Bus stop at Loyola.

---