Lex Gill
Bachelor of Arts 13
Major in Community, Public Affairs and Policy Studies
Major in Political Science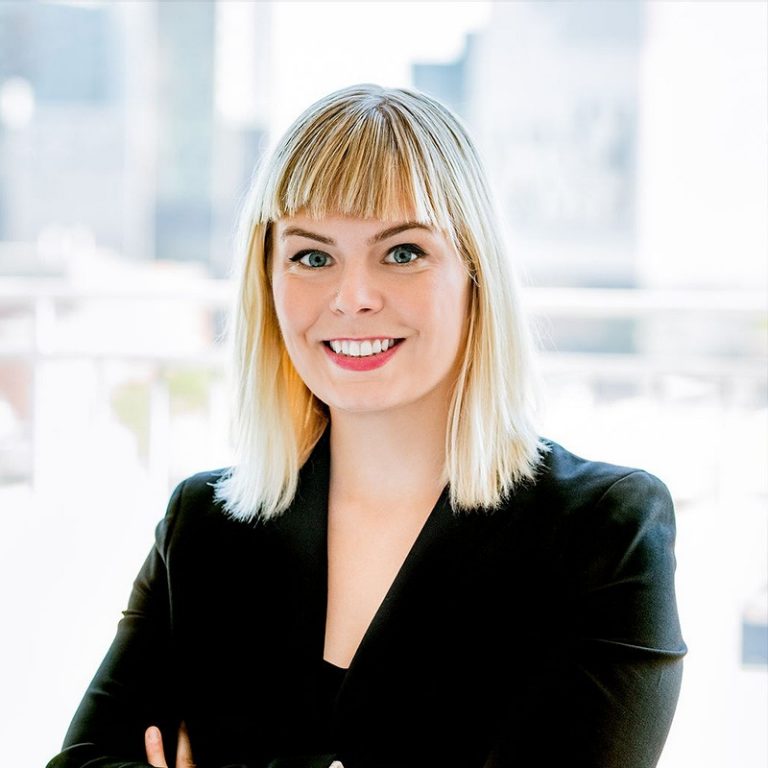 Experiential learning
Internship
While there's a real diversity of possible career trajectories, I think the SCPA has a bit of a reputation for being a training ground for changemakers and activists.
Lex Gill, BA 13/GrDip 14, credits her time at Concordia's School of Community and Public Affairs (SCPA) for helping lead her to her current position. Gill works as a lawyer with Trudel Johnston & Lespérance, a Montreal law firm known for class actions and public interest litigation in areas like constitutional law, environmental law and corporate accountability.
The firm's specialties align with Gill's commitment to social, environmental, and economic justice. She says her studies at SCPA as well as her time as a student organizer and president of the Concordia Student Union were invaluable in her development.
"While there's a real diversity of possible career trajectories, I think the SCPA has a bit of a reputation for being a training ground for changemakers and activists. I would like to think that my work is in some small way part of that tradition as well," she says.
After graduating with a double major in Community, Public Affairs and Policy Studies and Political Science, Gill completed the one-year graduate diploma in Community Economic Development at the SCPA in French.
In 2017, she graduated with a law degree from McGill University and worked in a variety of roles at different organizations, including the Canadian Civil Liberties Association and Harvard University's Berkman Klein Center for Internet and Society. She also held a Google Policy Fellowship at the Canadian Internet Policy and Public Interest Clinic.
In addition, Gill had the opportunity to work at the University of Toronto's Citizen Lab, where she remains a research fellow.
"I continue to contribute to their work, particularly on issues of freedom of expression, privacy and equality in a digital context."
Before joining Trudel Johnston & Lespérance, Gill clerked for the Rt. Hon. Chief Justice Richard Wagner at the Supreme Court of Canada, which she calls "an incredible experience." Gill is a member of both the Quebec and Ontario bar associations and has been a course lecturer at McGill since 2020.
What was the best part about your program?
The undergraduate experience is not all about what you learn in the classroom, but what you learn in the larger community. The sense of community and belonging and the amazing guest speakers that were brought in as part of the program were great.

Concordia is a very large university, but the SCPA is a pretty small place. That feeling of there always being somewhere for you to come home to on campus made a big difference for me.

What were some of the highlights of your Concordia experience?
Small group classes, time in seminars with amazing professors, and the interdisciplinary, creative and innovative programming at the SCPA stood out to me.

Concordia is also a place where there are incredible student-led initiatives – everything from the Greenhouse and the People's Potato to much wider social movement organizing. Concordia has always been the kind of school where being in the classroom is only one part of how you're learning about social change.
Any advice for current students?
Get to know your classmates – they'll be your future colleagues and future friends. Build strong relationships with your professors and get involved outside of the classroom: pick something you care about and fight for it. This will make you a better thinker, and it'll make you a better person.