Student profile
Chloé-Ann Berce
Pursuing a Bachelor of Arts
Specialization in Sociology (Co-op)
Minor in Interdisciplinary Studies in Sexuality
Experiential learning
Co-op
Co-op students in Sociology take statistics modeling into the business world
Critical thinking skills, combined with expertise in statistics, led Chloe-Ann Berce to expand her comfort zone at two different internships
What drew you to these academic fields at Concordia?
After studying general psychology and human sexuality at Cegep, I became more and more interested in studying people as groups, especially disadvantaged groups. At Concordia, I discovered classes focused on social problems, exploring issues like racism, feminism and ageism.
What are some of your most memorable courses or professors?
An introductory course on culture taught me that you can study archeological anthropology, biological anthropology, cultural anthropology and linguistic anthropology. I learned more about Indigenous studies when I took a class on North American Peoples.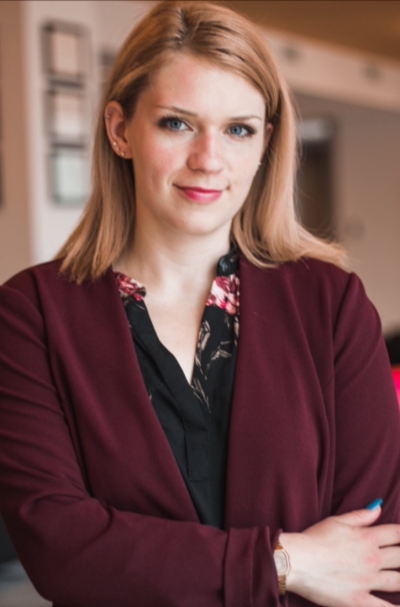 With Marc Lafrance, I took a class on the social aspects of the body. He's very dedicated to his work but he's also to what his students are interested in and how they think and process information.
He makes us participate a lot in class. That really helps us learn and expand our vocabulary in sociology so that we can learn how to think critically.
I also enjoyed taking a course on sexual labour with Francine Tremblay. She pushed us to write papers not just for her class but to possibly develop into a thesis in future graduate studies.
What have your work terms as Co-op student been like?
For sociology students, paid internships are usually concentrated in government, corporate settings, or with community-based organizations.
For my first co-op experience, I worked as a data analyst for Major Wire Industries, a multinational that manufactures, produces and distributes screen media. It was challenging because I was working on a daily basis with the CEO of the company, but it made me get out of my comfort zone. I was part of the IT department and I developed a better understanding of statistics and building dashboards.
I got this job because I like statistics. Statistics can be sociology-oriented or business-oriented and I wanted to learn more about the business-oriented version.
My eight-month internship at Bombardier has also been an awesome experience. My work term is divided into two parts. The first part is basically learning the job as the intern recruiter and for the second part of my internship, my responsibilities evolved to include things like training the new intern.