Workshops & seminars
Concordia's Institutional History in an Era of Truth and Reconciliation
---
DATE & TIME
Wednesday, January 26, 2022
1:30 p.m. – 2:30 p.m.
Registration is closed
---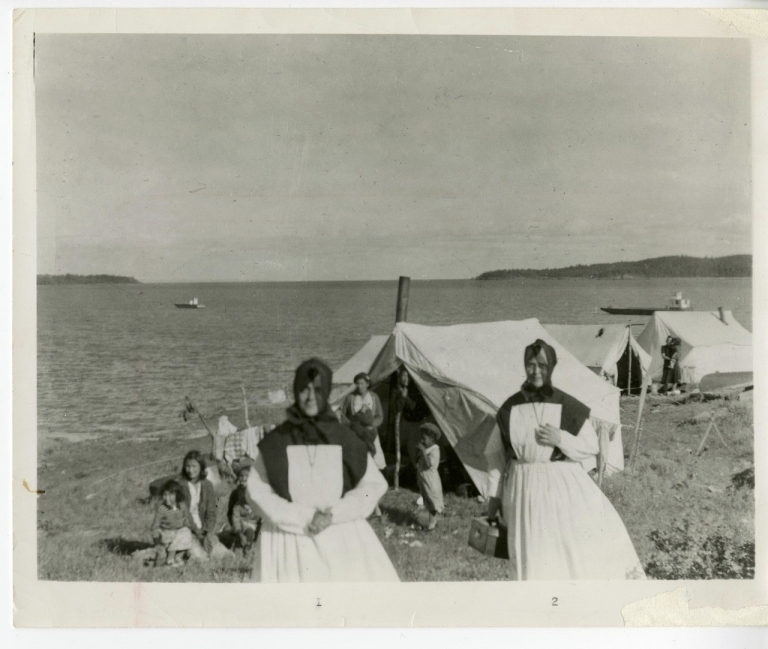 Grey Nuns and children at Fort Chipewyan (Alberta). Image accessed through the National Centre for Truth and Reconciliation.
Please join us virtually for a presentation and Q&A with Colby Gaudet, PhD candidate in Religions and Cultures at Concordia.
Following the lead of American and British universities, some Canadian universities with colonial histories have undertaken the project of critically investigating their institutional pasts. Concordia — it could be claimed — is a relatively 'new' university. Founded in 1974 from a merger of two earlier institutions, Concordia, nonetheless, is an inheritor of colonial legacies including connections to residential schools and slavery. Often it was the objects of Christian mission (Roman Catholic and Protestant) that implicated these historical institutions in systems of power and domination. These facts have implications for discourse on Truth and Reconciliation at Concordia, and for Canadians generally.
In this virtual presentation, a brief historical overview of Concordia University's founding and partner institutions (Jesuits, YMCA, and Grey Nuns) will be made and will be followed by a Q&A session.
Colby Gaudet is a PhD candidate in Concordia's Department of Religions and Cultures. Their doctoral research investigates the archives of missionaries who worked among Indigenous and settler communities in early eastern Canada. The research presented in this session was produced in 2021 as part of a project for Concordia's Indigenous Directions Action Plan


---