Visit the Cities Hub



In the face of climate change, municipalities take the lead
Cities are uniquely positioned to address extreme weather, Concordia expert says
Climate change may be a global problem, but it's often municipalities — on the front lines of extreme weather events — that are relied on to respond and try to reduce the effects.
When wildfires wiped out parts of British Columbia or a heat wave led to multiple deaths in Montreal — to name just two extreme weather events last year alone — affected municipalities were the first on the ground.
Cities and towns are also increasingly responsible for solutions and funding to mitigate the future impacts of climate change, from rebuilding infrastructure to sustain extreme weather events to beefing up transit systems to reduce emissions.
'Trickle up' climate change policies are more effective
Concordia's Joel Bothello believes municipalities are best suited to develop climate change policies, alongside other stakeholders. Bothello says climate change policies should "trickle up" from local governments and not "trickle down" from provincial, federal or international policymakers.
"Municipalities are much more aware of what goes on in their own contexts and well aware of the challenges and opportunities in their own environment," says Bothello, an assistant professor in management at Concordia's John Molson School of Business. "Cities tend to experiment more. They don't have as much political baggage … and are able to develop solutions that are more tailored and customizable to their communities."
More responsibility has also fallen to cities because their representatives are more accessible to citizens concerned about how climate change is affecting their lives, says Jeb Brugmann, vice president of 100 Resilient Cities, an organization dedicated to helping urban centres become more resilient to the socioeconomic and physical impacts of issues like climate change.
"There is that short feedback loop between what people are concerned about and what the city has to take action on," says Brugmann, who is also the founder and former secretary general of ICLEI (International Council for Local Environmental Initiatives), a global network of cities, towns and regions that collaborate on sustainability issues. "Cities are known to be problem solvers."
Brugmann says leading cities are tying climate-action programs into economic development programs, which can help secure funding from other levels of government to support their initiatives. For example, when Edmonton, Waterloo and Peterborough, Ont. prepared their climate risk assessments, Brugmann says the municipal economic development departments evaluated the local economic opportunities associated with climate actions. And in 2017, Ottawa became the first Canadian municipality to issue special green bonds associated with their climate action targets to finance the expansion of the city's light rail transit system. Since then, other cities like Vancouver and Toronto have followed Ottawa's lead.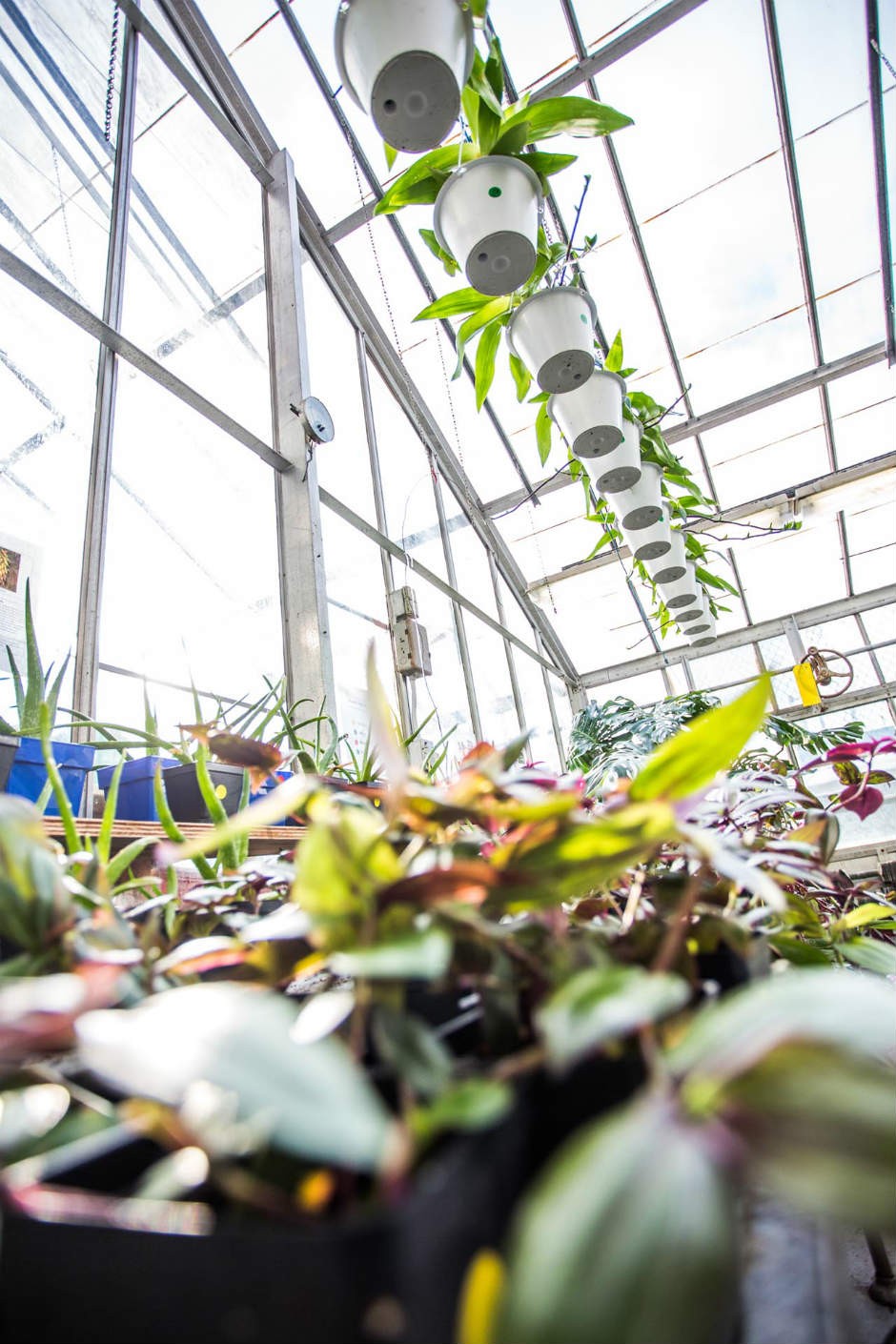 The Concordia University greenhouse is just one in a slew of urban horticulture projects in Montreal.
'A deeply local challenge'
"Keeping Canadians safe in the face of climate change is a deeply local challenge," says Vicki-May Hamm, president of the Federation of Canadian Municipalities (FCM). The FCM says municipalities influence roughly half of Canada's GHG emissions and are the focal point when it comes to building long-term climate resilience in their communities.
"Cities and communities across the country are on the front lines as new weather extremes force families from their homes and wreak havoc on local businesses," says Hamm, who is also the mayor of Magog, Que.
Yet Hamm says many municipalities don't have the human or financial resources to take on the growing challenge. It's why the FCM has been calling on the federal government to increase funding "to ensure local adaptation projects continue to move forward without interruption." Hamm says the FCM is also talking to Ottawa about providing new financial tools "to scale up local solutions to meet Canada's climate change target."
While the impacts of climate change have been on municipal agendas for decades, Hamm says they're becoming a top priority given the rise in extreme weather. The proactive steps, from repairing or rebuilding aging infrastructure, to training first responders, to expanding public transit, are all urgent matters that cost money.
Municipalities seek sustainable climate change solutions
Despite strained resources, many cities are stepping up to the challenge of responding to and preparing for the increasing effects of climate change, says Bothello. This includes not only major infrastructure development, but support for smaller local initiatives such as community markets and urban gardens to build more resilient communities.
To be successful, Bothello says municipalities need to focus on the needs of their own communities instead of just applying technical solutions from other jurisdictions. For instance, creating more walkable neighbourhoods might work in Montreal, but be impractical in suburban ones.
"Addressing climate change through generalized solutions doesn't work," says Dr. Bothello. "The challenges vary from one municipality to the next."
Longer-term, Bothello believes the most effective way to deliver sustainable development policies is by sharing best practices between governments and stakeholder groups.
"It seems the most effective policies are those that allow sharing," he says. "People need to experiment on their own and see what comes out of it."
Discover how Concordia is reimagining and reinventing communities and cities.