Latest Impact Rankings recognize Concordia's continuing sustainability efforts
Times Higher Education and other agencies once again place the university among the world's best educational institutions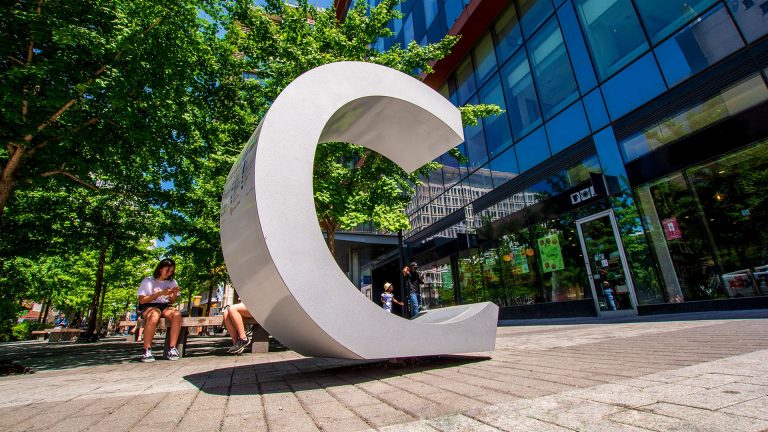 Concordia consistently demonstrates its dedication to social responsibility and creating a more equitable and sustainable world. Recent examples include the university securing a historic $123-million research grant to electrify society and decarbonize communities, its climate initiative PLAN/NET ZERØ that will serve as a blueprint for cities around the world, its approach to responsible investing and its pledge to reach carbon neutrality by 2040.
Responding to the planetary emergency, many other international universities and institutions are making similar efforts, exemplified by their commitments to the United Nations' 17 Sustainable Development Goals (SDGs).
To recognize and encourage the global higher education sector's progress toward the SDGs, the British-based magazine and rankings publisher Times Higher Education (THE) introduced its THE Impact Rankings in 2019. That year, 467 universities took part.
Since first participating in the Impact Rankings in 2020, Concordia has placed among the world's top 200 universities. In the newly released 2023 THE Impact Rankings, Concordia is once again in the 101-200 slot, now among a deeper pool of 1,591 institutions worldwide.
The Impact Rankings measure each university's achievement toward its three best SDGs. All universities are scored on SDG-17, Partnerships for the Goals, which examines their collaboration with other countries, promotion of best practices and publication of data.
Concordia's individual SDG scores remain consistently above the 75th percentile of participating universities. It is among the top five per cent and ranks in the top 50 globally for two goals: SDG-10, Reduced Inequalities, 40th; and SDG-11, Sustainable Cities and Communities, 44th.
The other of the university's ranked goals that THE used to determine Concordia's overall rank are SDG-13, Climate Action, 85th; and SDG-17, Partnerships for the Goals, 201-300.
Concordia is among the top 10 in Canada for three SDGs: third for Reduced Inequalities, seventh for Climate Action and 10th for Sustainable Cities and Communities.
Other recent ranking highlights
Over the past several months, the university fared well in several other international rankings.
In May, Concordia was named among the top 3.1 per cent of universities worldwide in the 2023 edition of the Center for World University Rankings (CWUR). The university ranked 620th out of 20,531 universities and remained in 22nd position among Canadian universities, the same national placement since 2019.
The CWUR evaluates universities on seven weighted indicators, including Quality of Education, Alumni Employment and Quality of Faculty. Concordia's highest CWUR position was for the alumni employment indicator, which measures the number of a university's graduates who currently hold CEO positions or equivalent at the world's top companies, relative to the university's size.
In March, Concordia again ranked as one of the world's top universities in 14 out of 54 narrow subjects and in three of five broad subjects in the 2023 edition of QS World University Rankings by Subject (WURS).
Concordia was placed among the world's top 200 in Art and Design and in Communication and Media Studies, both ranked 101-150 globally and third and fourth, respectively, among Canadian universities; and in Linguistics, ranked 151-200 globally and sixth nationally.
The WURS also placed the university in the 10th spot in Canada in Electrical and Electronic Engineering and in Mechanical, Aeronautical and Manufacturing Engineering.
In November, Concordia ranked 201-220 out of 700 in the first edition of the QS World University Rankings: Sustainability 2023, which focuses on the social and environmental sustainability performance of higher education institutions around the world.
Nationally, Concordia tied for 13th out of 26, and third among 12 Canadian comprehensive universities.
And in October, Concordia appeared for the first time in PitchBook Universities: Top 100 colleges ranked by startup founders. The annual rankings compare schools by the number of alumni entrepreneurs who have founded venture capital–backed companies.
Concordia ranked eighth in Canada and 100th worldwide, with a total of 147 founders of 141 companies raising $2.2 billion USD in capital.

Learn more about Concordia's commitment to the Sustainable Development Goals.
See how the university and its programs rank among Canadian and international institutions.
---