Concordia IT manager trades in his keyboard for an apron on Wall of Bakers
Jang Kwon will compete on Food Network Canada's new show May 23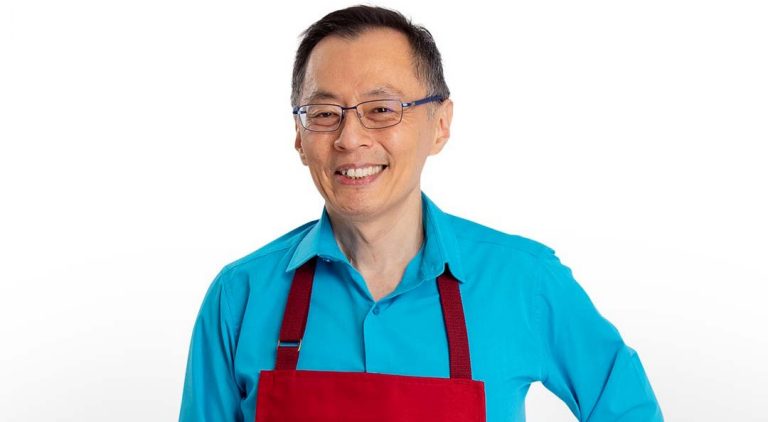 When Jang Kwon was a young boy, he used to pick up cakes and other pastries just down the street from where he lived in Montreal's Park Extension neighbourhood.
But then his family moved to the South Shore and the nearest bakery was a 10-minute drive away.
"My parents said, 'If you want cakes, then you're gonna have to bake your own from now on,'" Kwon remembers. They handed him a box of Duncan Hines cake mix, and seven-year-old Kwon got to work on his first cake.
The IT manager at Concordia's Instructional and Information Technology Services (IITS) hasn't stopped baking since.
On May 23, Kwon will showcase his hard-earned skills on Food Network Canada's new show Wall of Bakers. The Wall of Chefs spin-off features amateur bakers competing over three rounds in front of the country's best pastry chefs, for a chance to win $10,000.
Two key ingredients: determination and preparation
Kwon's big break comes after years of applying to different cooking competition shows.
"After eight years of rejection, you tend to say, 'Okay, here's another one.' I read the email over and over again — it was surreal," he recalls.
To prepare for the show, he watched every episode of Wall of Chefs that he could get his hands on.
"I really studied what goes on ⁠— how the contestants were eliminated, what didn't they do or what did they do badly — and transferred that into a baking environment," Kwon says. "So, it was a summer of a lot of baked goods."
Luckily, he had an easier time procuring flour that summer than the previous, at the start of the COVID-19 pandemic, when everyone was baking. "I was so desperate that I splurged and shelled out 20 bucks for a bag of organic flour," he says.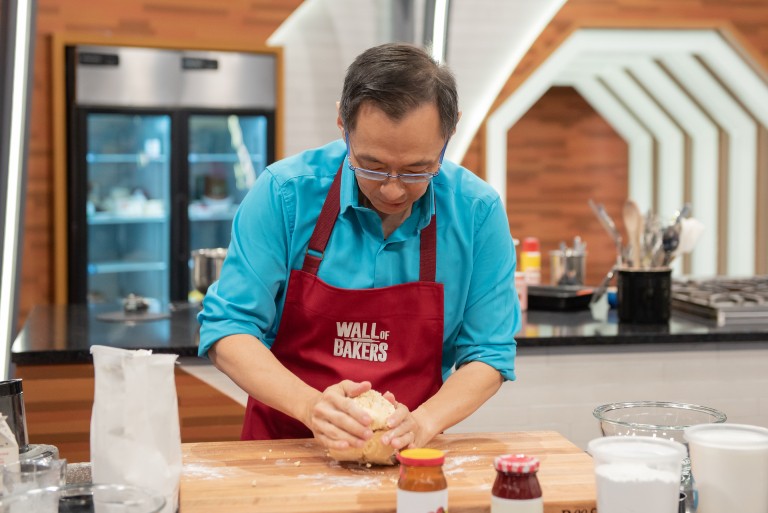 Photo: Food Network Canada
A well-kept secret
Kwon has been working at IITS for nearly 28 years, but many of his colleagues are only finding out now about his abilities in the kitchen. As Kwon puts it, he's bilingual: he can cook and bake.
"The people who know me will not be one bit surprised in terms of how I conduct myself on the show. They will be surprised to see another side of me — the one that can bake," he says.
Funnily enough, Kwon attests, IT management and baking aren't as different as you might think.
"You have to multitask and basically keep your eyes and hands alert — monitoring things and adjusting as you go along. That's pretty much what I do every day at my job."
'It's just a matter of enough practice'
For those interested in baking, Kwon emphasizes that you need to be patient as you learn how to improvise and how to improve from mistakes.
"If it doesn't come out perfectly, just try again. No two baking sessions are alike," he says.
"In today's generation with all these shows, there's a lot of pressure for the beginner baker to bake at that level. It doesn't happen overnight."
While Kwon is not planning on opening his own bakery anytime soon, he is welcome to the idea of a side hustle.
"If I start getting special baking requests, I'd be happy to do it."

Catch Jang (J.J.) Kwon on Wall of Bakers on May 23 at 10 p.m. ET/PT on Food Network Canada.
Follow Kwon on Instagram under @cookyoucan.
Find out more about Concordia's Instructional and Information Technology Services.
---