Biologist Lilian Sales becomes the latest Concordian to win a Banting Postdoctoral Fellowship
The program brings talent from around the world to Canadian universities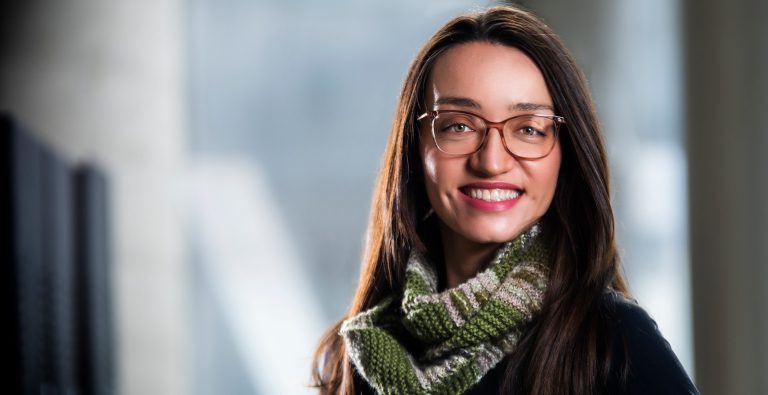 The Government of Canada has awarded a Banting Postdoctoral Fellowship to Lilian Sales for her work on how to predict and mitigate changes to global biodiversity.
Sales is doing her postdoctoral research at Concordia in collaboration with professors Pedro Peres-Neto, Jean-Philippe Lessard and Damon Matthews. As a biologist with a PhD in ecology and evolution, she uses mathematical models to understand what drives species distribution at landscape, regional and global scales.
"My main goal is to understand the redistribution of biodiversity in our current era, the Anthropocene, in which human activity is the dominant influence on our climate and environment," says Sales.
"I'm looking into its causes and consequences, in addition to the implications for wildlife management and conservation."
The prestigious fellowship is awarded to the finest postdoctoral applicants, both nationally and internationally, to position them as research leaders in their field. The two-year award is given to 70 researchers annually and is valued at $70,000 per year. Sales is one of less than two dozen fellows in her sector from across all of Canada.
'The proposed research will lead to better conservation strategies in the face of climate change'
Tell us about the research that led to you being awarded a Banting fellowship.
Lilian Sales: In the face of climate change, biodiversity is and will continue changing. Currently, we have weak predictive abilities to estimate whether future species combinations mashed together with no or little previous history of interactions will be able to coexist well within their novel ecosystems.
In my research, I propose to develop and apply models to predict the future of biodiversity. The products of the proposed research will lead to better conservation strategies in the face of climate change.
What attracted you to these issues?
LS: The interactions between animals and plants support life on Earth. Animals as small as bees and as large as bison take part in essential interactions with plants and their physical environments. Their synergy provides essential natural services such as the pollination of crops and dispersal of seeds by frugivores, supporting the life cycle of an immense number of plants.
Under climate change, not only are species at risk, but the interactions among them might also be affected. Biodiversity assessments rarely incorporate the cascading effects of climate change on animal-plant interactions. My project is a first step toward the improvement of climate-based models to assist the preservation of biodiversity in all its complexity, plus the benefits nature provides to humans.
Why did you choose Concordia and how has your experience at the university been?
LS: Concordia and the scientific community in Montreal at large provide an ideal location for conducting the proposed research. Montreal has arguably the highest density of ecologists working on climate change and biodiversity issues in the world. At Concordia, I work with world leaders in the fields of ecological statistics, PedroPeres-Neto; community assembly analyses, Jean-Philippe Lessard; and climate change modelling, Damon Matthews.
How has COVID-19 affected your work in the last year?
LS: I really sympathize with people who've lost loved ones and fear for my own family in Brazil, one of the worst-hit nations. In addition to the inner hurdles of being a scientist mom during periods of social isolation and homeschooling, the pandemic brought me several unexpected challenges: from immigration paperwork delays to cancelled air travels.
Up until the last minute, I was not sure if I would be allowed to cross the Canadian border, despite the kind efforts of Concordia staff to provide me with the essential documents. Overall, working mothers around the world are struggling to make ends meet while maintaining their mental and physical health.
As for my specific work, I was lucky to be a specialist in computer modelling and to have access to all the facilities the university offers remotely, which allowed me to keep working. Therefore, I was able to win this extremely competitive fellowship under exceptionally challenging conditions. I am proud and thankful for all the support I have received.
What else will you be working on in the coming months and years?
LS: I'm involved in diversity issues through my work with the Kunhã Asé Network of Women in Science, a female-led Latin-American non-governmental and collaborative initiative. We support Brazilian scientists at different career stages, encouraging the participation of younger women and girls, especially those from ethnic minorities.
I will also continue to work as a junior associate editor of the Journal of Applied Ecology, a leading journal in my research area. I believe it's important for research from developing countries to be edited by experts using narratives that better reflect cultural differences.

Find out more about Concordia's Department of Biology.
---