Young queers are changing what it means to live in an LBGTQ neighbourhood, writes Concordia researcher
Julie Podmore shows how a generational shift led to new spaces that welcome sexual and gender diversity, like Montreal's Mile End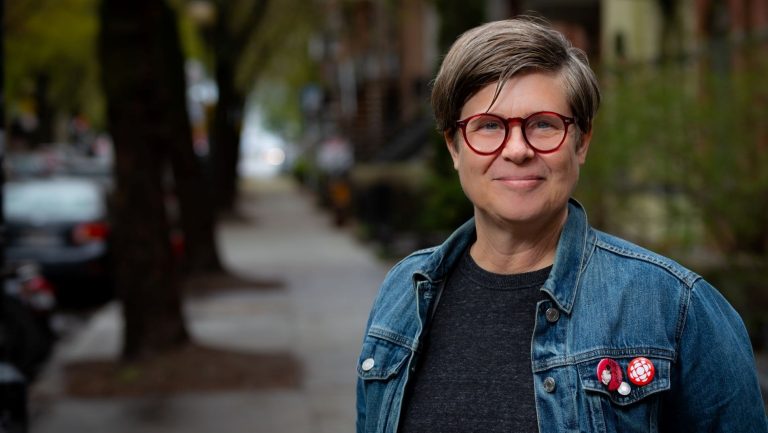 Montreal's Gay Village remains the area where, in less pandemic-y times, the city's LGBT community embraces its history of civil rights struggles, thriving nightlife and usually peaceful co-existence between commerce and urban grit.
However, over the last several decades, there has been a generational shift away from the Village. This change has drawn growing numbers of people who identify as queer as opposed to gay, lesbian, bisexual or trans to other parts of the city, largely based on the rejection of the commercial and tourist traditions of the Ste-Catherine Street strip. Until a few years ago, Montreal's Mile End was the locus of this movement.
Julie Podmore, an affiliate assistant professor of geography, planning and environment in the Faculty of Arts and Science, looks at Mile End as a case study of the queer inner city for a chapter in the book The Life and Afterlife of Gay Neighborhoods: Renaissance and Resurgence, edited by Alex Bitterman and Daniel Baldwin Hess.
The arrival of young queers into the neighbourhood two miles north of the Village coincided with its emergence as a centre of indie culture. This confluence turned Mile End into a queer-friendly neighbourhood similar to Toronto's Queen West and, to a lesser degree, Vancouver's Commercial Drive.
"For me, Mile End had for a long time been primarily an anglophone lesbian neighbourhood," Podmore says.
"As I conceived of this project roughly a decade ago, people were starting to talk about the 'de-gaying' of gay villages and the emergence of queer-friendly neighbourhoods. I saw that happening in Mile End, which was becoming queer while it was also becoming a hipster neighbourhood with a lot of cultural production going on."
Homonormative exclusion
Podmore hired her queer graduate students to interview members of their personal networks to record their impressions and thoughts of the neighbourhood. What emerges is the sense that young queers, most of whom were well-educated, relatively well-off and predominantly anglophone, were pushing the boundaries of sexual and gender identity. Most of them were also uncomfortable with the Village's overall atmosphere.
They felt it was predominantly a place for older, white, cisgender men and women. It was homonormative, meaning that it was for LGBT community that had assimilated into mainstream society, and it was associated with a heavy police presence, commerce and tourism. Many young queers felt excluded.
"There is a dichotomy between the LGBT Village and the queer Mile End," she says. "I wanted to explore the different urban ideal among the two groups."
The difference was profound and eloquently expressed. But Podmore notes that the individuals interviewed may not grasp everything the Village is and offers.
"It might be a place where many people, especially young people from outside a big city, travel to when they are trying to come out," she says. "I have met refugees who value the Village as a place where they can be free. But for the millennial queer generation of a certain social class, it is a place that has become a site of consumption and so is no longer valuable in that way."
Gentrification 2.0
Today's Mile End is of course very different from the one surveyed by Podmore's students. Queer-run establishments such as the Cagibi café and Royal Phoenix bar were forced out and the neighbourhood is experiencing a surge of business departures as landlords aggressively hike rents.
Podmore points to Hochelaga-Maisonneuve, St-Henri and Pointe-St-Charles as emerging queer neighbourhoods that could be future areas of study.
"I think that this inner-city, queer-friendly neighbourhood is becoming a new archetype," she says. "There are different sets of cultures and politics emerging here."
Read the cited book chapter: "Far Beyond the Gay Village: LGBTQ Urbanism and Generation in Montréal's Mile End."
---