Concordia now offers graduate degrees in chemical engineering
The Gina Cody School approves master's and doctoral programs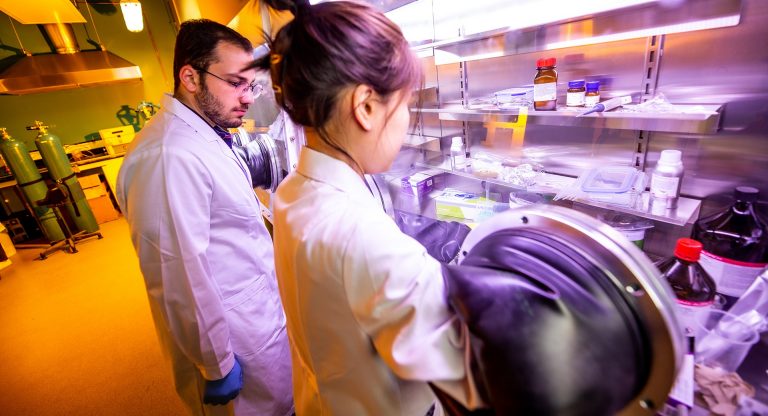 The Gina Cody School of Engineering and Computer Science has announced the approval of two new graduate programs in the Department of Chemical and Materials Engineering (CME).
The master's and doctoral programs in chemical engineering create an opportunity for Concordia to grow its research capabilities and join global conversations bringing forward-looking perspectives in this field.
"The Gina Cody School takes next-generation learning to heart and the Department of Chemical and Materials Engineering is instrumental in offering experiential learning opportunities to our graduate students," says Mourad Debbabi, interim dean of the school.
"Issues surrounding sustainability, energy storage and efficiency as well as our environmental footprint will drive the research that students can expect to undertake. Our faculty is well-positioned to support the innovative ideas and transformational global thinking that will emerge from these new programs."
'Gender balance will remain a fundamental value'
The new MASc and PhD in chemical engineering programs are an outgrowth of the department's vision of its greater societal role.
"The chemical industry is founded on carbon that is taken from fossil fuels," explains Alex De Visscher, professor and chair of the CME.
"Looking to the future, we must change our traditional approach and look toward sources like electricity, renewable energy sources, carbon dioxide and biomass. They can help us create true green processes that are sustainable and minimize our environmental impact."
As a graduate student in Belgium, De Visscher experienced the benefits of faculty gender parity in an engineering department. The dynamic nurtured innovation and diversity in research and learning and it inspired his vision for what would become Concordia's CME department.
"When you improve gender balance, you immediately increase diversity. We have 10 faculty members who bring their experiences to facilitate inclusive discussions. As we evolve, gender balance will remain a fundamental value that will drive our growth."
Themes of study
The CME is a hub of activity fuelled by faculty who tackle today's pressing issues with a focus on creating long-term solutions. The areas of expertise are as diverse as the faculty members themselves:
Leveraging carbon dioxide to lower emissions
Design catalysts to reduce global greenhouse gas emissions
Creating polymers and nanomaterials for renewable energy sources
Creating safe and high-energy batteries without fossil fuels
Developing advanced resilient materials for extreme environments
Rethinking manufacturing development using new techniques
"I am proud of the breadth and quality of research done in our Department of Chemical and Materials Engineering in the last five years. It has led to the growth we are celebrating today," says Paula Wood-Adams, interim vice-president of research and graduate studies and professor of chemical and materials engineering.
"These new graduate-level programs will enable us to bring fresh perspectives to existing chemical engineering conversations to benefit industry and society. This milestone further solidifies our position as a top research school in Canada."
Tips for successful applicants
Interested in applying to the graduate programs in chemical engineering?
"We have ambitious research goals and are on an aggressive growth trajectory. The students we welcome into these programs will need to stand out," De Visscher says.
He outlines a few important tips for prospective students:
Align your research interests
Make sure your research interests are aligned with the supervisor you are requesting. That means that your experience and areas of interest can be enriched or advanced by your supervisor. Be clear on how you plan to grow under their tutelage.

Demonstrate leadership skills and experience
The department wants to change the way it does things and wants to recruit students who are comfortable championing their innovative ideas. Describe the diverse experiences that have contributed to your learning and understanding.

Stand out as an original thinker
Taking a different approach to chemical engineering requires an ability to look in different places for answers to age-old questions. Moreover, solving problems of the future requires the ability to synthesize today's problems efficiently and offer innovative approaches that embody true green processes.

Find out more about Concordia's Department of Chemical and Materials Engineering. Contact Alex De Visscher with any questions about registering for the new graduate programs.
---