Concordia's John Molson Executive Centre offers a new real estate management certification
The program will help advance the careers of professionals in a rapidly changing industry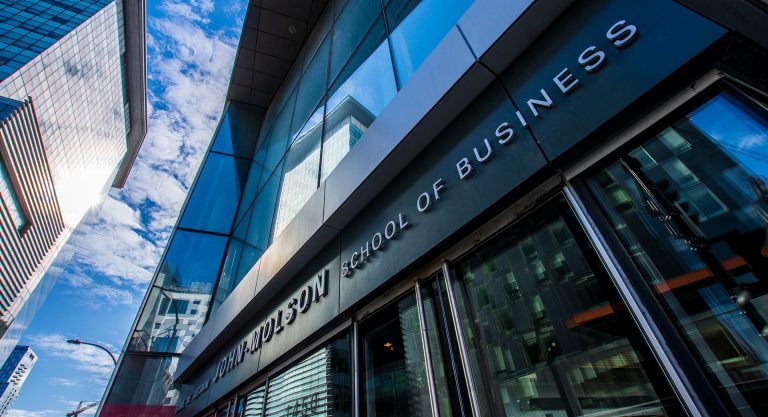 Concordia's John Molson Executive Centre has launched a Real Estate Management Certification in partnership with the Urban Development Institute of Quebec (UDI) and the university's new Jonathan Wener Centre for Real Estate. The program will help participants develop the management skills required by professionals in the real estate field who wish to advance their careers.
Founded in 1987, the UDI is an independent, non-profit organization that brings together major institutional owners, important real estate developers and managers, as well as industry professionals and companies working in related sectors. It is the largest representative of the commercial real estate industry in Quebec.
The new certification also offers continuing education credits approved by the Organisme d'autoréglementation du courtage immobilier du Québec (OACIQ), the province's real estate brokerage authority.
"There is no doubt the important role that real estate professionals play in the development of our cities and communities," notes Anne-Marie Croteau, dean of the John Molson School of Business.
"One of our school's strategic imperatives is to cultivate strong and sustainable partnerships with the business community. This new real estate certification will allow experts to deepen their knowledge for the betterment of the communities they work in."
'A gem for anyone who wants to understand the industry'
The certification, offered in French, focuses on the fundamentals of commercial real estate, with an emphasis on real estate industry best practices, innovation and sustainability. Through a rich learning path, participants earn certification by completing the Introduction to Real Estate course, five core courses and a Capstone Project.
In addition, participants can register for specific courses based on their personal interests via the program's à la carte offerings.
"Although they come in with specialized knowledge in fields such as finance, law and urbanism, there is a distinct need for a broader knowledge of the real estate industry itself," explains Michel Deslauriers (BCom 85), director of the Jonathan Wener Centre and finance lecturer. "This program bridges that gap by allowing participants to better understand all the different facets of the industry."
Virginie Chane-Teng is senior director of enterprise and portfolio risk with real estate company Ivanhoé Cambridge in Montreal. She recently completed the program's introductory course.
"The introductory real estate course is a gem for anyone who wants to understand the industry and its investment aspect," Chane-Teng says. "The instructor's experience and approach allowed me to broaden my knowledge and inspired me to make the most of the concepts and ideas I learned."
For Jean-Marc Fournier, president and director general of the UDI, the real estate certification was a much-needed initiative.
"Its genesis stems from the desire to train and advance the careers of real estate professionals. Providing comprehensive education with recognized experts in the real estate field is a goal that both Concordia and the UDI share," Fournier says.
"Our industry is evolving quickly and there are many real estate fundamentals that professionals need to understand better, like real estate development, law, valuation and urban planning, in order to be successful."
He adds that he thinks the program's hands-on approach will surprise participants.
"Not only are the instructors respected professionals, but they truly are real estate enthusiasts."

Learn more about the Real Estate Management Certification at the John Molson Executive Centre.
Find out more about Concordia's Jonathan Wener Centre for Real Estate.
---