Concordia PhD candidate's debut book examines the continued life of Game Boy Advance
Alex Custodio is the first Department of English student to expand an MA research paper into a full-length volume, which was published by MIT Press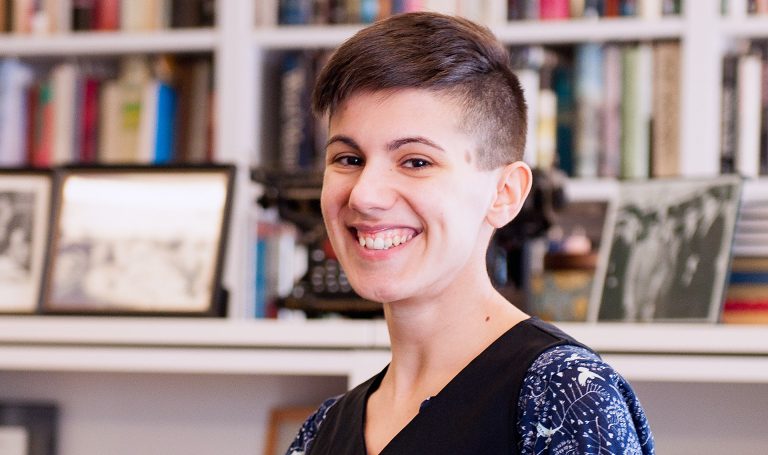 What's behind the enduring relevance of Nintendo's Game Boy Advance nearly 20 years after its release? In her first book, Concordia interdisciplinary humanities PhD student Alex Custodio explores what makes the handheld system so distinctive, and the community of fans that continue to hack, modify, redesign and develop it.
Custodio examines the hardware and software afterlives and looks at the way Nintendo successfully used players' nostalgia for older games to foster their buy-in to new ones. The book, Who Are You? Nintendo's Game Boy Advance Platform, was an extension of her Master of English research paper and published by MIT Press in Cambridge, Massachusetts, in October.
"The fact that people are using this console, that people are modifying it with new technologies in order to expand its lifespan really fascinated me, and I wanted to trace its development from 2001 to what it became today," she says.
According to Darren Wershler, Custodio's MA supervisor and associate professor of English in the Faculty of Arts and Science, the book is a first for his department.
"In the history of my department, and possibly of Concordia, this is the first time a major research paper has gone on to become a full-length monograph from the leading press in the field for that person," he says.
'Actually it's a book'
Custodio initially planned to study fan fiction and fan communities for her master's degree, but changed focus after taking Wershler's ENGL 603 Media Archaeology course at the Residual Media Depot (RMD). Housing the largest Canadian university collection of historical video game consoles, the RMD is associated with the Media History Research Centre in Concordia's Milieux Institute.
The course explores how people use old media in the present context and allows students to work with the material, which was ideal for jump-starting Custodio's research.
"She could look at the actual objects, work with them and modify them. And as a result of doing all that work and finding the people in the community, she can talk about what people are actually doing," Wershler says.
After Custodio submitted her research paper 20,000 words over the expected word count, both Wershler and the second reader had the same feedback: "One of the things they both said was, 'It's a good research paper, but actually it's a book,'" Custodio recalls.
Wershler connected Custodio to MIT Press, and when the publisher gave her the go-ahead to expand her paper into a book, she took a year off from her studies to write it.
Fighting against planned obsolescence
Custodio says several factors have made the Game Boy Advance uniquely durable, including Nintendo's grasp for generating nostalgia in users. "Super Mario, Legend of Zelda, Pokémon — all of these long-running game series lead people to want to play every instalment, and the amount of remakes and reboots fuels this fire," she explains.
People who like to make their own games have access to the Game Boy Advance homebrew, Custodio also notes, which is more advanced than what's possible with the Game Boy or Nintendo entertainment systems.
The platform has also lived on thanks to community efforts against the console's planned obsolescence. As part of her master's research, Custodio interned with Montreal-based company Retro Modding, which customizes and reimagines handheld consoles to give them a second life and keep them out of landfills.
"The Nintendo Game Boy Advance was replaced with whatever came out the next year, so that's where the book would usually end," says Wershler. "But Alex goes beyond that and says there's actually this whole other set of questions we can ask about what happens to technology when we're done with it as a consumer commodity."
Custodio feels the book was a "test case" for a broader study of handheld video games, which she plans to pursue for her PhD.

Find out more about Concordia's Department of English.
---