Concordia helped this new grad 'dream bigger' and advance her startup ambitions
Catherine Pepe looks back on the lessons she learned as an MBA student at John Molson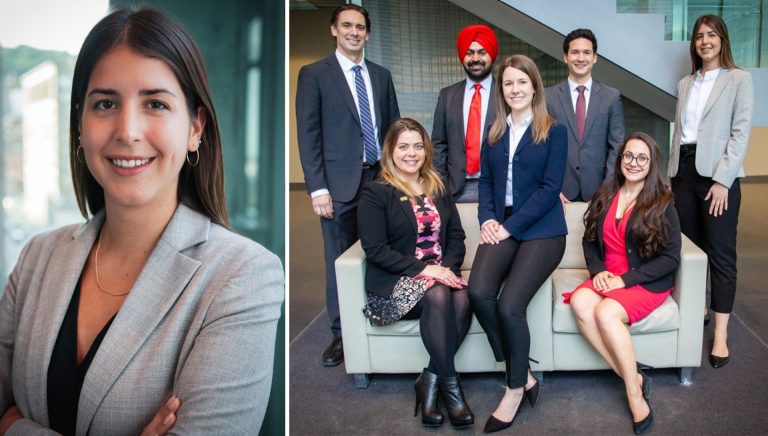 When Catherine Pepe (BA 15, MBA 20) began her journey at Concordia's John Molson School of Business in 2018, she worried she would feel like an outsider. Pepe, who had earned her undergraduate degree from the university's Urban Planning and Urban Studies program, believed her new MBA classmates would all have business backgrounds.
"I was surprised because I met people with a variety of experiences," she says. "I was proud to be in a classroom with students from all over the world who brought different perspectives to the classroom."
The recent graduate admits she never thought she'd wind up her studies in the middle of a pandemic. Yet she certainly made the most of her time at John Molson, in and out of the classroom.
Back to Concordia
Pepe was motivated to pursue her MBA a few years ago, after she created a small vegan brownie company that was starting to take off.
"I slowly saw myself moving away from administrative roles and more toward management and strategic tasks," Pepe notes. "I was craving formal business knowledge and felt like the best way to do that was to go back to school and get an education in management."
Among her many activities during business school, this year Pepe participated in the Surgical Innovation Program, delivered jointly by McGill University, École de technologie supérieure and Concordia's business school as well as its Department of Computer Science and Software Engineering. Trainees worked in cross-disciplinary teams that developed innovative solutions to unmet needs in the medical sector through designing and marketing new medical technologies.
After meeting an emergency paediatric physician, Pepe and her team spent considerable time in hospital emergency rooms.
"We realized that medication preparation during emergency situations was a process that nurses did manually and took between five to eight minutes. After doing some research, we also found out that IV medication preparation was the leading cause of medication errors in paediatric emergencies," she says.
The team saw this as an opportunity to create a device that calculates and draws the correct amount of medicine for patients based on their age and weight, cutting the time to one and reducing medical errors by up to 70 per cent. "Since it's an emergency situation, every second counts."
The team won first place in the Surgical Innovation Program, and led them to incorporate their startup NURA Medical, a multidisciplinary company that aims at improving the care and efficiency for hospital paediatric patients across the world.
Pepe also participated in the John Molson MBA Case Competition Committee and later became its VP of marketing.
"Case competitions are a huge part of the MBA experience because you create bonds with your teammates," she says. "The competitions are intense but also really tangible and fun."
As well, Pepe took part in the John Molson Women in Business Club during her last year and helped organize the annual women's leadership conference in February.
"These out-of-classroom learning opportunities led to the creation of NURA Medical," Pepe says. "Co-founding our startup is my proudest accomplishment during my Concordia experience. I've had companies before but nothing as complicated as medical devices."
Pepe is currently taking digital marketing management courses through the Udemy platform offered by Concordia and hopes to one day own her own marketing agency.
"Coming into my first term, I didn't feel confident about my abilities. But the university gave me the opportunities and building blocks to shape these skills," she says.
"Concordia has definitely made me dream bigger."
Concordia's class of 2020 will be celebrated virtually on November 19. Join in on the big day.
---