The Black Perspectives Initiative launches at Concordia
A new hub in the Faculty of Arts and Science offers funding, mentorship, programming and research dissemination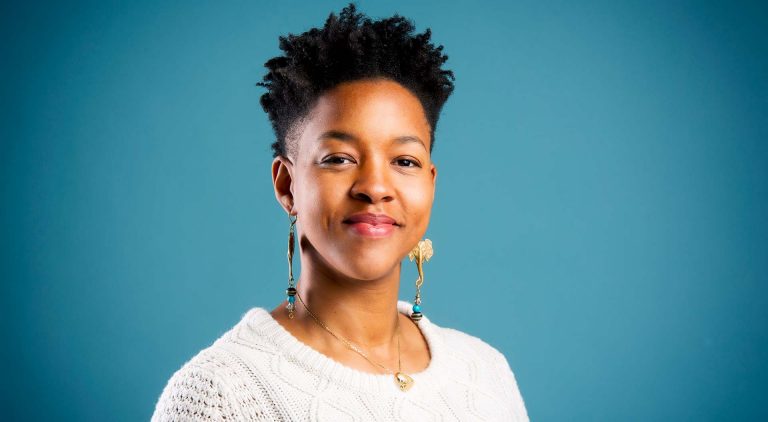 "One of our goals is to break the silos and foster synergies among Black initiatives and scholarship at Concordia," says Annick Maugile Flavien (BSc 13, GrDip 15, MA 18), founding coordinator of the Black Perspectives Initiative (BPI).
The hub, which launches this month through the Faculty of Arts and Science, connects and supports activities related to Black perspectives, initiatives and scholarship on campus and within the broader Montreal community.
"At its core, this project was informed by Black student activism, which has been very strong at Concordia since the university's inception. The BPI allows for those perspectives to be heard, respected and supported from within the university's structure," Flavien explains.
For the first year, the BPI will focus on strengthening relationships within Concordia's Black community by offering funding, mentorship, research opportunities and programming that support Black perspectives.
"A large aspect of our work is to listen and be present for Concordia's Black community so that we can encourage coalition and collaboration of ideas, efforts and aspirations," she adds.
André Roy, dean of the Faculty of Arts and Science, says Flavien is the ideal person to spearhead an initiative of this breadth.
"Annick's vision and passion for this project are unmatched," he says.
"She has been a leader in the university community throughout her studies and beyond and serves as an invaluable ambassador. We are thrilled that she, along with her collaborators, is paving the way for this critically important initiative."
The BPI began as a pilot project through Critical Feminist Activism and Research (C-FAR) at the Simone de Beauvoir Institute. Flavien co-founded and co-coordinated the project with Meghan Gagliardi (MSc 19), with support from the Faculty of Arts and Science.
Mutual support and encouragement
The BPI includes faculty, staff, students and community affiliate members working together to bridge gaps across the university and beyond.
Eunice Belidor is a staff affiliate and director of the FOFA Gallery. She says academia has rarely provided many opportunities for Black students.
"It is important for Black students at Concordia to be aware that they belong here and belong everywhere, and the BPI is a perfect initiative to start that."
BPI affiliate and research fellow Anastasia Erickson is a relative newcomer to Montreal, having moved here four years ago to study.
She says the BPI provides an opportunity for Concordia's Black community to offer mutual support and encouragement and unite the university's wide diversity of Black identities and perspectives.
"I've been able to network with artists and historians in the Black community here in Montreal, both within and outside of campus, which is an experience I have been craving since I first arrived in the city," Erickson says.
"The importance of BPI for Concordia students, as well as the larger community, is paramount."
The BPI is unique because it is embedded in the Faculty of Arts and Science.
"In a way, we get to play an umbrella position that supports the many different initiatives across the university and holds space for the community," Flavien says.
"This makes it possible for us to be invested in the well-being and perspectives of Concordia's Black community as a whole."
Upcoming projects
The BPI currently has two research projects in progress.
Black Mental Wellness on Campus is a research project and series dedicated to learning more about the state of Black mental wellness at Concordia while offering services to its community.
The goal is to present a series of activities and services every third week of the month at no cost to Concordia's Black students. This will include support groups, group therapy, mediation sessions, academic counselling and other student-suggested activities.
Imagining Black Futures – (Re)membering Voices, Coalition and Space is a research project under the Montreal 2050 hub. BPI research fellows Anastasia Erickson, Nat Alexander and Oseremen Irete are working on a series of immersive multi-sensory events that offer the community entry points to engage with and re-contextualize their understanding of Montreal's Black public history.
Their aim is to envision what Black futures would look like in the year 2050. This includes reviving many of the Black archives at Concordia as well as a participatory oral history collaboration with Montreal's Black communities.

Learn more about the Black Perspectives Initiative at Concordia.
---