Urban water consumption will increase due to climate change, Concordia research shows
Growing demand will put additional pressure on city planners and natural resources, even in water-rich Canada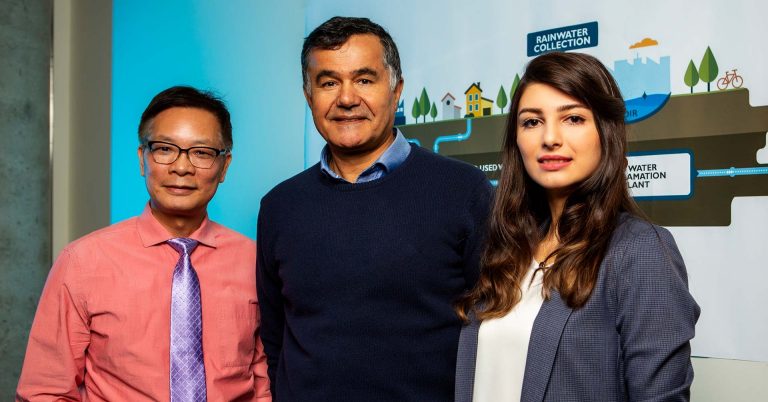 As the world's population continues to urbanize, local governments everywhere are struggling to provide services to all their residents. Climate change is making this even more challenging, especially as many cities and regions are already facing severe water shortages.
In a recent paper published in Sustainable Cities and Society, three Concordia researchers look at water consumption in one urban community — in this case, the Montreal off-island suburb of Brossard, Quebec — and how that consumption fluctuates seasonally.
This, they say, can provide city planners and water management authorities with an idea of water consumption patterns as climate change continues to push global temperatures upwards.
Big jumps with high temperatures
The researchers correlated daily water consumption data they obtained from the City of Longueuil, which administers Brossard, with daily air temperature readings from Trudeau International Airport and precipitation records. They benefitted from a large data set, spanning January 2011 to October 2015.
Using Bayesian statistic techniques, they noted that outdoor water consumption was higher when temperatures were higher. They did not see any link between temperature and indoor water consumption (though they did notice an uptick in use on weekends compared to weekdays).
"We found that when air temperature is above a certain value, water consumption goes up," says Samuel Li, a professor in the Department of Building, Civil and Environmental Engineering at the Gina Cody School of Engineering and Computer Science. Li co-authored the paper with Masters student Niousha Rasi Faghihi and Fariborz Haghighat, professor and Tier 1 Concordia Research Chair in Energy and Environment.
The researchers noted that Brossard's average water consumption per capita is around 300 litres per day. "But in the summer months, when people are watering their gardens, lawns and flowers, that consumption can increase by as much as 65 per cent."
Planning 30 years ahead
With the correlation between temperature and water use established, the researchers then asked what urban water consumption would be like around 2050.
"Water infrastructure has a lifespan of about 30 years, after which it needs an upgrade," says Li. "So what do we expect to see three decades from now?"
That depends on the climate models they use. The researchers looked at 21 different climate models and three possible emissions reduction scenarios: one with no significant changes in emissions, another with some emissions-reduction measures in place and a third with more aggressive measures.
"In all of these cases, we see a trend where temperatures and water consumption go up; it's just a matter of how much," says Li.
These calculations are especially important to cities that do not have ready access to large supplies of fresh water.
"We are currently seeing water shortages in places like Singapore, Los Angeles, South Africa and the Middle East, among other places," says Faghihi.
"There is plenty of water in Canada, but how ready are we in regards to city planning? We are being encouraged to plant vegetation to combat climate change, but will our existing piping allow us to pump the water we need?"
Li and Haghighat say their study is one of the first to include climate change as a factor in estimating future water consumption in urban areas. Previous studies, they note, focused mostly on population growth.
"By doing this kind of research at Concordia, we hope we can raise awareness among policy makers, politicians and even school-age children, so that they are not indifferent to what they face 30 years down the road," says Li.
The Natural Sciences and Engineering Research Council of Canada (NSERC) provided financial support for this study.

Read the cited paper: Forecast of urban water consumption under the impact of climate change.
---