Concordia explores the future of scientific collaboration between Canada and the EU
On December 3, the university and EURAXESS hosted Montreal's research community to discuss new policies and funding
A new European Union research program could lead to more cooperation between scholars on both sides of the Atlantic.
On December 3, Concordia International and EURAXESS North America brought together a panel with expertise on EU/Canadian policy and research collaboration to discuss emerging opportunities for Canadian researchers.
Panel moderator Patrick Leroux, associate dean of research for Concordia's Faculty of Arts and Science, says the university stands to gain by facilitating these discussions.
"For Concordia to be a significant part of the international research landscape, we need to help our researchers become actively engaged in multinational research teams that share methods, best practices, resources, and expertise," he adds.
"Beyond the expanded funding possibilities, international collaborations offer opportunities for stimulating expansive research and for student and faculty mobility."
More systematic support for collaborations
Julio Sevilla is international projects manager for Concordia International and an organizer of the event.
"Recent research and innovation policy developments in Canada and the EU promise an enhanced participation of Canadian researchers in European programs such as Horizon Europe 2021-27," he says.
"This represents a good opportunity for Concordia researchers to continue building on their bilateral collaborations. We are here to support them."
Invited guests included researchers from universities across the province, representatives of various European embassies and consulates and government officials from Quebec and Canada.
Dominique Bérubé, vice-president of research programs for the Social Science and Humanities Research Council (SSHRC), was one of the speakers at the event.
"This is an ongoing conversation between individual researchers, the community and the support agencies," she says.
"We're trying to give a stronger and more unified response to what the communities have been asking for, in terms of more systematic support to their collaboration."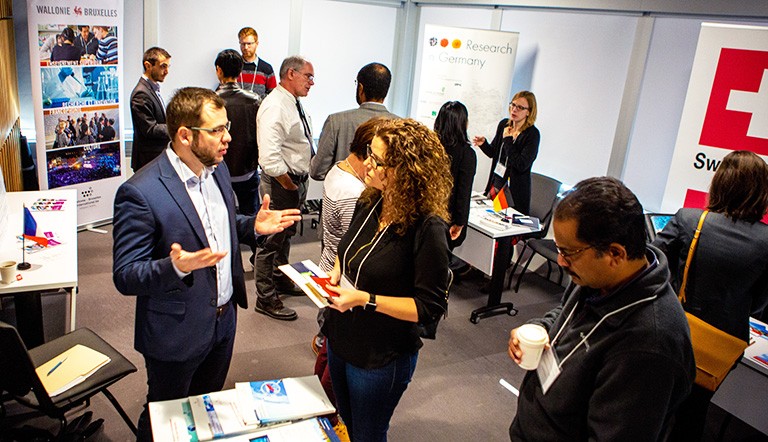 Horizon Europe
The first set of panelists discussed what tools are at the community's disposal and what policy developments can be expected from different levels of government. Horizon Europe, the program currently being developed to succeed Horizon 2020, is the EU's largest research funding program yet, with €100 billion being invested.
Sharing similar research priorities, the EU and Canada benefit by sharing facilities, equipment and areas of expertise. Canadians currently have individual and European Council grant opportunities with Horizon 2020 but the goal is to go beyond that.
Luigi Scarpa de Masellis of the Delegation of the European Union to Canada said the proposal for Horizon Europe would extend associations to third (non-EU) countries. Canada fits the requirements, having advanced science technology and innovation capacities.
'Science is global'
Advice and recommendations were provided by the second set of panelists who have themselves experienced the learning curves and benefits of such collaboration.
"It's really changed the way we do research," says Frédéric Mérand, professor of political science and director of the Montreal Centre for International Studies at Université de Montréal. "It's completely structured our careers, it's produced real scientific results and it's not that difficult to get into."
Still, given the different requirements between each European country and university, applying for grants may be cumbersome. Viktoria Bodnarova, EURAXESS regional representative for North America, says people need to know where to go and what's available before they can apply for opportunities.
EURAXESS provides an online portal that functions as a one-stop-shop where researchers can go for information about potential European partners and grants.
"Science is global," Bodnarova says. "So if you want to be successful or if you want to tackle the big global societal challenges, you really need to have collaborators around the world."

Find out more about Concordia International.

---