ConUHacks IV welcomes 700 student competitors from more than 40 schools
The winning tech tool is a phone app for people with hearing impairments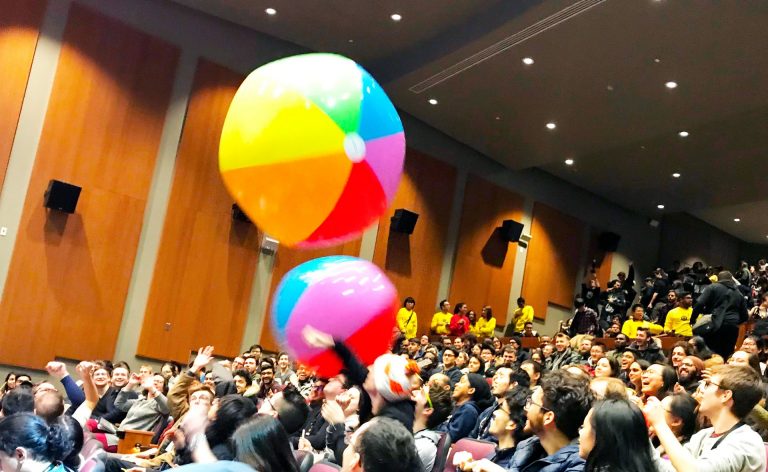 Seven hundred students worked feverishly through the night of January 26 to 27 in the John Molson (MB) Building on Concordia's Sir George Williams Campus. They were competing in ConUHacks IV, trying to outdo their peers for the best project developed in a 24-hour period.
Participants were invited to create anything that's technology based, such as a website, virtual reality application or physical tool like something robotic.
Students flocked to Concordia from universities, CEGEPs and high schools around the city and beyond. Organizers estimate that between 40 and 50 schools were represented, some arriving on buses dispatched to parts of Ontario by ConUHacks.
"It took us between seven and eight hours to get here," says Joshua Smith, a student at the University of Ontario Institute of Technology in Oshawa.
"It's worth it because you get hands-on experience that you don't necessarily get in school. Here we get the chance to really develop an idea."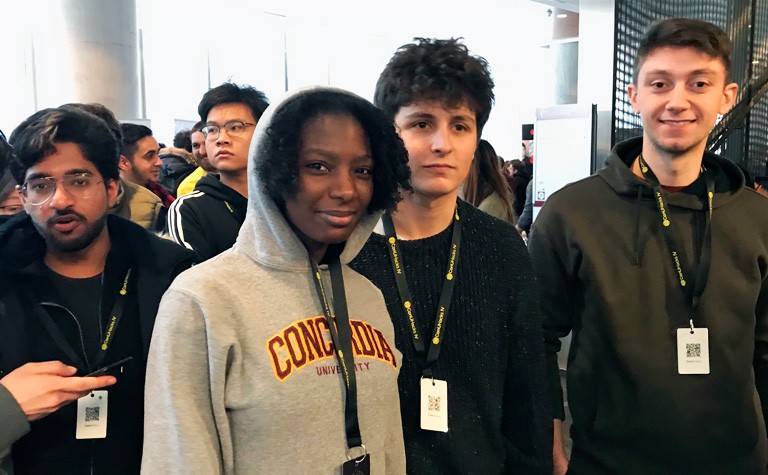 3,000 applications
Buruç Asrin is one of ConUHacks' co-founders. He says it took two years of intense work to set up the event's initial frameworks and logistics. That included lobbying to take over the MB Building for 24 hours, feeding hundreds of students and creating an event so fun that talented students would want to apply. This year 3,000 did so, though organizers could only accept 700.
"We work about eight to nine months a year to get the event off the ground," says Asrin, who remains a consultant for HackConcordia, the student group behind the event.
"We managed to put together a great template, one that others try to replicate. We often get questions from other universities about how we do it. One thing I did was participate in eight different hackathons, taking notes about what did and didn't work."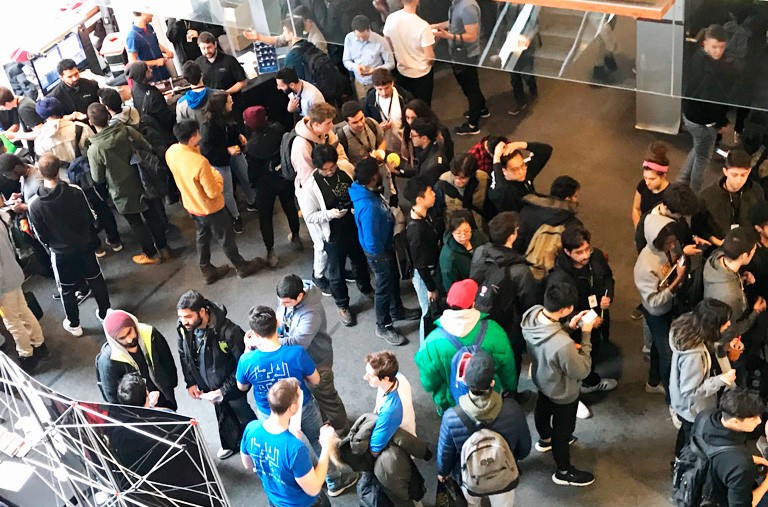 Sponsors and winners
This year, the event attracted 30 sponsors who provided everything from funding to special equipment to access to application programming interfaces (APIs). Those APIs allowed students to take on specific challenges put forth by sponsors, potentially solving actual marketplace problems.
Interacting with businesses is another draw of ConUHacks. Students have a chance to impress potential employers and hand-deliver their resumés. For businesses, the event is a sought-after opportunity to recruit new talent.
"The sponsors can act as mentors. They aren't just giving us money and challenges — participants can go to them for help while they work. Some also offer workshops," explains Jaime Andres Hernandez, current HackConcordia president.
"More than that, the hackathon is an incredible opportunity to network with companies and students from across North America — today's and tomorrow's tech leaders."
Judges recognized 124 projects — and top marks went to a team from Concordia. Students Francesco Valela, Jacob Gagné, Tobi Décary-Larocque and Benjamin Barault developed a phone app, HEAR, to help those with hearing impairments.
HEAR is an iOS application that uses speech-to-text technology integrated with augmented reality and facial recognition features. It allows for real-time subtitling to appear under each speaker, even if a phone is moving during a conversation.

Learn more about ConUHacks IV, or read tweets about the event. Find out more about the Gina Cody School of Engineering and Computer Science at Concordia.
---