What's the buzz on the 2018 Concordia Stingers?
Varsity soccer and rugby and Homecoming are starting soon. Also, a new master coach, the Big Man on Campus and online ticketing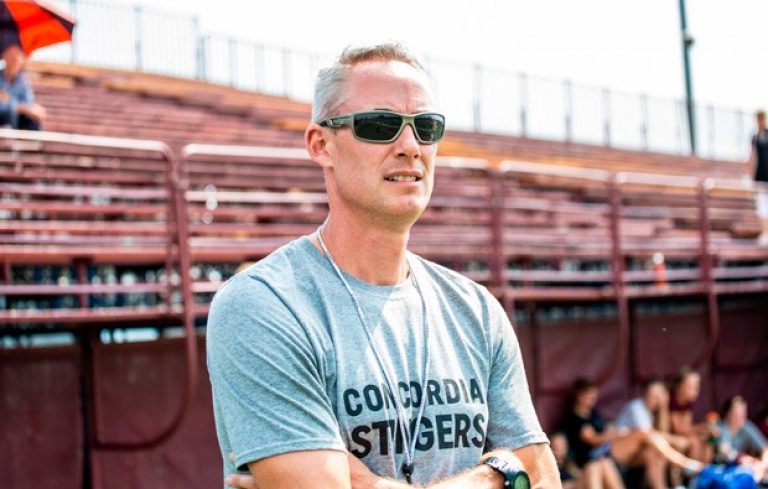 With the last days of summer dwindling away, thoughts begin to turn towards returning to university and checking out all the great activities on campus.
Check out our overview of exciting news and events surrounding your Concordia Stingers this fall.
'Masterful' move for Concordia soccer
Former Montreal Impact star Greg Sutton has upped his commitment to Concordia's soccer programs. He was named master coach of the Stingers men's and women's teams in July. It's an innovative approach that is only in effect at a couple of Ontario universities.
The two teams will work closely together and share some resources, including a team of young, energetic coaches who will be supervised by Sutton.
"Greg is a proven winner and was an accomplished student-athlete," says D'Arcy Ryan, director of Recreation and Athletics.
"We're thrilled that he agreed to put this program in place. I think we're entering an exciting new era for Concordia soccer."
Concordia's varsity soccer home openers take place Wednesday, August 29 in Concordia Stadium against the UQAM Citadins. The men kick off at 6:30 p.m. and the women at 8:45 p.m.
Take a selfie with Buzz
Have you ever wanted to hug a six-foot tall, fuzzy bee? Now's your chance! Take a selfie with Concordia's popular mascot Buzz at most of the Stingers' home games. No matter how old you are, Buzz is happy to pose, dance and cheer with you.
Attend Homecoming
With more than 75 home games a year, it's hard to choose which ones to check out. Homecoming events are among the most fun. There's an amazing energy and family feeling as current and former students come together on Loyola campus.
The Homecoming football game takes place Saturday, September 22 at 1 p.m. versus Université de Montréal. Members of the 2018 Sports Hall of Fame will be honoured and there will be a tribute to Peter Regimbald, an assistant coach who is retiring after 50 years with the football team.
There are soccer games versus the Université Laval on Friday, September 21 and against McGill University on Sunday, September 23. A big turnout is expected on Saturday, September 22 in the evening for the women's rugby game versus the Ottawa Gee-Gees.
This is a great weekend to paint your face and show your colours with hundreds of other fans, including a large number of alumni from Concordia, as well as its founding institutions: Loyola College and Sir George Williams University.
Who's Concordia's 'Big Man on Campus'?
You've likely heard the term Big Man on Campus. At Concordia, we take that expression to a whole new level.
Football player Maurice Simba checks in at six-foot-eight, 320 pounds. He's big in stature and big on talent. If you check out a game this season, there will likely be Canadian Football League (CFL) and National Football League (NFL) scouts in the crowd too. Simba is expected to be drafted in the spring of 2019 and to be playing professional football a year from now.

The football home opener is on Saturday, September 8 at 1 p.m. against the Sherbrooke Vert & Or in Concordia Stadium.
Catch the rugby fever
If you enjoy high-impact sports and a high-energy crowd then you'll want to check out the Concordia rugby games this fall. Rugby is a fast-growing sport that's increasing in popularity every day.
It was added to the Summer Olympics in 2016 and the Rugby World Cup is one of the most popular sporting events in the world.
The Stingers have two very successful programs. The women's side is a perennial powerhouse and consistently develops Olympians and national team players. On the men's side, the Stingers are the defending Quebec champions. Last November, Concordia defeated the ETS Piranhas 35-7 in front of nearly 1,000 cheering fans. It was definitely one of the biggest parties on campus last fall.
The men's rugby home opener is on Friday, September 7 at 7 p.m. against Sherbrooke. The women play their first home game, the Kelly-Anne Drummond Cup, against the McGill Martlets on Sunday, September 16 at 1 p.m.
Tickets online? Yes, please!
The Stingers introduced an online ticketing system last year. It proved to be very successful. It's fast and easy to navigate. You can get an e-ticket to print at home or select a mobile phone ticket.
You can choose single game tickets or season passes. Football introduced premium seating and premium parking this year. Check it out!
To find out more about all the elite athletes who proudly wear the Concordia colours, or the great promotions and parties that take place at varsity events, follow the Stingers on Facebook, Twitter and Instagram.

For more information about Concordia's varsity teams and upcoming games check out the Stingers website.

---