Montreal women team up to build urban homes for Indigenous families
Concordian Jocelyne Côté and her fellow volunteers are raising $10,000 for a Habitat for Humanity project in Saint-Henri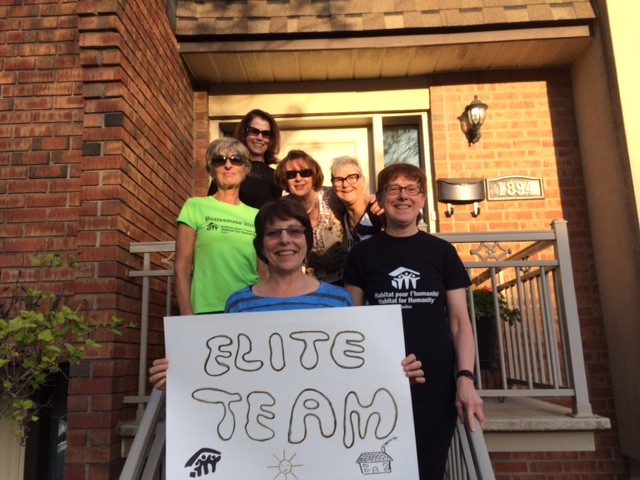 Jocelyne Côté is an IT developer working for Instructional and Information Technology Services (IITS), supporting Concordia's Human Resources and Payroll System (HRIS). But on Thursday, June 7, she will be far from her computer, and her comfort zone.
On that day, Côté and her five teammates will be helping to build a duplex on Bourassa Street in Saint-Henri that will soon become home for two Indigenous families. It's part of a joint initiative run by Native Montreal and Habitat for Humanity, the charity that purchased the plot of land from the City of Montreal.
"Our team leader, Claire Boulanger, participated in Habitat for Humanity in India five years ago," explains Côté.
"When she asked if I wanted to get involved this year in Montreal, I jumped in. I like helping others and I thought it would be interesting."
Many teams make light work
More than 200 volunteers, divided into smaller teams like Côté's, will contribute to building, decorating and furnishing the house. Each team will work on-site for one full day.
Work began on the plot of land in late April, so by the time Côté's team starts working on the house, construction will be almost complete, she explains. "We'll be doing finishing touches."
Côté's team is one of several all-female teams getting their hands dirty between June 4 and June 22, the period when the project is being managed by Habitat for Humanity's Women Build program. It teaches women how to construct a home that will provide better living conditions for families affected by poor living conditions, while simultaneously developing leadership.
"Women Build is extremely important as it provides a vehicle for team building and skill and confidence development," explains Boulanger.
"Based on my personal experience it was extremely rewarding and motivating to help in providing a home to a family who otherwise would not be able to own their own home."
Raising funds and collecting materials
Côté's team aims to raise $10,000 via a fundraising website and are also looking for donations of materials and supplies needed for the house. Out of all the teams involved in Women Build, they are the top fundraisers.
Côté hopes that the Concordia community will get involved in the campaign, adding that she's already been pleased by the response from colleagues.
"A woman from outside of my department emailed me to say that she had just finished renovating her kitchen, and did we want all this extra wood? And we took it!"
Habitat for Humanity was founded in Georgia in 1976 and has since built and rehabilitated more than 500,000 houses worldwide. The Montreal chapter was established in 1998 in response to a growing need for affordable housing in the city.
Their projects rely on donations of money, materials and labour, as well as profits from Habitat ReStore - the home and building supply stores operated by Habitat for Humanity. This project is the organisation's second catered towards Indigenous families.
The house is expected to be ready in late September or early October. Native Montreal will find and choose the families, who, according to Radio-Canada, will have a say in the final design of their homes.

Find out more about Habitat for Humanity – Women Build 2018 and donate to the project on Jocelyne Côté's team page.
---