Aiming to succeed
Concordia's GradProSkills program helps graduate students hone their career skills
Unfolding GradProSkills
The program was designed to unfold in phases. "Phase One, last year, was conceived to bring together partners from across the university and from outside to create GradProSkills' core offering and test the appetite for it out there," Carr says. Partners include Concordia's French-language program Oui Can Help!, the Centre for Teaching and Learning Services, University Communication Services and Advancement and Alumni Relations, and the Montreal Chapter of the International Association of Business Communicators, among others.
Upon launching, though, the group behind GradProSkills discovered that the problem wasn't demand for such workshops: it was supply. "We have waiting lists for most of our workshops," says Paula Wood-Adams, interim dean of Graduate Studies.
Phase Two of the program in 2012-2014 will see an increase in offerings from collaborators. The workshops themselves — led by learning specialists and usually an hour and a half to three hours in length — are geared as much toward a career in the Ivory Tower as they are to work in outside sectors.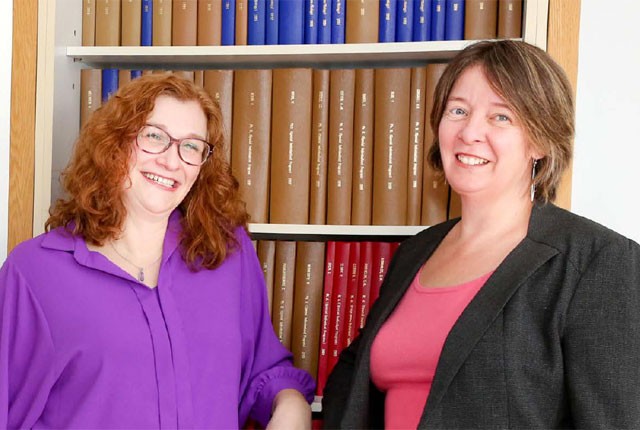 Paula Wood-Adams (left), interim Dean of Graduate Studies, and Laurie Lamoureux-Scholes, Director of GradProSkills, at the program's Bishop St. headquarters. Demand for the year-old program has proven overwhelming.
"Leadership is transferable," Lamoureux-Scholes says. "So are the skills developed through workshops in areas like strategic communication, information and digital intelligence and career building."
The dual emphasis was data-driven, she adds. "The statistics for PhD students — and this holds for Canada, the United States, the Western world — show about three in 10 will find jobs in the academy."
Outside of academia, graduates of master's and doctoral programs must prove to prospective employers that their education is worth the salary it might command. For those in programs like business and engineering, that means "being as good as you can possibly be and as marketable as you can possibly be," Carr says. "For students in disciplines that are not professionally oriented, GradProSkills can potentially offer an array of skills that allow them to think about employment opportunities they may not have considered." Students who do aspire to careers as instructors and researchers can take advantage of workshops designed to refine their research and teaching skills. "If you don't have any teaching training, besides being a teaching assistant, that's not enough anymore," Lamoureux- Scholes says.
The program also preps students for the rigours of their own studies before they begin. Last August, it launched Grad Base Camp, a collection of workshops designed to prepare newly admitted grad students for their classroom experience to come. The sessions covered all aspects of academic life, from ethics to what Lamoureux- Scholes calls the thesis game plan, walking the candidates through the seven steps to a successful paper. Raymond Jess, who is pursuing an interdisciplinary master's in English literature, history and geography, was immediately sold on the workshops. Jess hopes to pursue a career as a professor. Thus far, he's taken about 10 seminars, including sessions on oral communication in the classroom and tips for teaching and research assistants. "I think one of the main things when you're a graduate student is you pick up a lot of knowledge in class, but you don't pick up a lot of tools to help you use that knowledge," Jess says. "It's helped me with things like giving class presentations."
Generating interest
About half of Concordia's graduate students come from outside Quebec, and Carr, Lamoureux-Scholes and Wood-Adams would like as many as possible to stay in the province after they graduate. Jess, a native of Ireland, recently attended a workshop about building a career in French. "I might also take a French-language workshop, which is a great opportunity to learn French while living in the province, because I might work in Montreal, where the language is a requirement," he says. "One of the things we love to do is give our students the sense that Quebec is a place where they can think about a future career," Carr says. "We don't want to be losing students after they complete their studies, and offering secondlanguage French training is a huge step in the right direction."
The chief measure of GradProSkills' success thus far, though, is the overwhelming interest it has generated. As of January, more than 27,000 unique visitors had viewed the GradProSkills website 67,000 times; of them, 6,000 visits were from out of province and almost 7,000 from out of country. "So it's definitely getting out there, as the word goes," Lamoureux-Scholes says. And soon, the annual reports that graduate students complete will include a self-assessment of the progress they've made in the areas GradProSkills focuses on, taking into account the number of workshops they've attended. Students set to begin their studies will also complete a questionnaire about those skills upon registration, while alumni will eventually provide similar feedback. GradProSkills, meanwhile, continues to expand. "We would like to create workshops about entrepreneurship," Wood-Adams says.
Carr echoes her sentiment. "It could really position students well in an innovation economy" in the decades to come. So, too, would skills — the ability to succeed in a global economy and work comfortably in any international centre of industry. Locally, though, the program is also giving graduate and PhD students an opportunity that often goes overlooked: the chance to socialize. "Being a grad student can be very isolating as you work on your thesis," Jess says. "One of the good things about GradProSkills is that it gets you in touch with other people who are doing similar stuff." Mohammed Alsubaie, a master's student at the Institute for Information Systems Engineering, attended a networking night held in conjunction with the Young Chamber of Commerce of Montreal. "It was a really excellent experience, networking with young professionals and with my friends," he says. "I met the president of the chamber and we exchanged business cards. I also met people from a software company related to my field, and we shared some ideas. You never know — these contacts might lead to a job."
Last fall, another outing saw a group of students, many of them new to Montreal, attend a Stingers men's hockey game against the McGill Redmen. Lamoureux- Scholes challenged the students to maintain conversation with each other throughout the match. "They're building a community," she says. "These are people who wouldn't have met otherwise, because they're in completely different disciplines, and now their paths have crossed. These relationships could potentially lead to research collaborations, to lifelong friends, and it started through a GradProSkills experience. Just like our tag-line says, you really can connect to your future with GradProSkills."

For more information, visit graduatestudies.concordia.ca/gradproskills
— Lucas Wisenthal, BA (journ.) 08, is a Montreal freelance writer
---