Concordia graduate discovers unpublished novel
Concordia graduate Jean-Christophe Cloutier has discovered an unknown novel by Harlem Renaissance writer Claude McKay.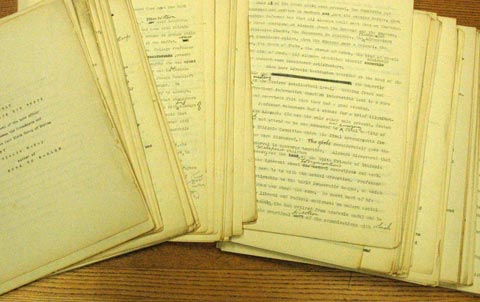 It wasn't so much an "a-ha!" moment as guarded optimism when Concordia alumnus Jean-Christophe Cloutier, BA 05, picked up a 1941 manuscript whose provenance was eventually traced to Harlem Renaissance writer Claude McKay.
McKay is regarded by literary experts as one of the foremost left-wing black intellectuals of his age.
Cloutier made his discovery while working as an intern at Columbia University's Rare Book and Manuscript Library. As a Columbia graduate student in English and comparative literature, he had been sorting through a collection of U.S. publisher Samuel Roth.
That was in 2009. Since then, Cloutier and Brent Edwards, his dissertation advisor and Columbia University English professor, have proven the novel to be authentic. The discovery even garnered the researchers a headline in the venerable The New York Times.
The manuscript, Amiable With Big Teeth: A Novel of the Love Affair Between the Communists and the Poor Black Sheep of Harlem, offers a snapshot of Harlem in 1936, the year in which the satire is set.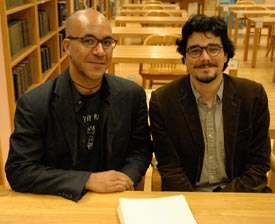 The novel's authentication took Cloutier and Edwards to multiple libraries and five U.S. universities over a two-year period.
"Between teaching and our other obligations we scoured archives with McKay-related materials around the country," Edwards said.
Independent experts sought to verify the manuscript's provenance have called the discovery major.
Cloutier, who is a graduate of Concordia's Liberal Arts College, described his odyssey and find as a "guide to history."
"The novel transports us back through time in a way that underscores the visceral reality of that moment, capturing the music, food, drinks, ambiance, looming disaster and rise of fascism in Europe during this period."
Iron-cladauthentication of Amiable took years, yet Cloutier says he and Edwards were fairly certain of its provenance -- and overjoyed -- early on.
"It was really unbelievable," says Cloutier. "I allowed myself a few romantic existential moments thinking about the destiny of the sentences in the novel and the journey that some books take to see the light of day."
Claude McKay was a Jamaican-American writer and poet, and seminal figure in the Harlem Renaissance, a New York City-based cultural movement that spanned the 1920s and 1930s.
McKay is well known for his works Home to Harlem, Banjo, Banana Bottom and short stories and autobiographical works that include Harlem: Negro Metropolis.
Edwards, who has written extensively on McKay, said the manuscript held striking parallels to Harlem: Negro Metropolis in terms of historical figures such as Sufi Abdul Hamid, a Harlem labour leader who turns up in both books.
"When we examined Amiable more carefully, there were a number of things that immediately made us suspect it was indeed McKay's work," Edwards said in an email note.
Correspondence between McKay and his friend Max Eastman, a writer and political activist, convinced Cloutier and Edwards that Amiable was penned by McKay.
Edwards believes the discovery will deepen scholars' understanding of McKay's later career and raise questions about other hidden gems.
"Part of the lesson of this find is the degree to which archives are the tip of the iceberg. There is a lot we don't know."
Cloutier adds: "This is something I've been writing about for my dissertation. It forces us to revise some of our thinking, the way we artificially create boundaries between periods, authors and races. Prior to this, no one had ever even thought of associating McKay and Roth together."
Related links:
---