Concordia's Beijing 2022 medallists honoured at special event
'What you have accomplished is unbelievably impressive and inspiring'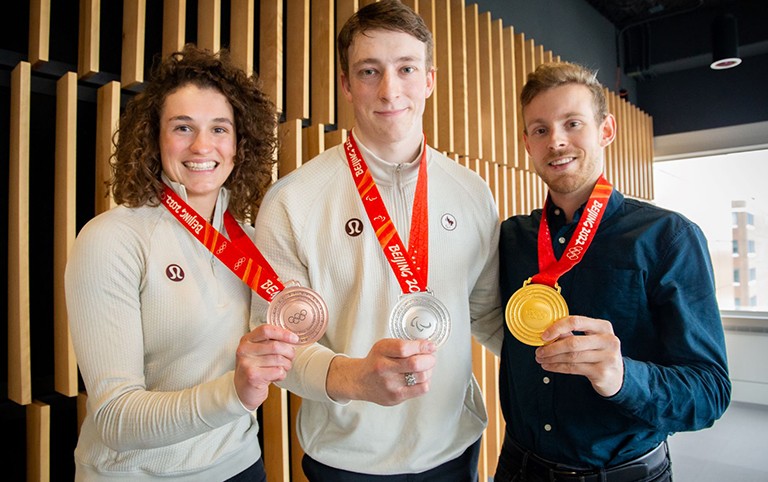 Concordia students represented Canada at the Beijing 2022 Winter Games: Marion Thénault won bronze at the Olympics, Anton Jacobs-Webb won silver at the Paralympics, and Pascal Dion brought home Olympic gold.
Three students who performed with distinction for Canada at the Beijing 2022 Winter Olympics and Paralympics were honoured by Concordia on April 26.
The hybrid event — hosted by President Graham Carr and moderated by Anne-Marie Croteau, dean, John Molson School of Business, and Mourad Debbabi, dean, Gina Cody School of Engineering and Computer Science — celebrated Pascal Dion, Anton Jacobs-Webb and Marion Thénault.
"On behalf of the entire Concordia community, I just want to say congratulations," said President Carr. "What you have accomplished as elite students and athletes is unbelievably impressive and inspiring."
Dion, a finance undergraduate, won gold in men's short-track speed skating, 5,000-metre relay. Paralympian Jacobs-Webb, a mechanical engineering student, won a silver medal as a member of Canada's men's para ice-hockey team. Aerospace engineering student and freestyle skier Thénault took home a bronze medal in mixed team aerials.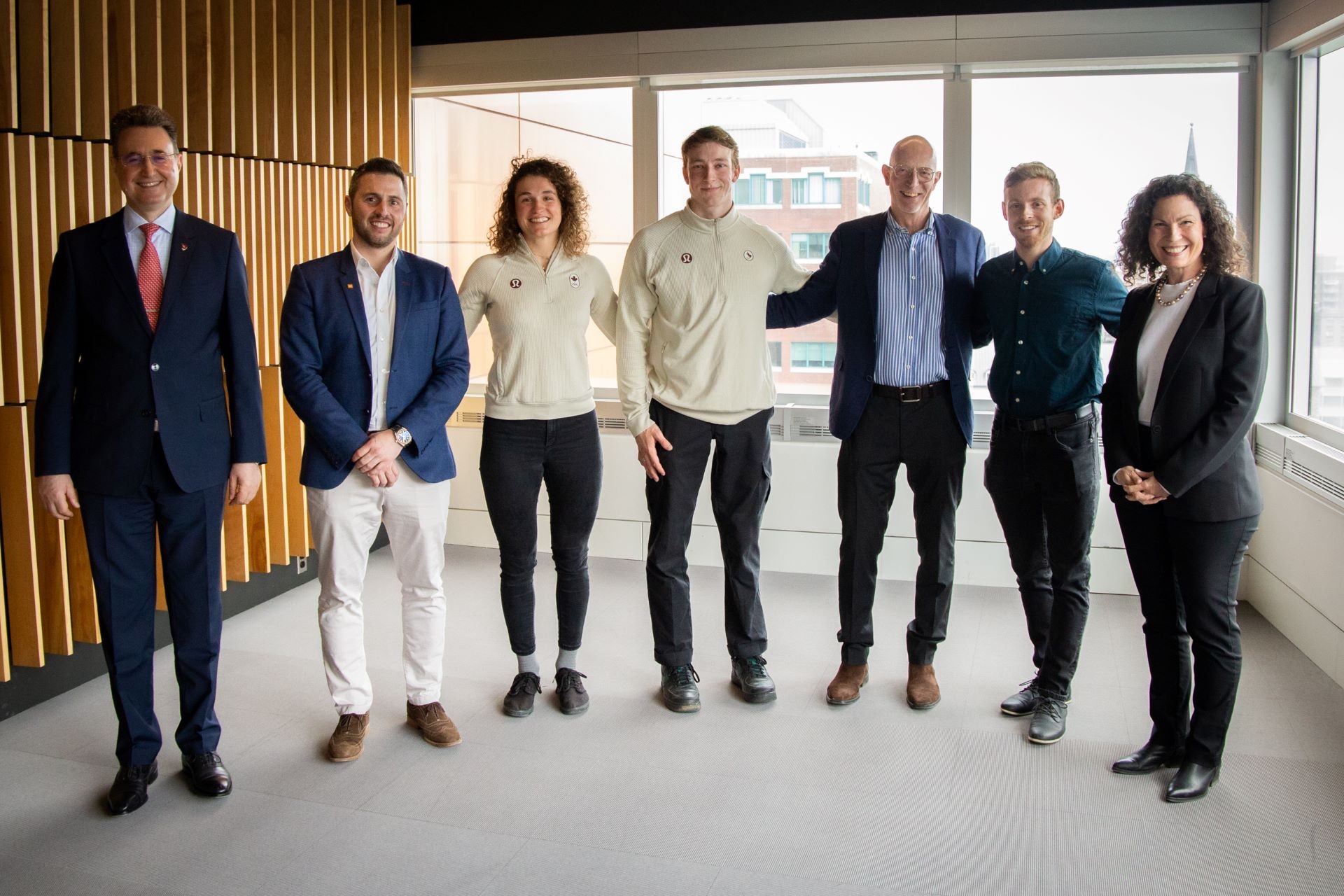 From left: Mourad Debbabi, dean of the Gina Cody School of Engineering and Computer Science, former freestyle skier Alexandre Bilodeau, BComm 16, Marion Thénault, Anton Jacobs-Webb, Concordia President Graham Carr, Pascal Dion, and Anne-Marie Croteau, dean of the John Molson School of Business.
'I perform at my best when I'm enjoying myself'
With hundreds of students, faculty, staff and alumni in attendance in person and online, the trio described how they contributed to a record medal haul for Concordia this past February and March.
Thénault, who was recruited to Canada's aerials team as a gymnast at the age of 17, said the run-up to the Games was stressful. Once she got to Beijing, however, she vowed to make the most of the experience.
"That made all the difference," said Thénault. "I learned that I perform at my best when I'm enjoying myself. With experience I've also learned to be mindful of my limits and not to overwork so much."
The bronze-medal winner added that her professors at Concordia "have been awesome" at working around her busy schedule.
"All of my teachers have been so open-minded," agreed Dion. "When I have to travel for a competition they're always so understanding and accommodating."
Dion, who placed first in the 3000-metre event at the ISU World Short Track Championship in Montreal earlier this month, shared some keys to his success.
"I try to set small, manageable goals for myself every week, rather than focus on the big end result," he told the audience. "I also take time to focus on other pursuits outside of speed skating, like school, socializing with friends and participating in other sports for pleasure."
'Concordia has proven what a supportive university it is'
Paralympian Jacobs-Webb paid tribute to the mentor who paved the way for him in para ice hockey.
"I loved to skate and play hockey when I was a kid, but knew I could never make it to the NHL with a prosthetic leg," he said. "Then when I was 11, I met Hervé Lord, who played on the national para team. He invited me to play and became a hero to me."
Jacobs-Webb had to manage some pre-Games jitters himself. The roster for the para ice-hockey team was only selected a few weeks before Beijing.
"That was tough," he admitted. "The way I coped was to stick to a routine. We also do a lot of visualization, meditation and breath work as part of our training, which is really helpful in stressful times."
The special event also included a surprise guest: freestyle skier Alexandre Bilodeau, BComm 16, the John Molson graduate who thrilled millions with his gold-medal performances at the 2010 Winter Games in Vancouver and 2014 Winter Games in Sochi.
"Whether or not they compete in an individual or team sport, every successful athlete has a great support network behind them that helps fuel their success," said Bilodeau.
"Concordia has proven what a supportive university it is and I want to thank our faculty deans for encouraging these three athletes."
To close the event, President Carr presented the three Beijing medal winners with a gift of Concordia apparel, and live audience members were invited to take part in a meet-and-greet and photo session.
---